Flink motorcycle story

Gustav Flink started his own business G. Flink Machinery just after second world war. He lived in the Swedish city of Åmål, working for SEM, Swedish Electro Magnets.

For the first 4 years he ran the business during his spare time but in 1950 it became a full time job for him and his wife Margit. The first project was to manufacture and sell his own air grinding machine.

But Gustav was also very interested in motorcycles. When he could find the time he often drowe his Husqvarna 1000cc V twin with sidecar. After the second world war he started competing with his 1928 Velocette 350cc in several racingdiciplines such as hillclimb, scramble, dirttrack and iceracing. For transporting the Velocette to the races he took the sidecar avay and made himself a special carrier on the side of the Husqvarna. Altough the Velocette was out of date and old-fashioned he was rather sucessful, specially in hillclimbs and scrambles.

In the beginning of the fifties his

air grinding machine

business started to look very much like a motorcycle work shop.

1955 when Husqvarna released their 175cc "silverpil" Gustav was very interested to make racing improvements for it. In 1958 he started to sell his own fully round crank and a special cylinder head with higher compression ratio for the "silverpil". In the following years he continued to make lots of different parts for it, Inletmanifolds for different carburators, (Bing, Amal, Dellorto), other gearing and so on. In 1962 he started to sell his own square formed 250cc cylinder and head and he thought he had come to the limits of that old "silverpil" engine.

For that reason he was already planning for his own 250cc engine, 250 X, and in Januari 1963 he started designing it. An increadible amount of "late working hours" later, in the beginning of 1965, he had his own prototype ready.

In that engine he had built in all of his own experience and new ideas for a modern competitive 250cc race engine. Short crank axels for eliminating vibrations, Therefor the ignition system was "inverted" with the magnetwheel on the inside of the linings. In that way it was also very easy to service and adjust. The clutch was placed on the crank axle to be small and light, (less torque).

The 5 speed selector key gearbox was easy to service and exchange, you could release the whole gearchanging mechanism with just 4 bolts. As Gustav thougt that you should use your right foot to brake, (the same as when you drive a car), the gearshift was placed straight out 90 degrees to the left side of the engine.

At that time he had doubths of making his own chassis for the 250 X, maybe due to the many hours he had spent on the engine. However later in 1965 he decided to do so and continued the work to complete his own motorcycle.

The specifications of Gustav's bike was very, very, far ahead of time. It was to be a superlight and slim construction in alloy with very few parts. Built in gas tank and air intake so it should be "waterproof". Gear changing should operate by air pressure! Ignition should be CDI type. The exhaust system integrated in the chassi and even with the footrests and so on. He had his own ideas for just about every part of that bike.

In 1967 the first prototype Flink 250 X saw the light, and Gustavs son, Claes Flink was one of the test drivers on the mx tracs. Unfortunately this saga did not have a very happy end because Gustav died of cancer in october 1970, only 52 years old.

Claes Flink who still own's one of the prototype alloy bikes, tells me that the first bikes were made with steel chassis and that only the later production bikes were made in alloy. In addition to the motorcycles some engines where made for go kart racing.

In 1968 when the Flink factory had about 10 employees another mx driver, Leif Norberg, (also well known from car racing), was engaged as designengineer. It was Leif who designed the alloy chassi and he still got the blueprints for it. Leif tells me that maybe 3 complete alloy bikes where exported, distributed by the Husqvarna dealers. Leif also produced one alloy chassi for Angelo Nieto, famous road racing driver, from Spain. The exact numbers of produced 250 X bikes and engines are unknown but probably not more than 10 to 20 bikes and some additional engines were produced.

I have only been able to locate 6 remaining bikes, (one converted with CZ engine), and 2 engines. Four of those are aluminium bikes,

one owned by Gustavs son Claes Flink,

one owned by Staffan Gunnarsson.

The one converted to CZ engine is now sold to Jonny Johansson who has the original Flink engine from the bike and is going to renovate the bike with it.

The last one is owned by Rune Johansson.

The remaining two are steelbikes from the early production, one was sold to Louis van der Heijden in Holland, now owned by his son Ludo.

The other one is now owned by Björn Rotheim Norway.

I own the remaining engine which was originally made for Silvio Francini for Go Cart racing.

I have also been told there is one replica made in USA with Husqvarna engine. But who knows, maybee there are more remaining Flink 250 X bikes or parts out there?

The numbers of parts produced for Silverpilen are also unknown but specially the cylinderheads, the inlets, the cranks and the special tools were sold in thousands while the square 250cc cylinder is pretty rare, maybe three or fourhoundred were made in the Flink factory foundry.

Even in his deathbed Gustav worked hard, writing a very extensive document about his company and the products, but also what possibilitys he saw for the future. Among other things he thought his engines could be used for snowmobiles. Obviously he wrote this document because he did not want all his work to be in vain.

According to Gunnar Lindström who was employed by Husqvarna 1971, Gustavs engine and chassi were offered for sale to Husqvarna, who declined. At the time Husqvarna were just about to introduce their own new engine for the 1972 models.

Sadly, the only product that survived after Gustavs death was his dear air grinding machine which was developed and manufactured by Claes Flink until 1981 when he sold it to IRO in Ulricehamn. But the machine is still manufactured today in Borås Sweden!

I have always wondered what would have happened if Gustav had remain healthy and really got that bike together.

Maybe it would have changed the whole developement of the mx bikes!
Mats Sjöblom 2014
1950 1962
Flink air grinding machine Flink specialparts for HVA Silverpilen Photo's from MC Nytt
1968 Gustav with his "lifetime achievement"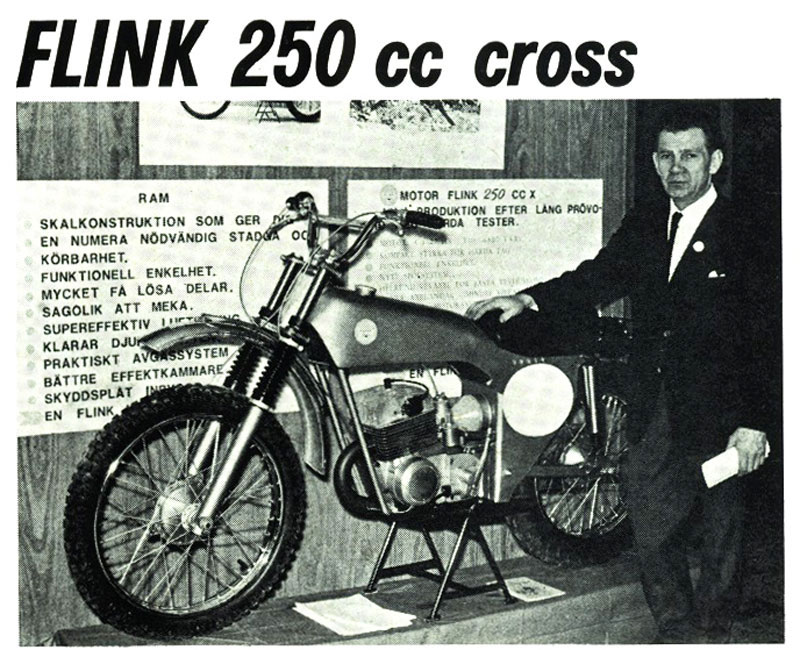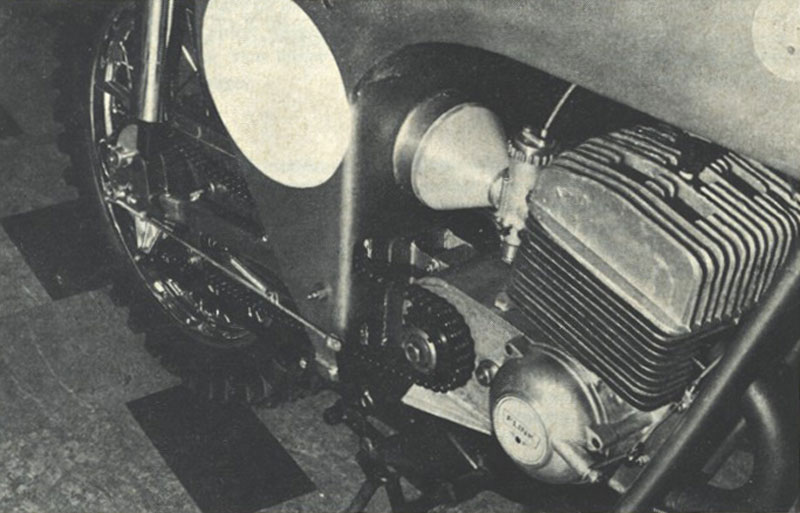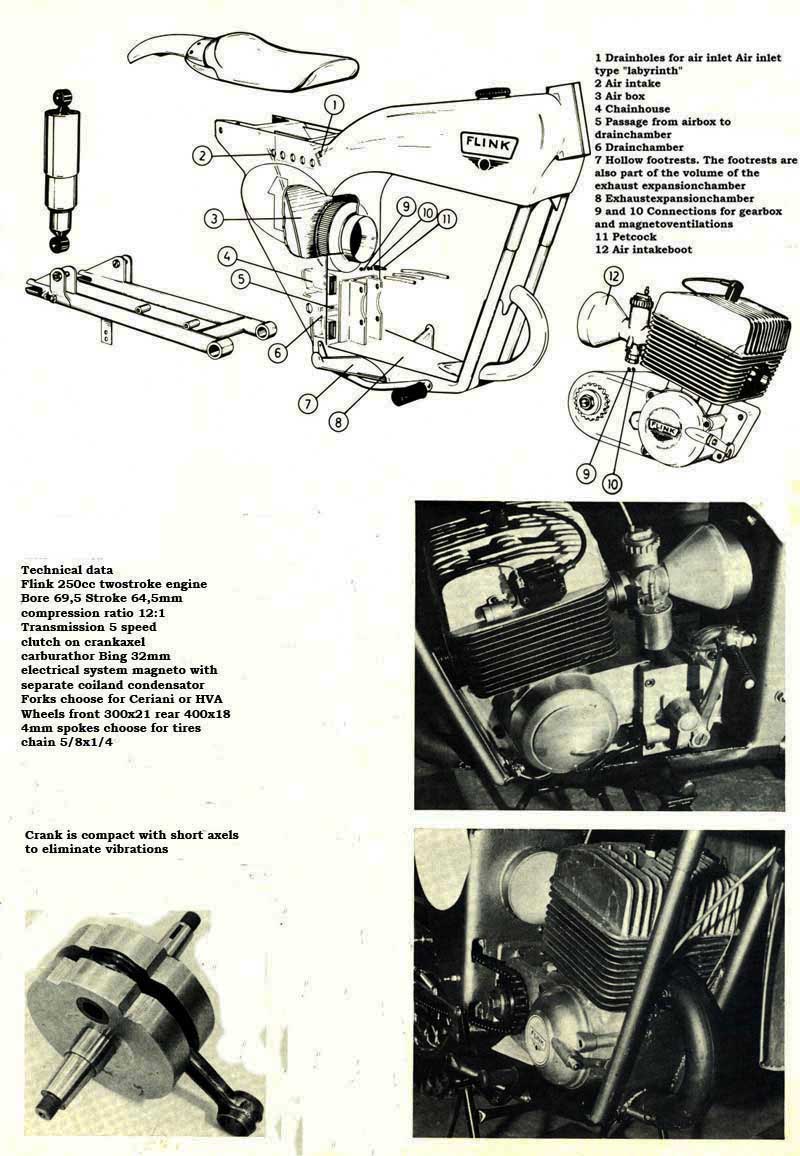 Flink 250 x was tested in january 1969 by the Dutch Magazine Motor
They where quiet enthusiastic about the fast and unique bike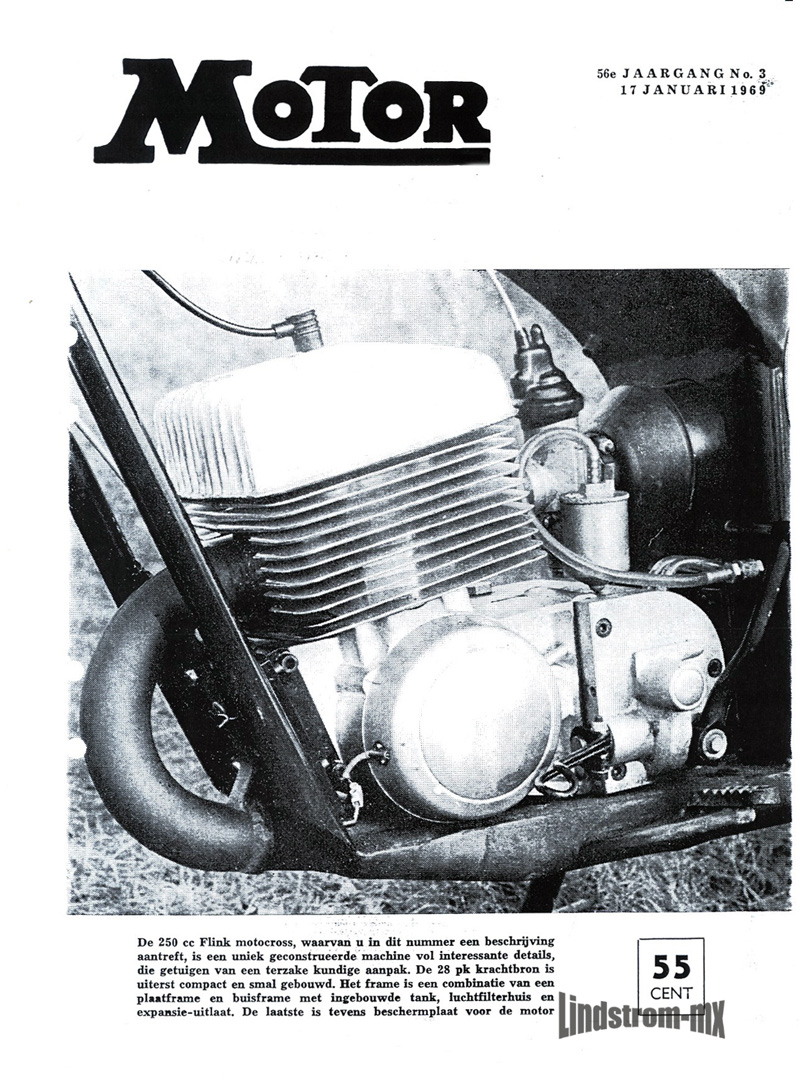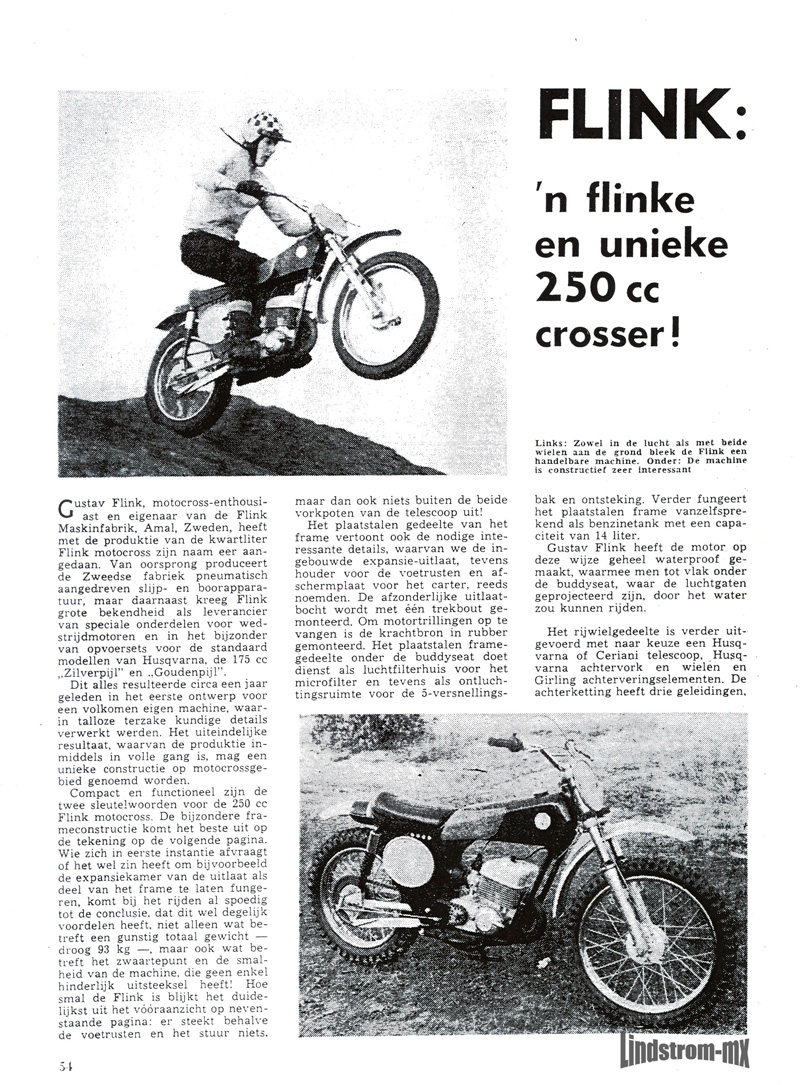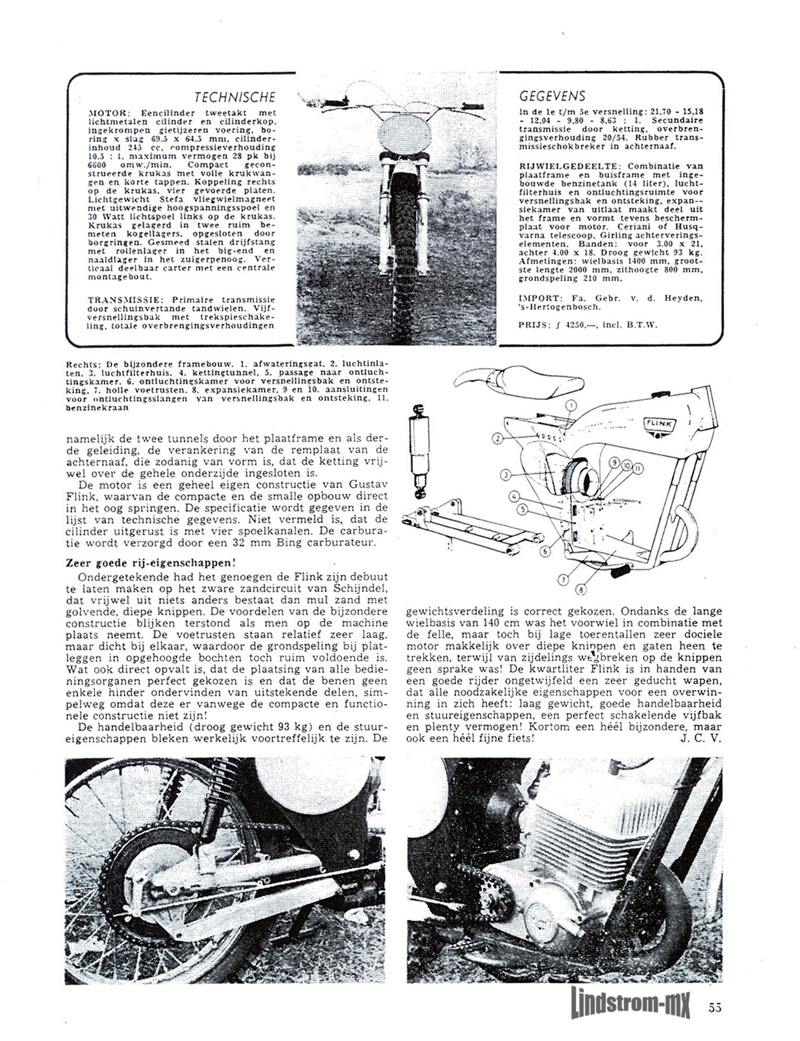 Silvio Francini 1971 in his Blowkart with Flink 250cc engine
Thank you Silvio for the photo!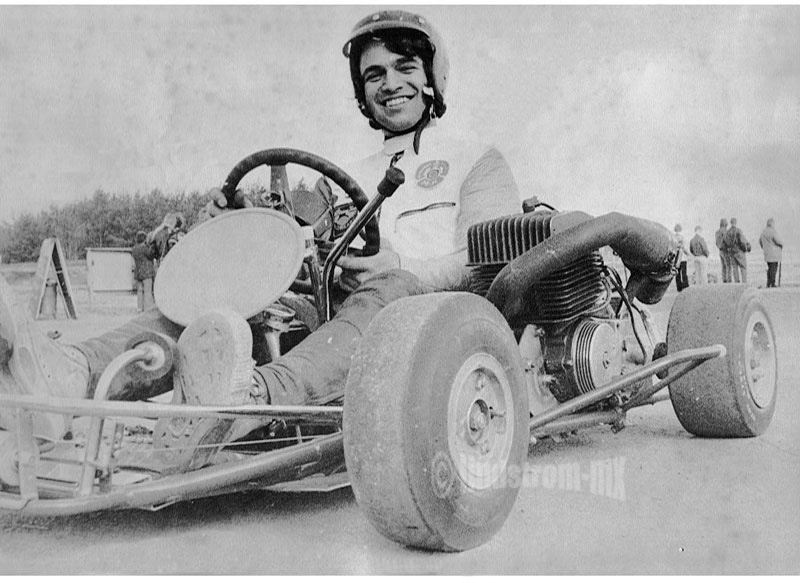 Claes Flink 2010 with his Flink 250X prototype bike
photo's below by Tor Sjöblom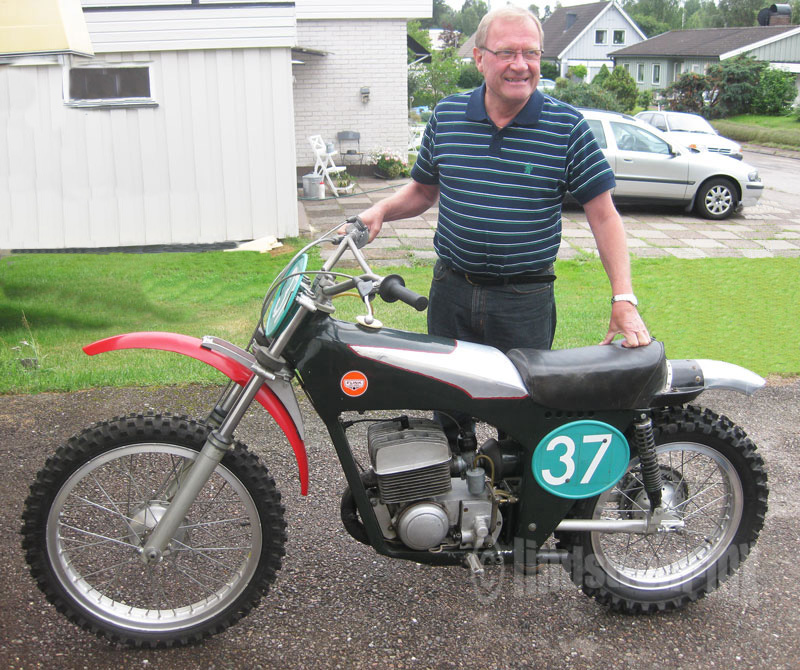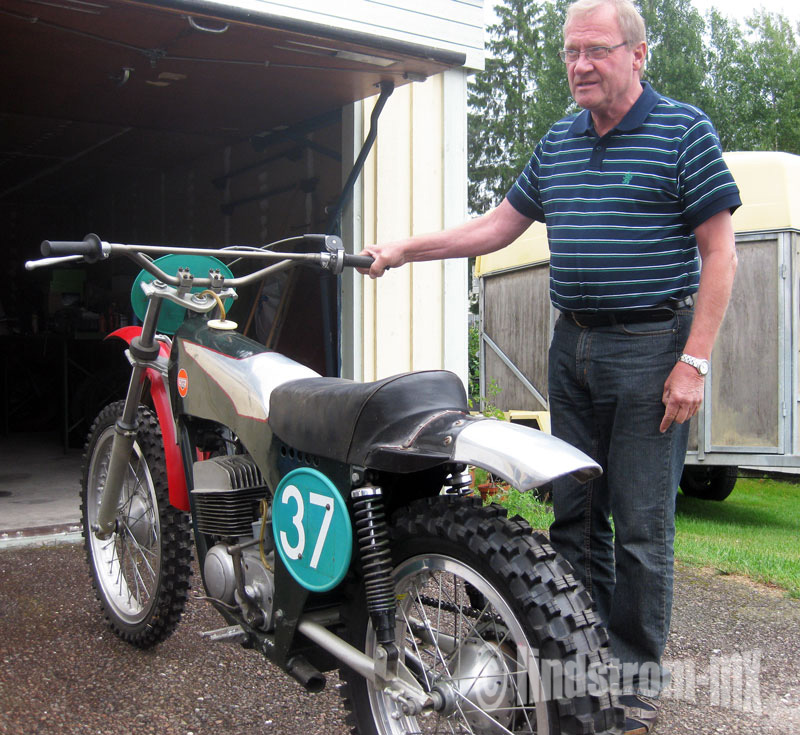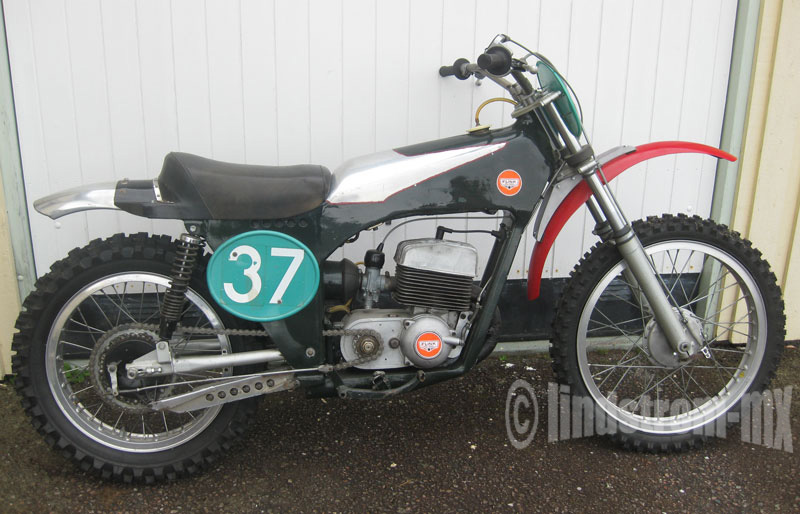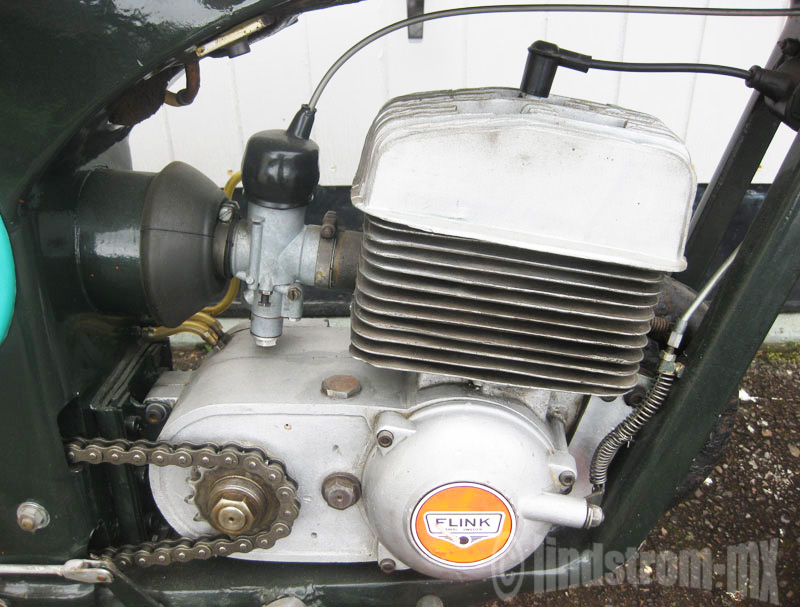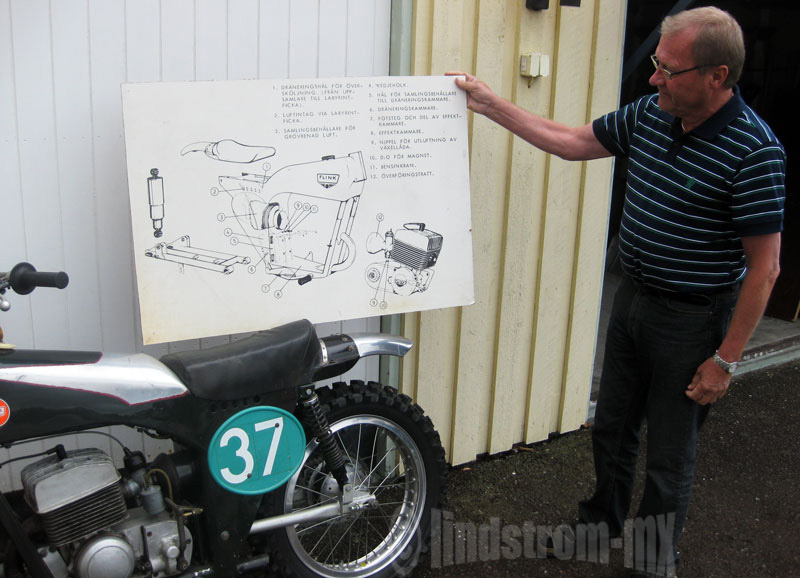 Staffan Gunnarsson 2010 with his Flink 250X (ex Leif Norberg's)
Unfortunately Staffan's bike is lacking primary gearbox axle, but as he is a very skilful restorer and among other things has restored many rare road racing bikes, I believe he will get it together again!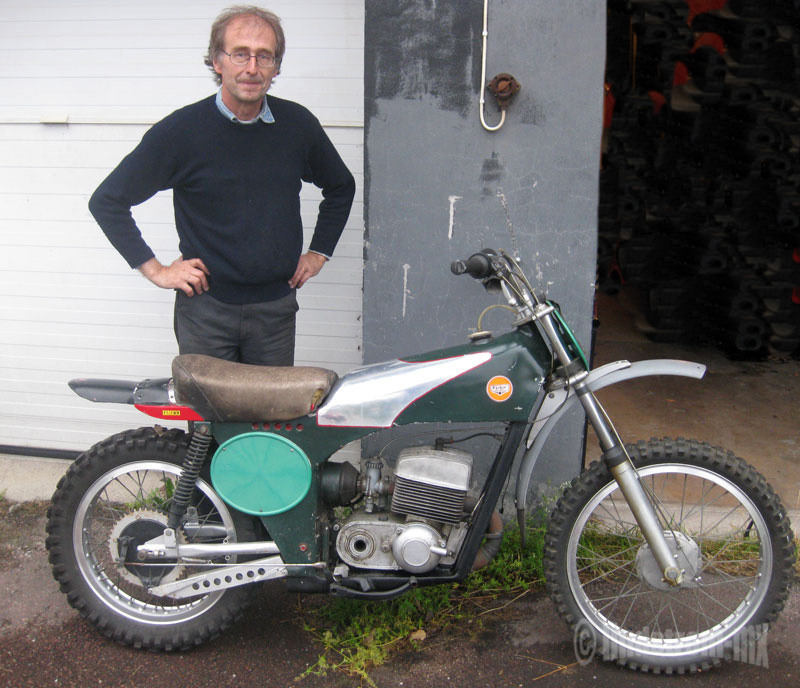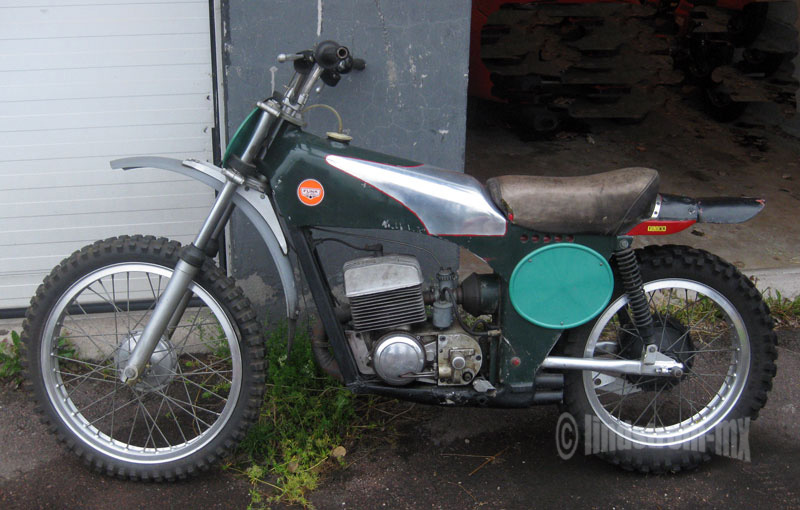 One of the first Flink bikes with steel chassi. 2010 at Motala motormuseum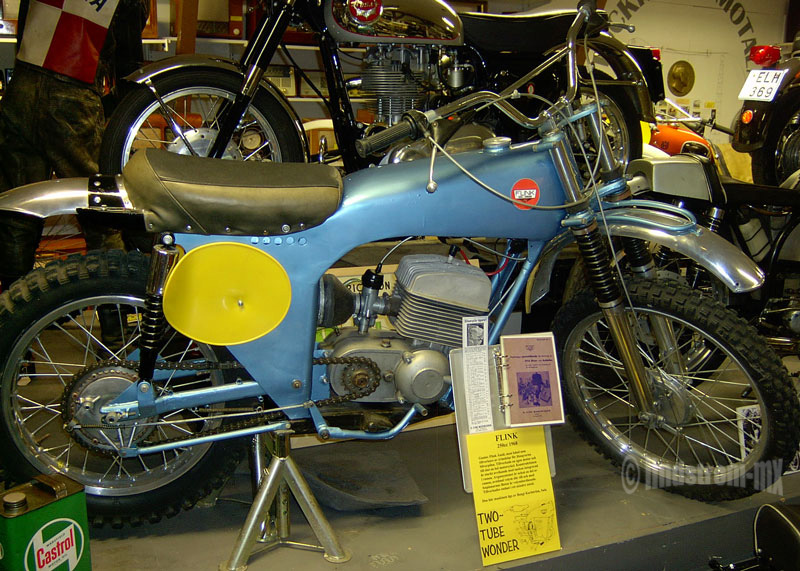 Sources; Articles and photos from the old Swedish motorcycle magazine MCNytt and also with BIG help from Gustav's son Claes Flink, Staffan Gunnarsson, Leif Norberg and
from Gunnar Lindstrom, (one of my great MX heroes from the 60´s and 70´s), who also own´s one of the few remaning Flink bikes.
Thank you Claes, Leif, Gunnar and Staffan!