Eric Miles Photos
Eric, from UK have been taking MX photos from mid 60's and hes still going on!
I want to thank Eric for his fantastic photo's and for sharing this "Swedish section" with us.
Updated 160217
Hi Mats - took these photos near Reading in 2013. Should have sent them to you long ago. This bike has been built by Mortimer club member Mick Baldwin on the same lines as a special built for Harold Lines [ of 1950s Ariel fame ] by
his employees Alan Willsher [ motor] and Brian Leask [ frame ] in late 1958. There is an article describing its construction in the magazine 'Motor Cycling' dated 26 February 1959. I actually saw it ridden in competition by Brian Leask at Pirbright in 1960. The whole point is that the Lines bike was inspired by the Bill Nilsson special which won the World MX title in 1957 - so a 2013 replica inspired by a 1958 replica of a 1957 original? Looks great anyway!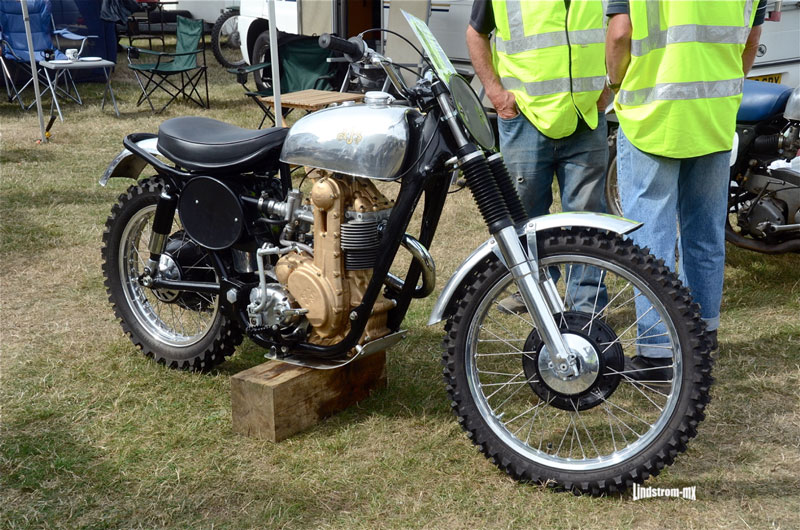 Updated 151127 News from Eric in England
My best 'news' shot of 2015.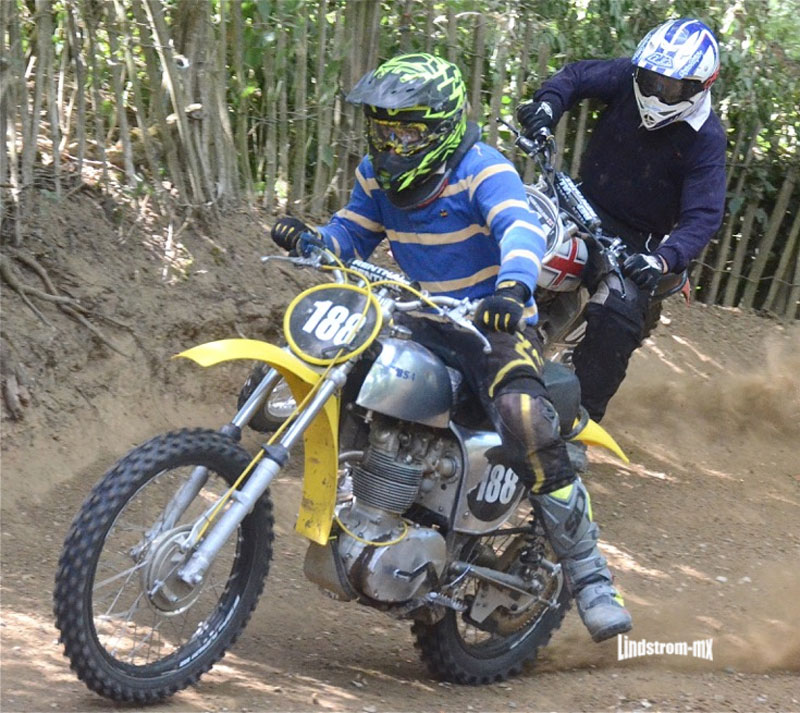 Newcomer in our Pre-65 Championship Aaron Graves eventually finished in the runner up position. Seen here holding off old campaigner Adrian Cox.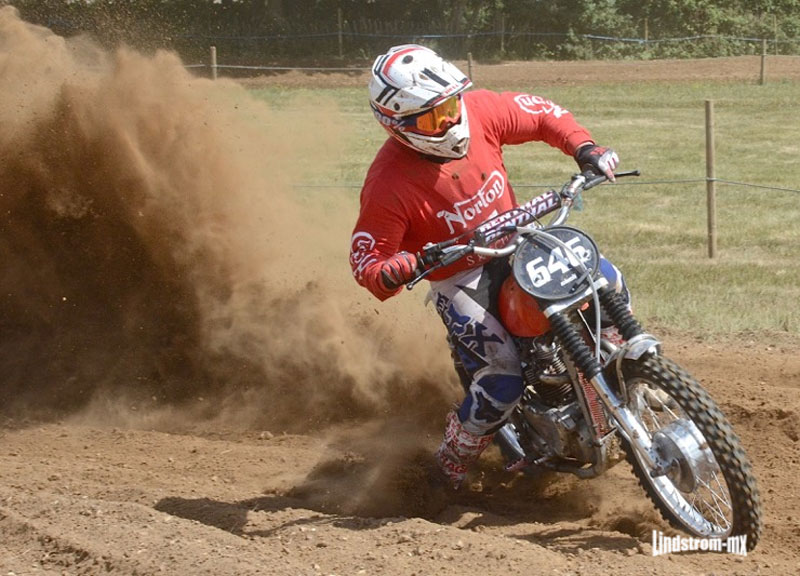 Chris Chell's younger brother gives the TRIBSA a work out. Joe also crews a sidecar with his dad Simon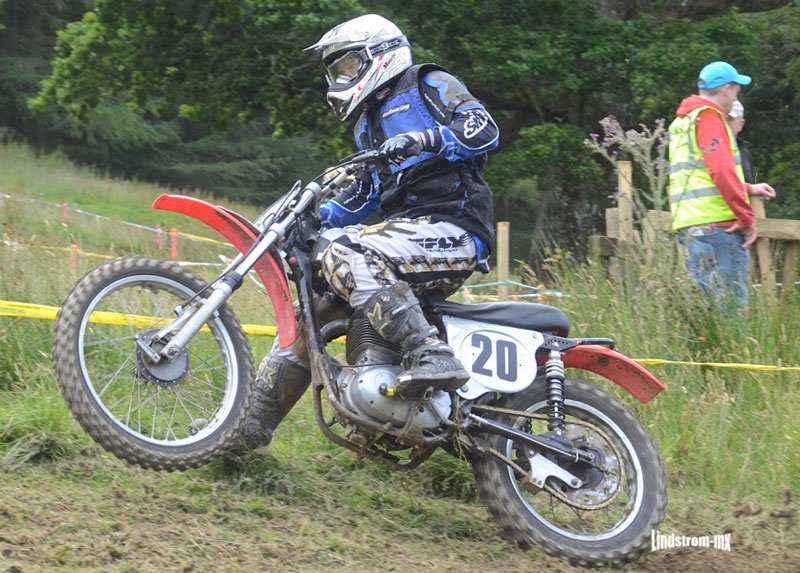 Welsh flyer Robert Jones represented his country at the Classic MXDN in September. Robert and dad Graham race on a limited budget with many parts from e-bay on their BSA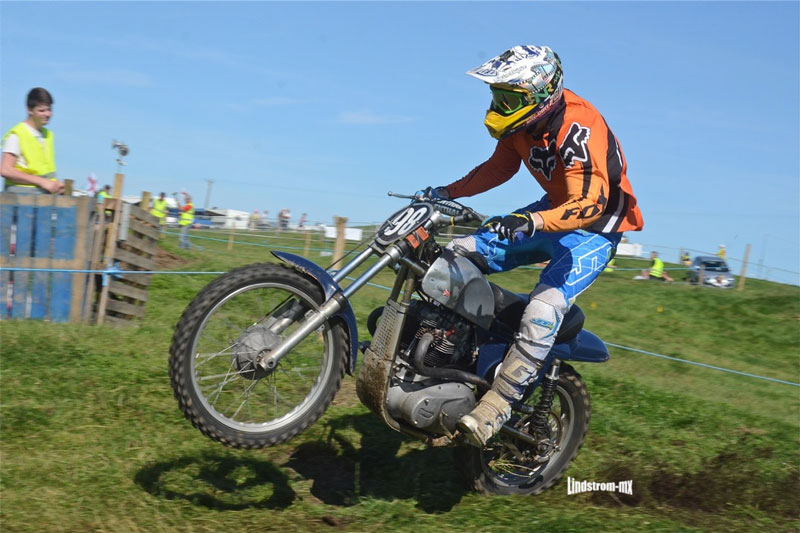 Lanky Scotsman Liston Bell enjoying some Devon sunshine on the big Metisse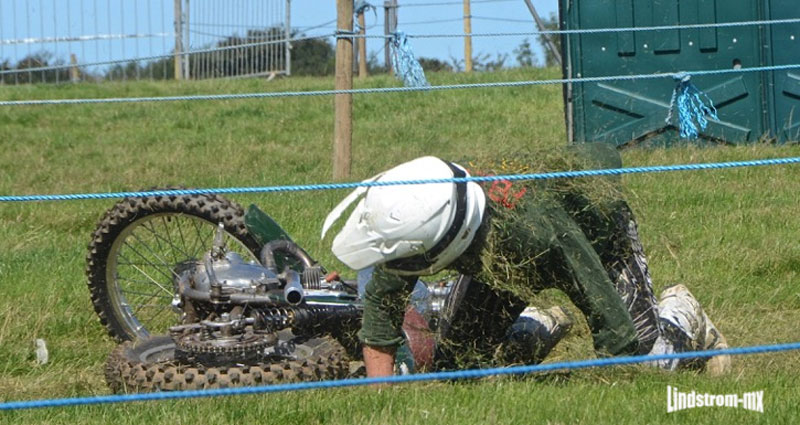 Whoops! - eventual Pre-65 Champion Ricky Pedder makes contact with Terra Firma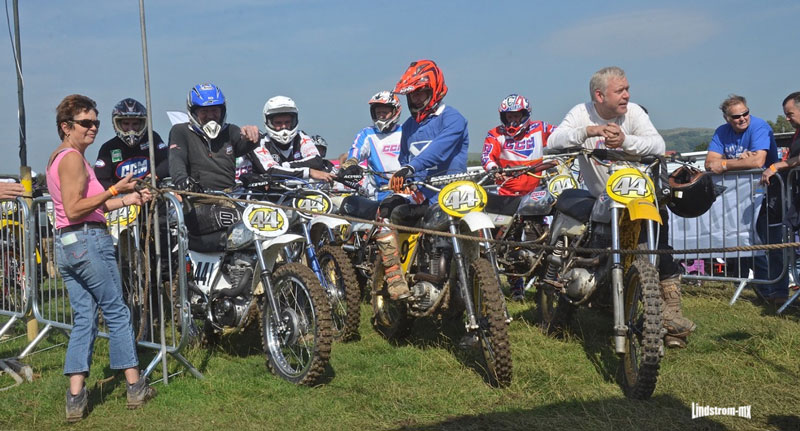 Tribute to the late John Bethell as riders turn out at the annual 'Nostalgia' MX on CCMs [ John's favourite bike ] and with John's racing number- 44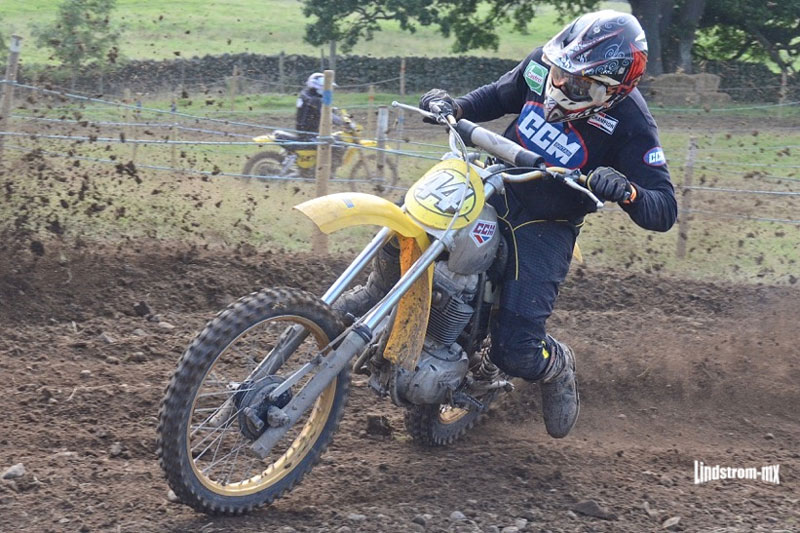 Sliding a Pre-78 CCM - Tony Barnes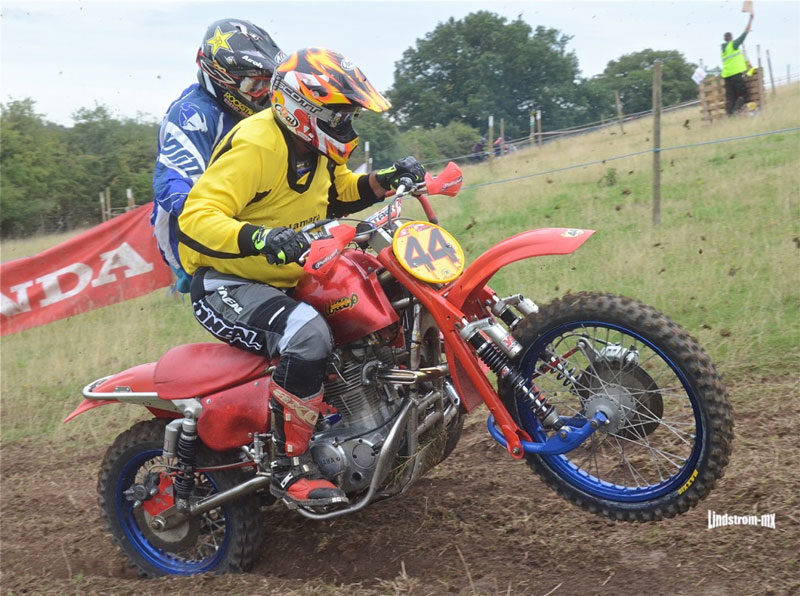 Competing at the new Sidecar Championship at the round held in late August - Phil Roger and Greg Wernham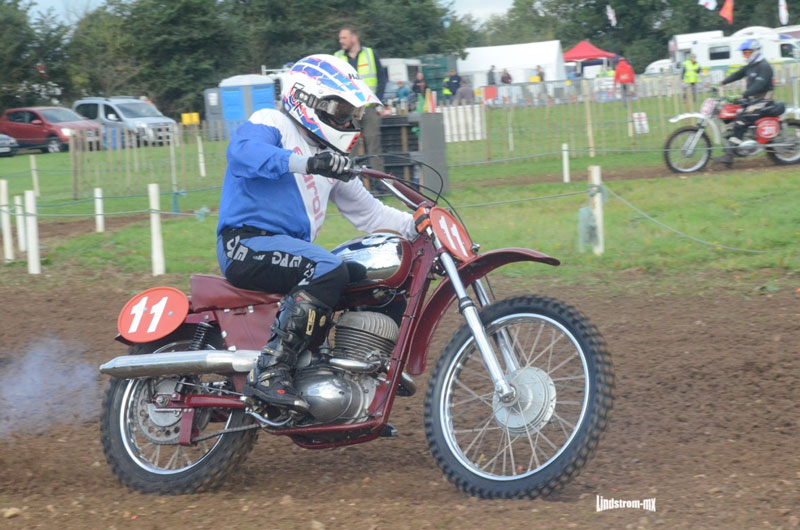 Visitor from Holland - Jos Verwij on one venerable JAWA at the Classic MXDN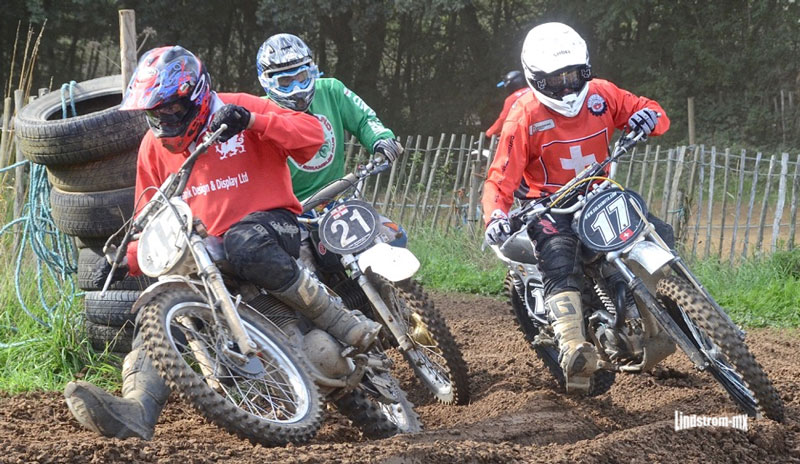 International competition - John Cash [ Wales ] Jeff Wright [ Northern Ireland ] and Alessio Dolda [ Switzerland ] at the Classic MXDN in early September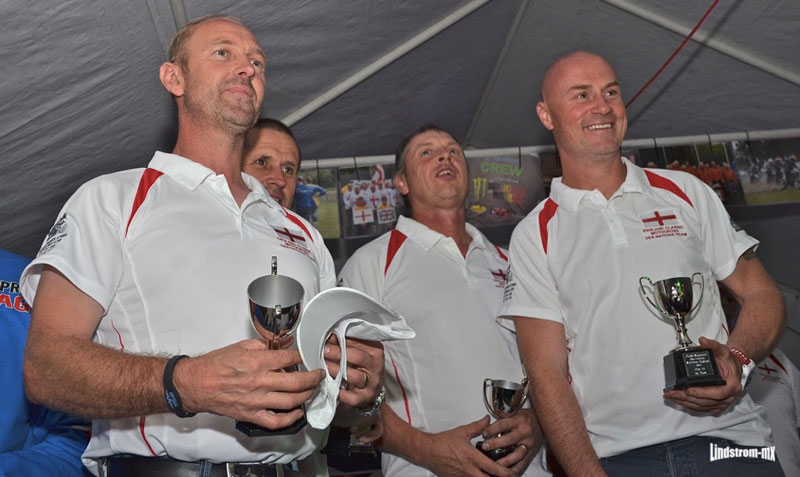 Happy winners - the England 35+ team at the Classic MXDN - Wayne Partington, Adrian Cox, Keith Rice and Scott Hayworth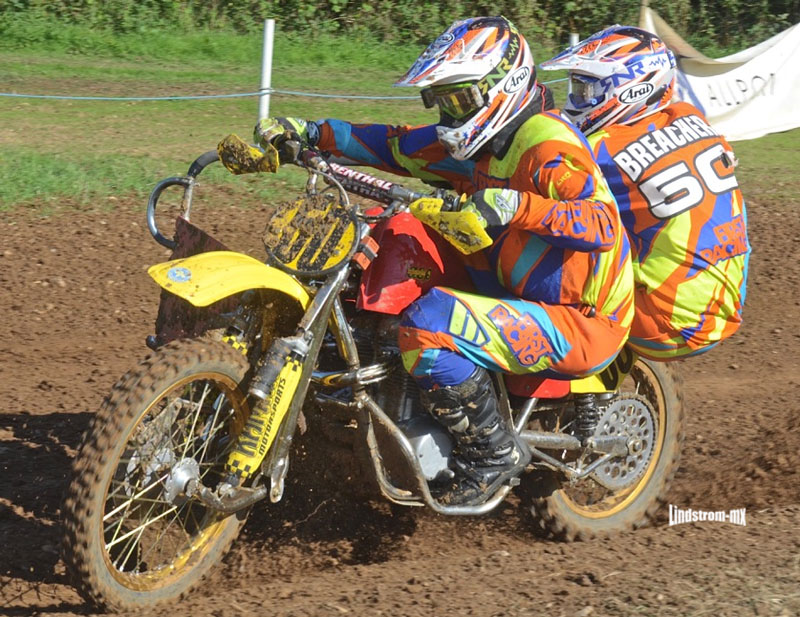 Andy and Tim Breacher would have finished higher than 5th in the S/C Championship, but driver Andy had to have time off for an operation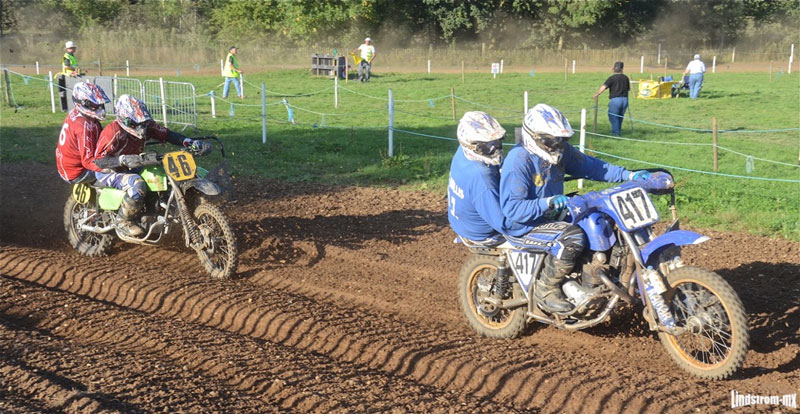 Second in this picture, but Chris Walker/Richard Brinsden [ 46 ] were first in the S/C Championship. Andy Carter/Billy Carter-Millis [ No 417 ] were runners up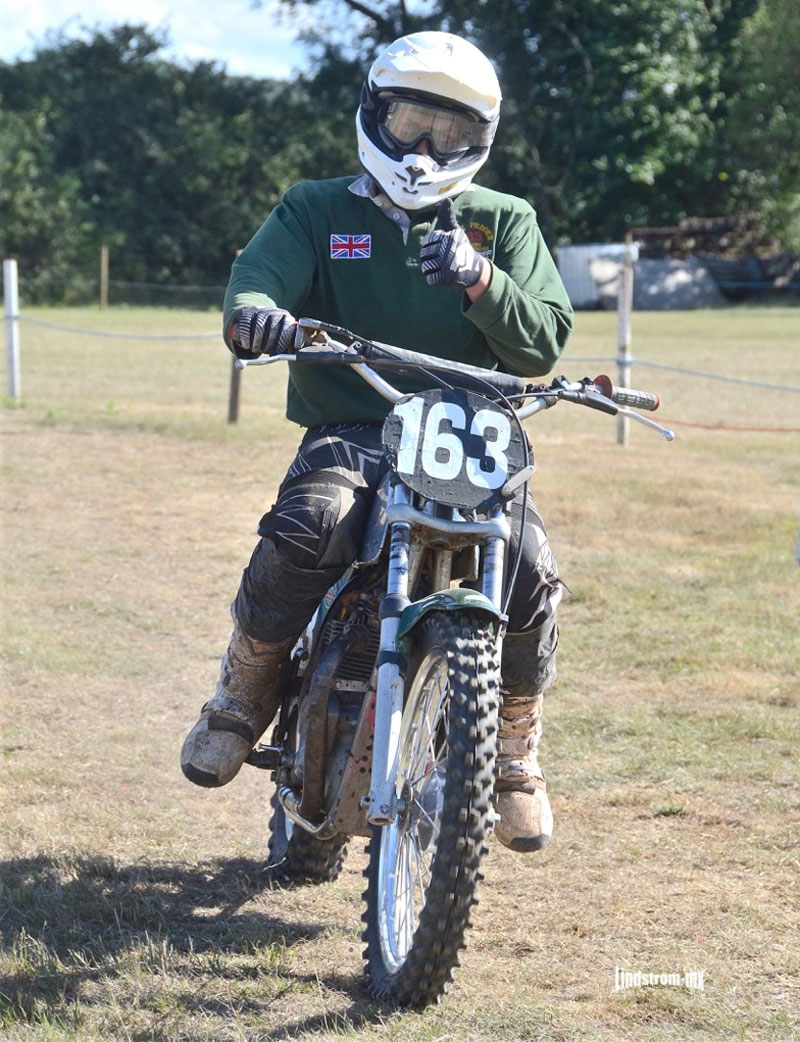 Happy Champion - thumbs up from Pre-65 winner Ricky Pedder on the 750cc Triumph Metisse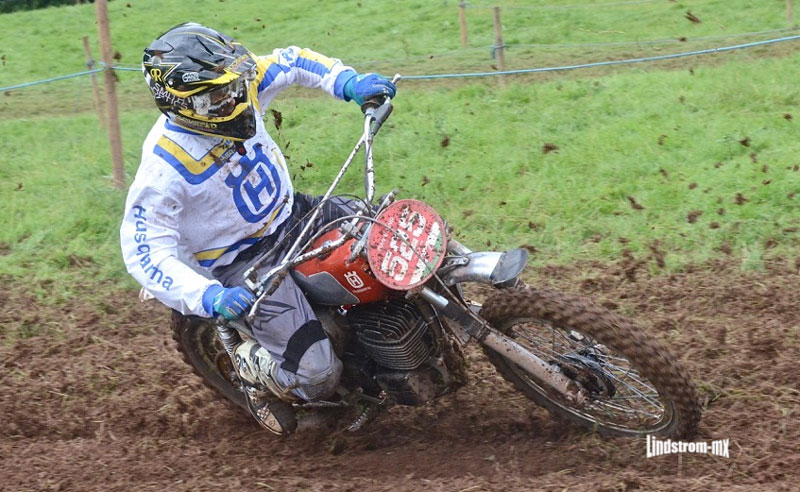 Welsh Husqvarna specialist Dan Evans gave the Championship regulars a fright in the last meeting, despite having a bad back.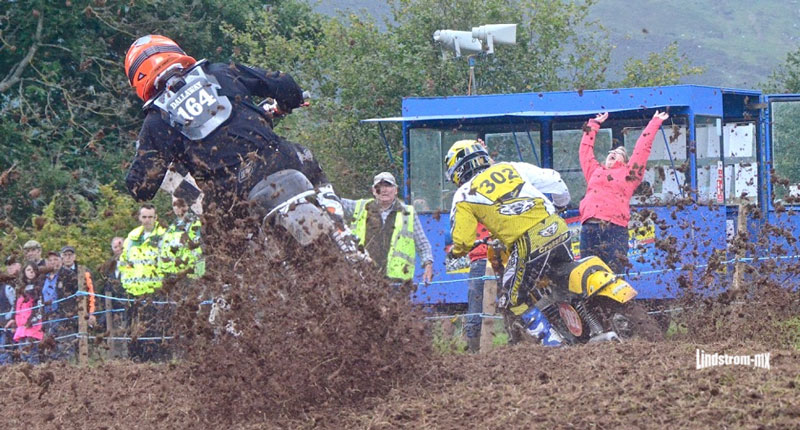 After 16 races Tim Dallaway [ 164 ] and Wayne Partington [ 302 ] are only a couple of points apart in the Pre-74 Championship. Whoever wins the final head-to-head wins the title. Wayne hangs on by 0.6sec to become champion. Wife Emma [ pink jacket ] throws her arms up in unalloyed joy.
Updated 150917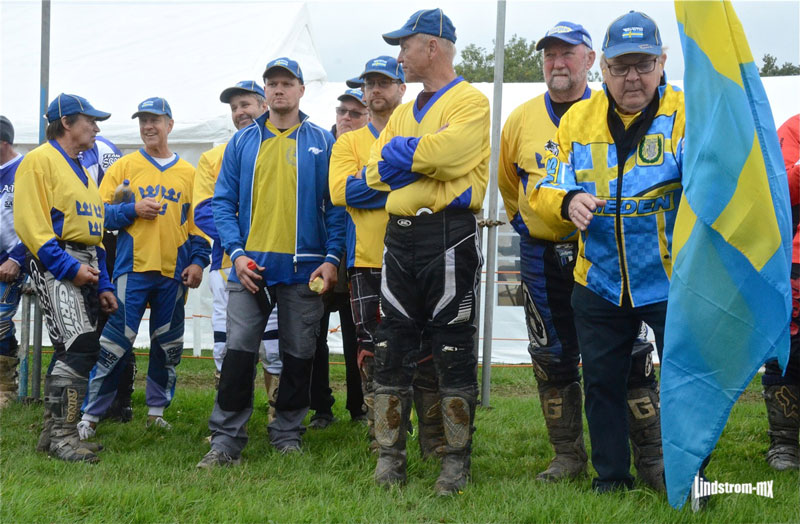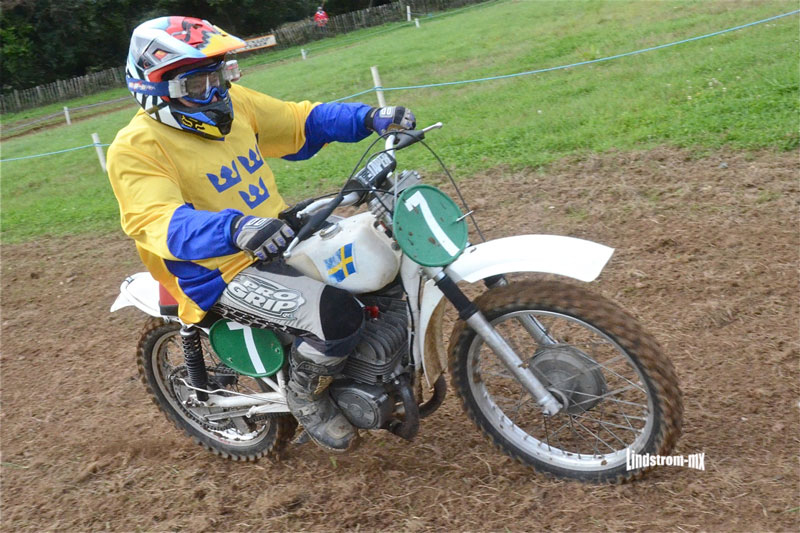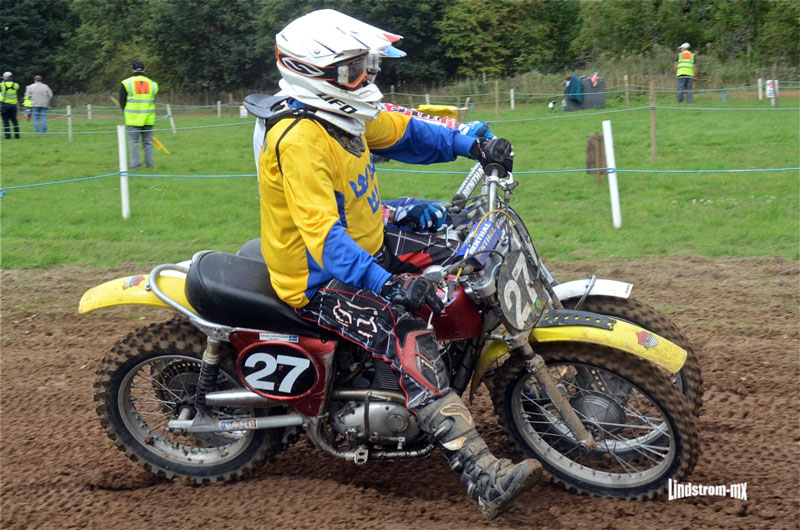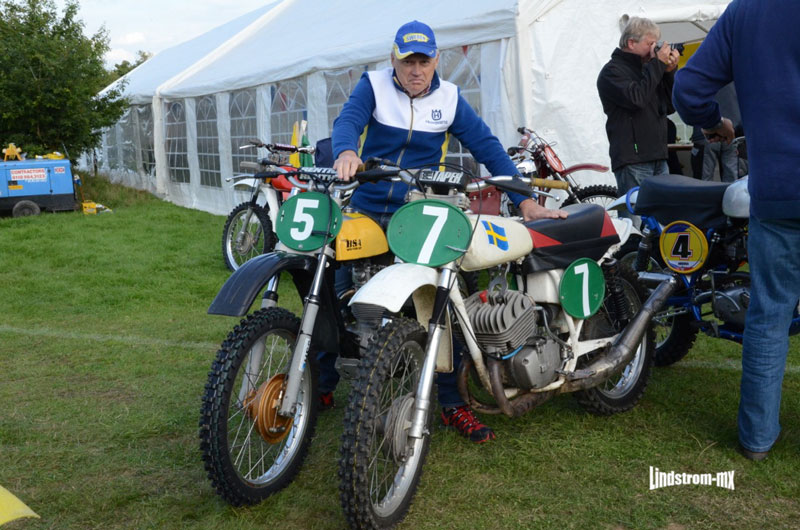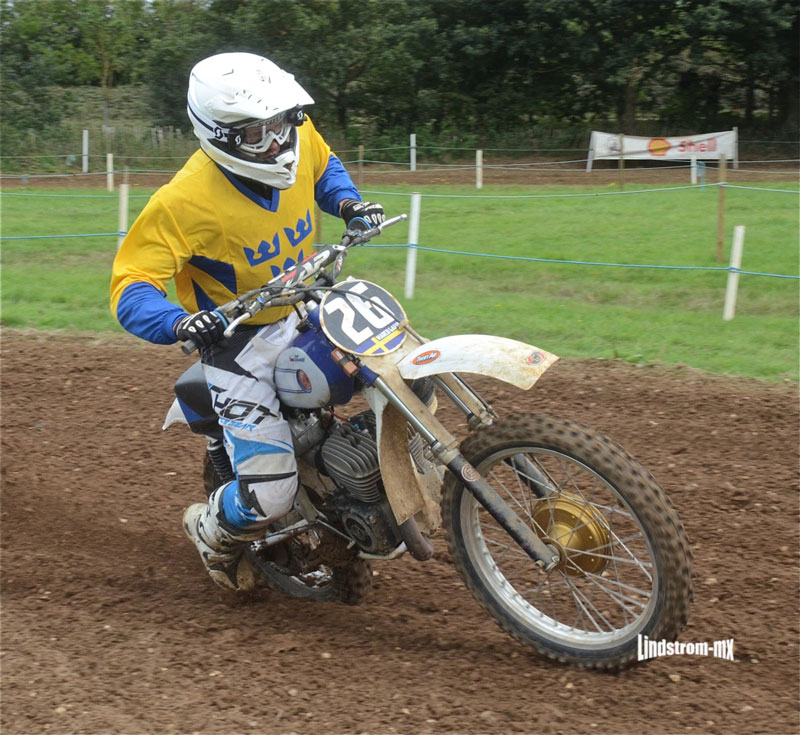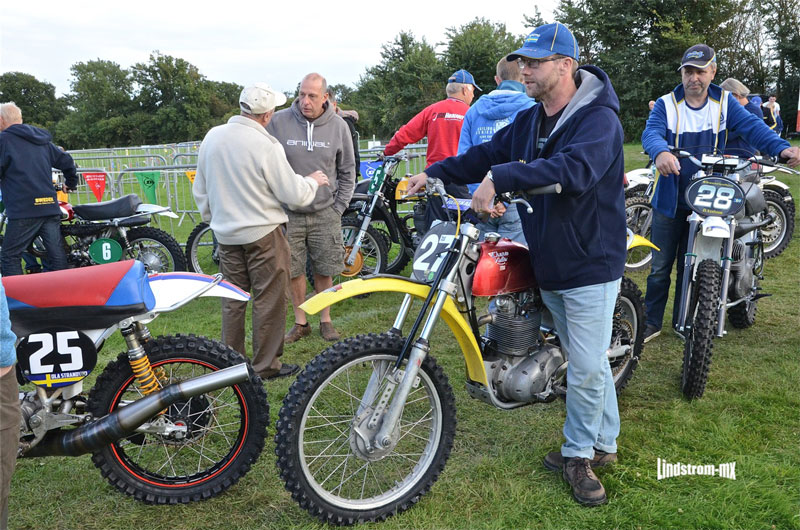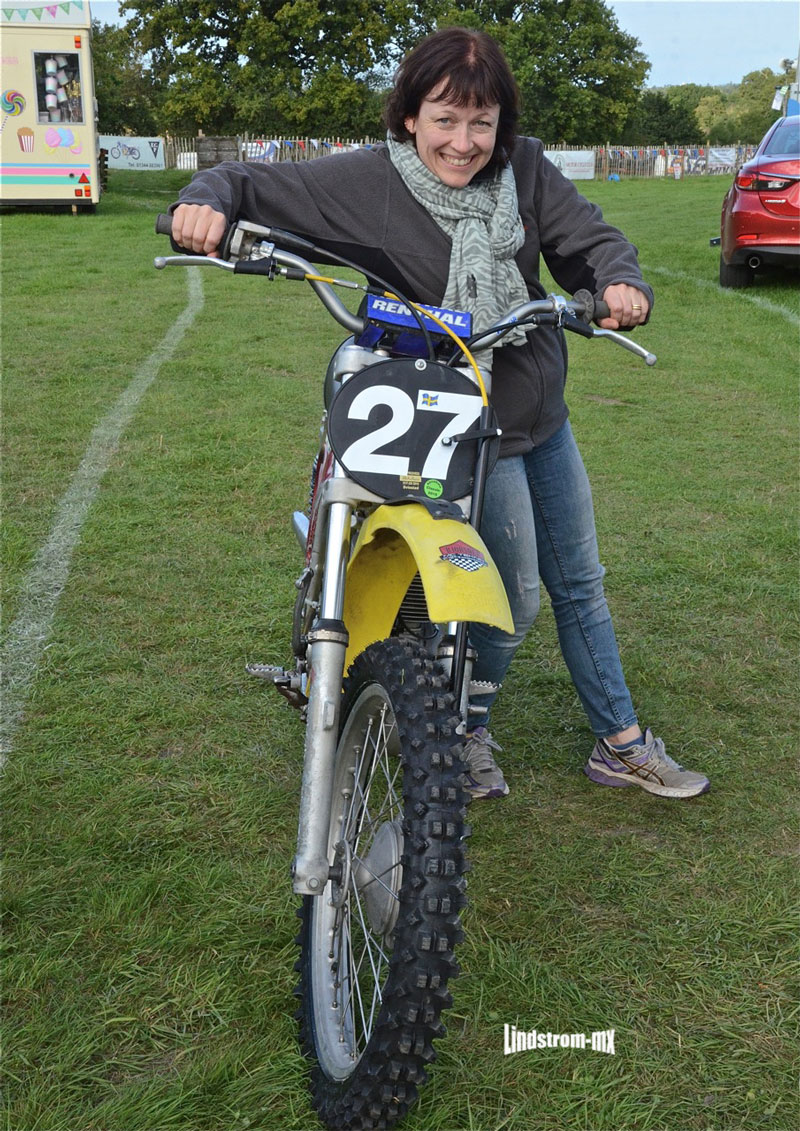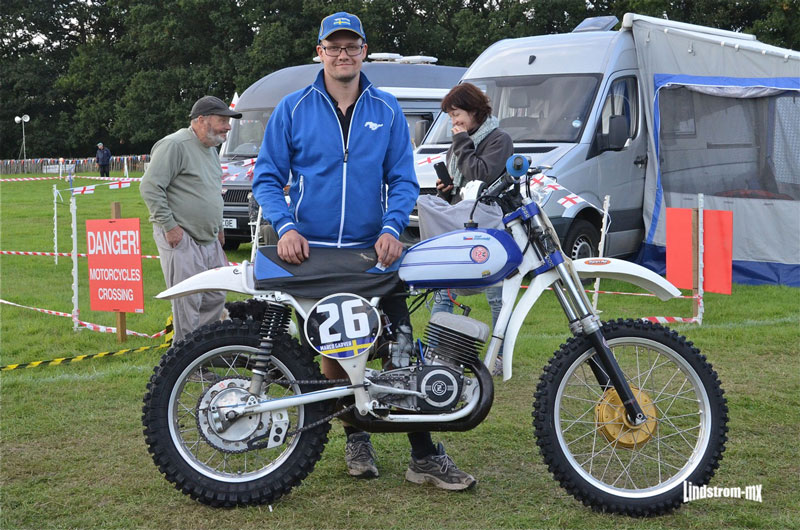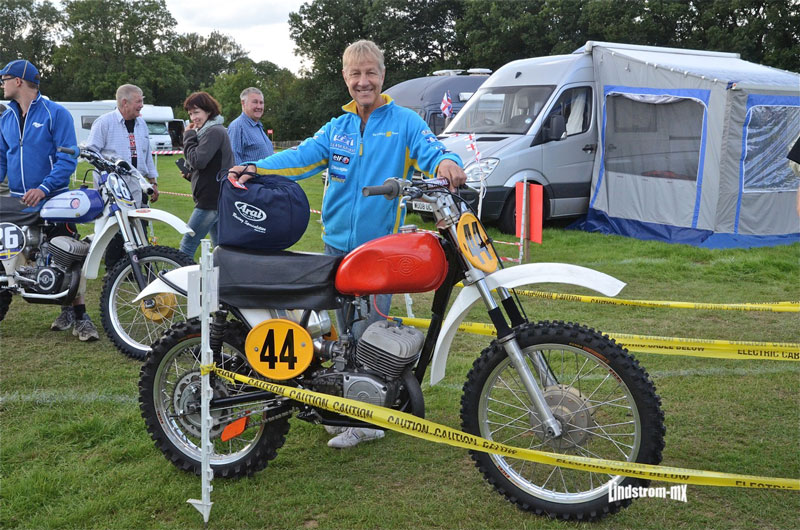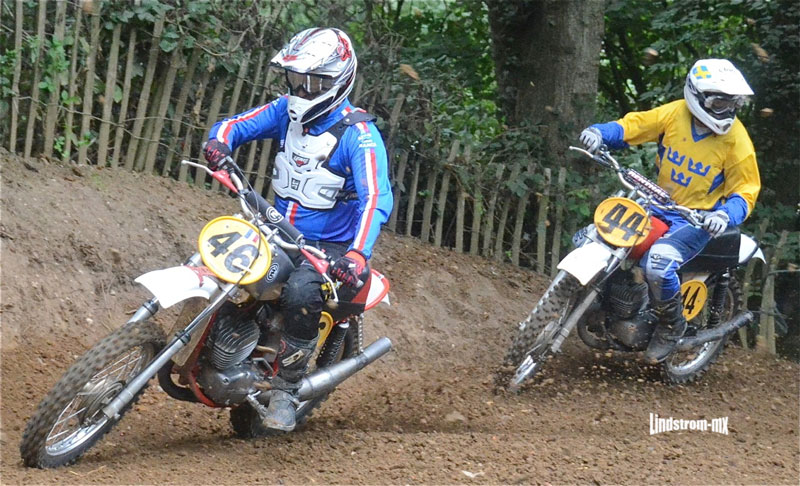 Är alla verkligen på väg mot samma mål här? reds anm.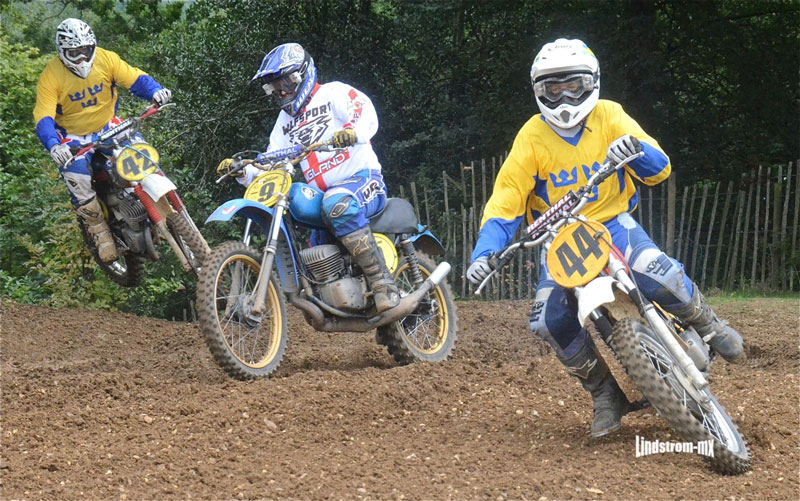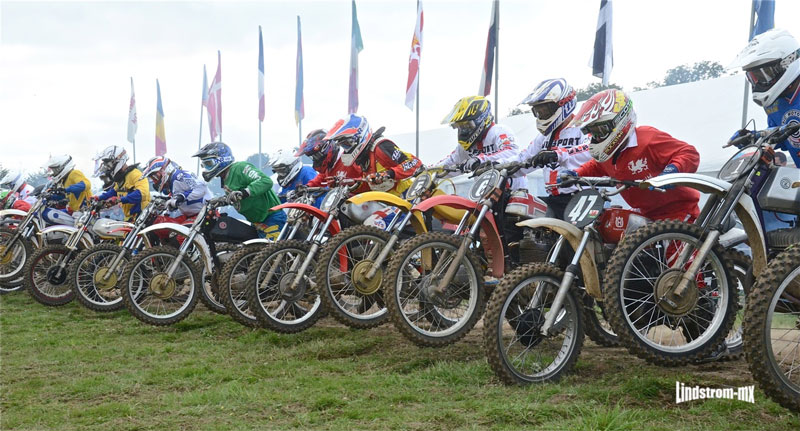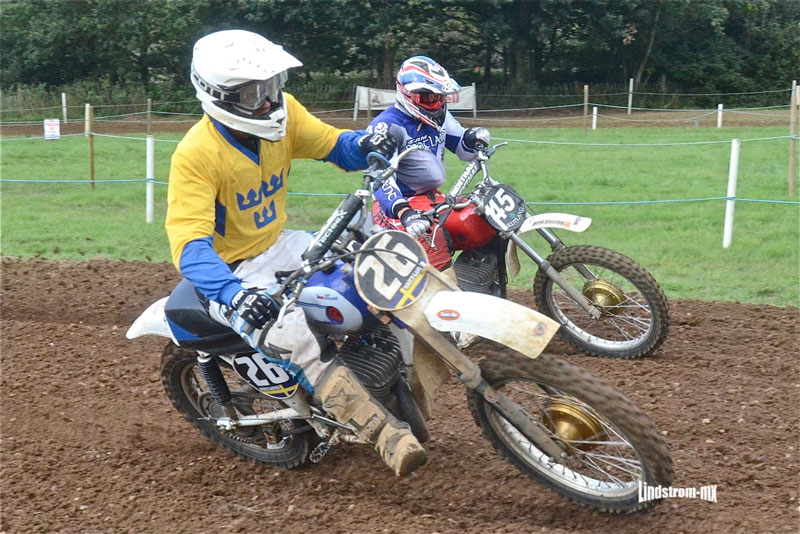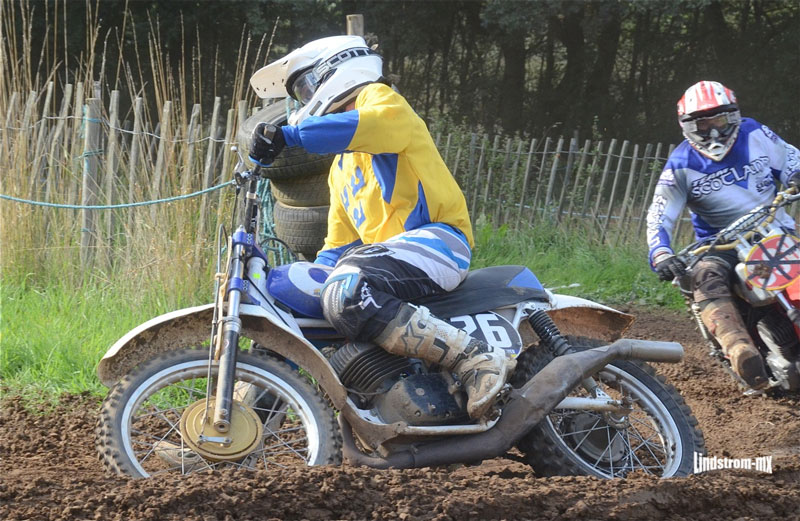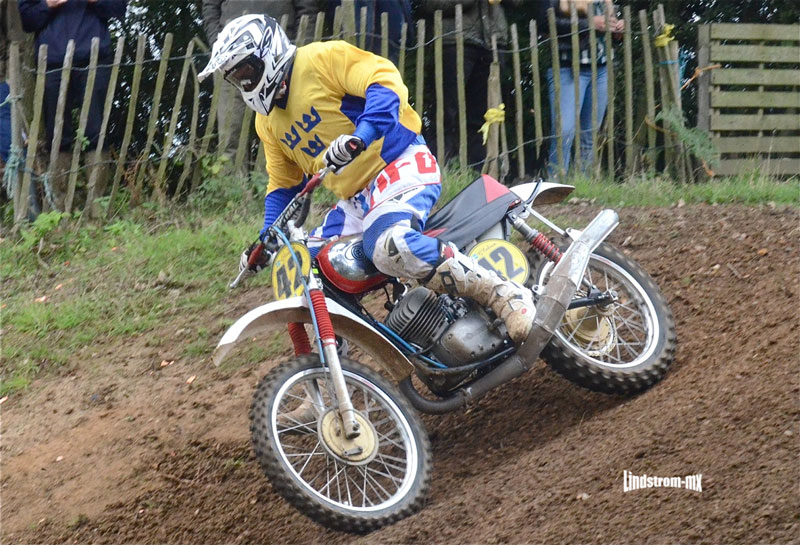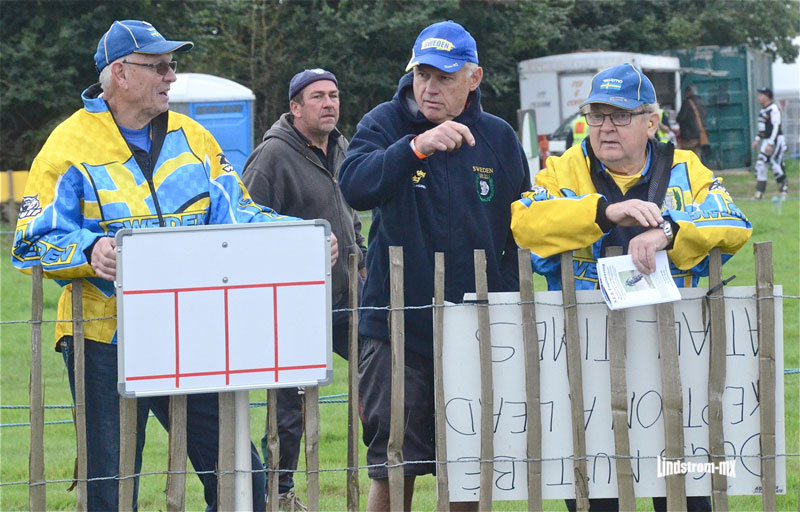 Hello All - thought you might like to see a couple of black and whites I bought as a schoolboy, plus some personalities on a demonstration ride at our recent Classic MXDN - best regards - Eric
Vic Eastwood [ 1963 ] - photo by Harry Stanfield - famous MX photographer then, sadly completely forgotten now.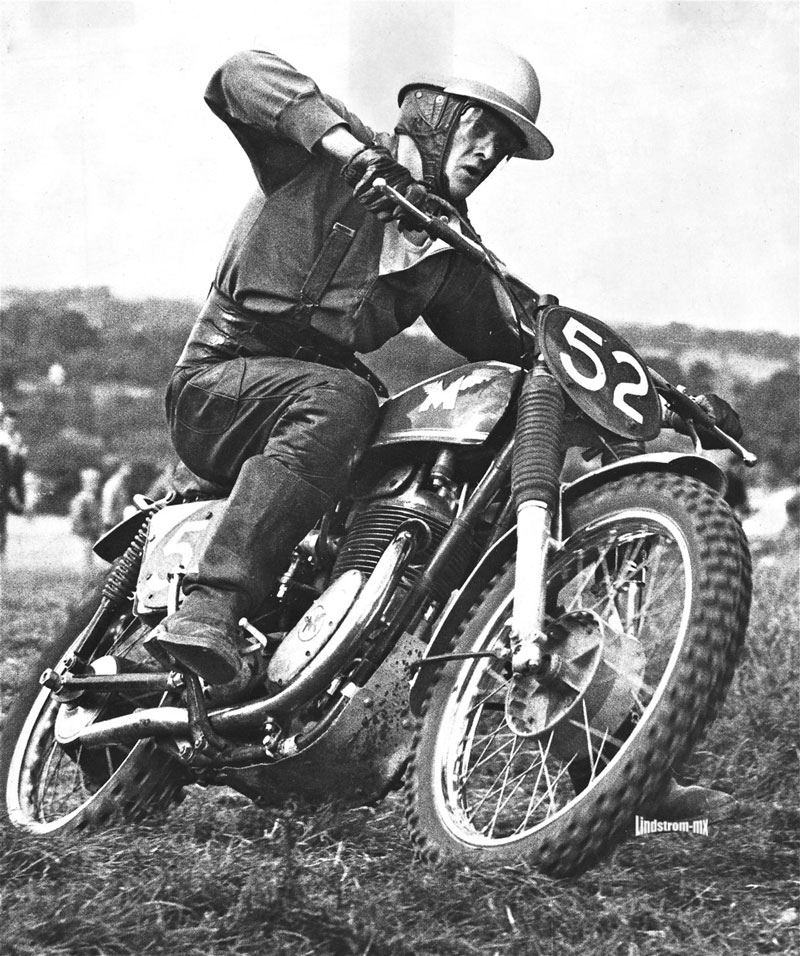 Dave Curtis [ 1961 ] - photo again by the great Harry Stanfield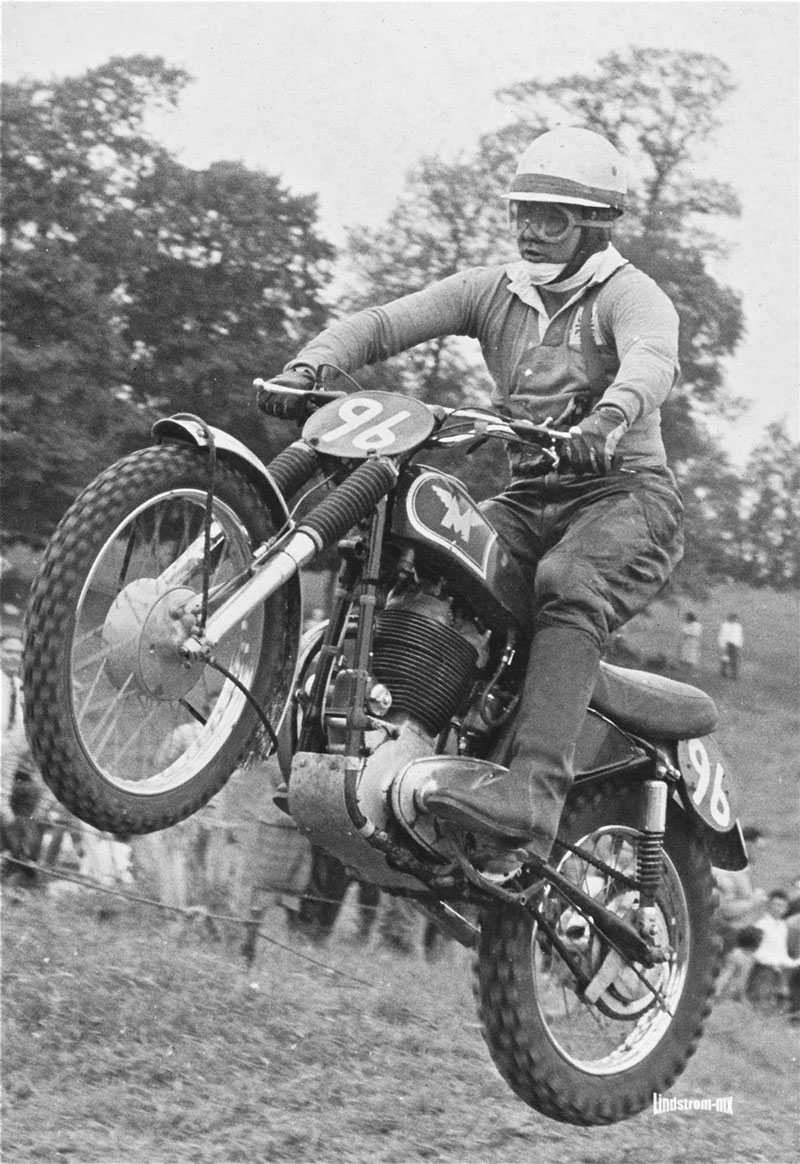 Dave Curtis today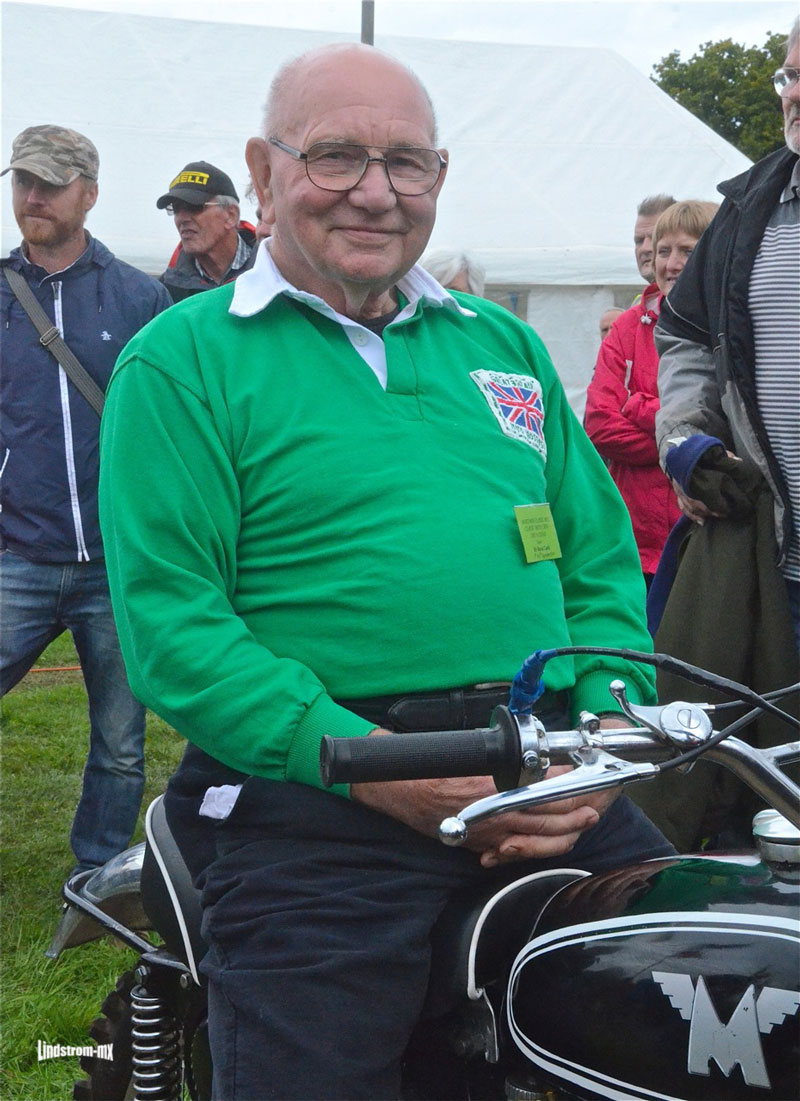 Photo session - Dave Curtis on the Matchless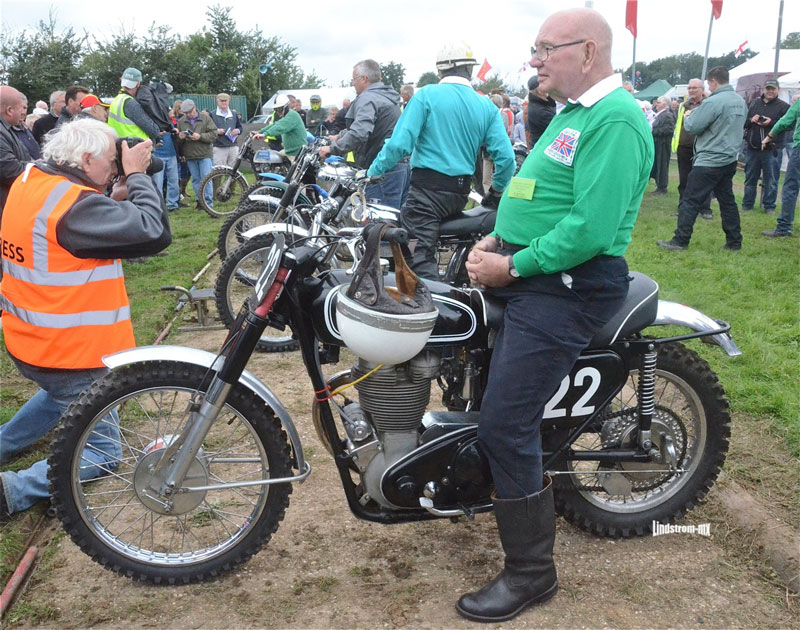 Who else? - Jeff Smith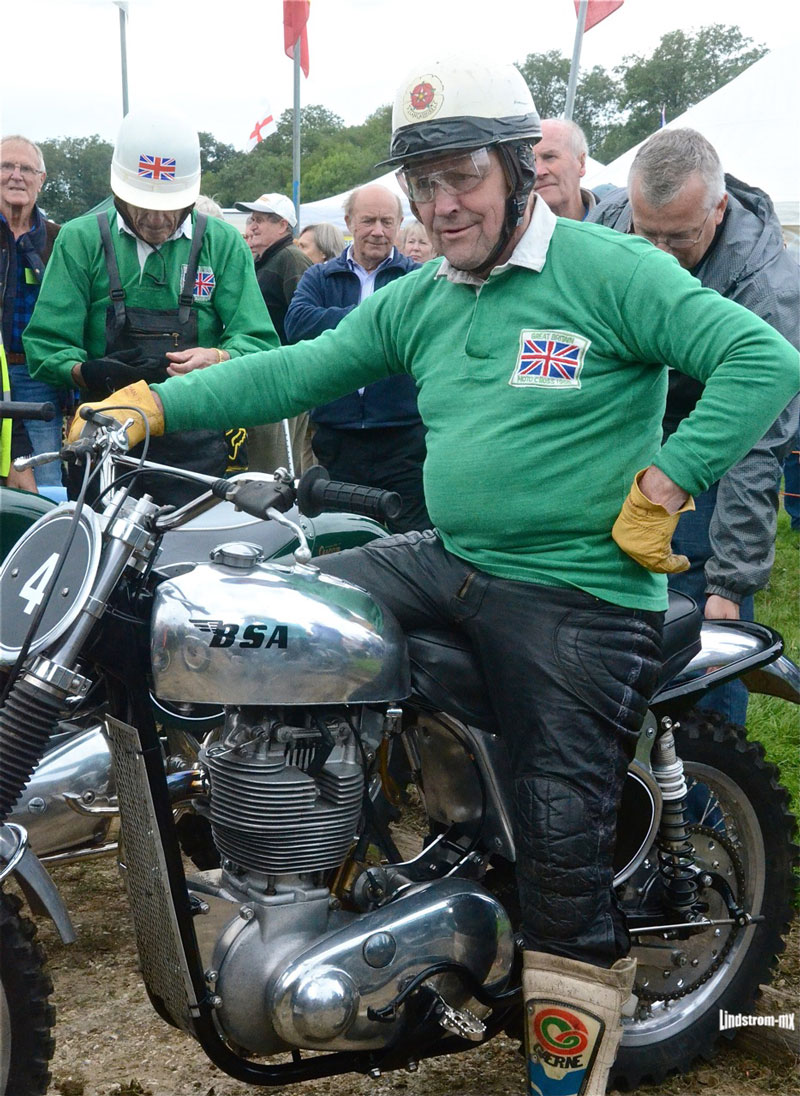 Derek Rickman and Jeff Smith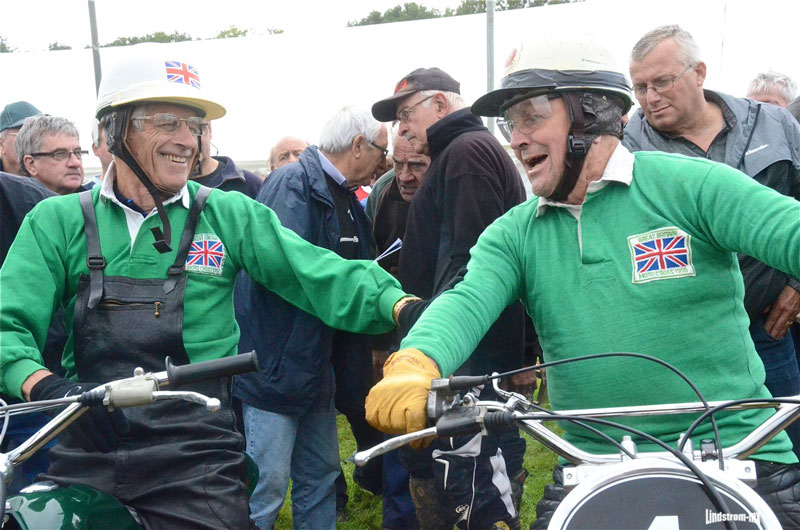 Fellow riders in the 1971 BSA works team - Jeff Smith and Andy Roberton. Andy still rides today!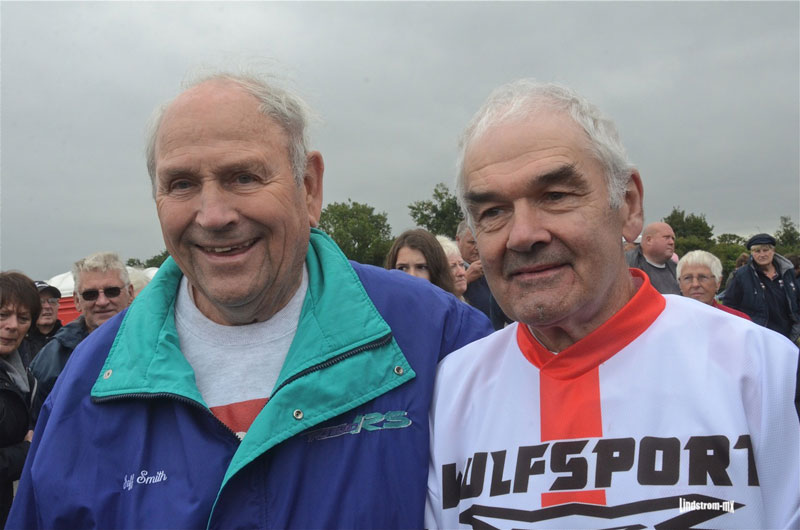 Derek Rickman and the Matchless Metisse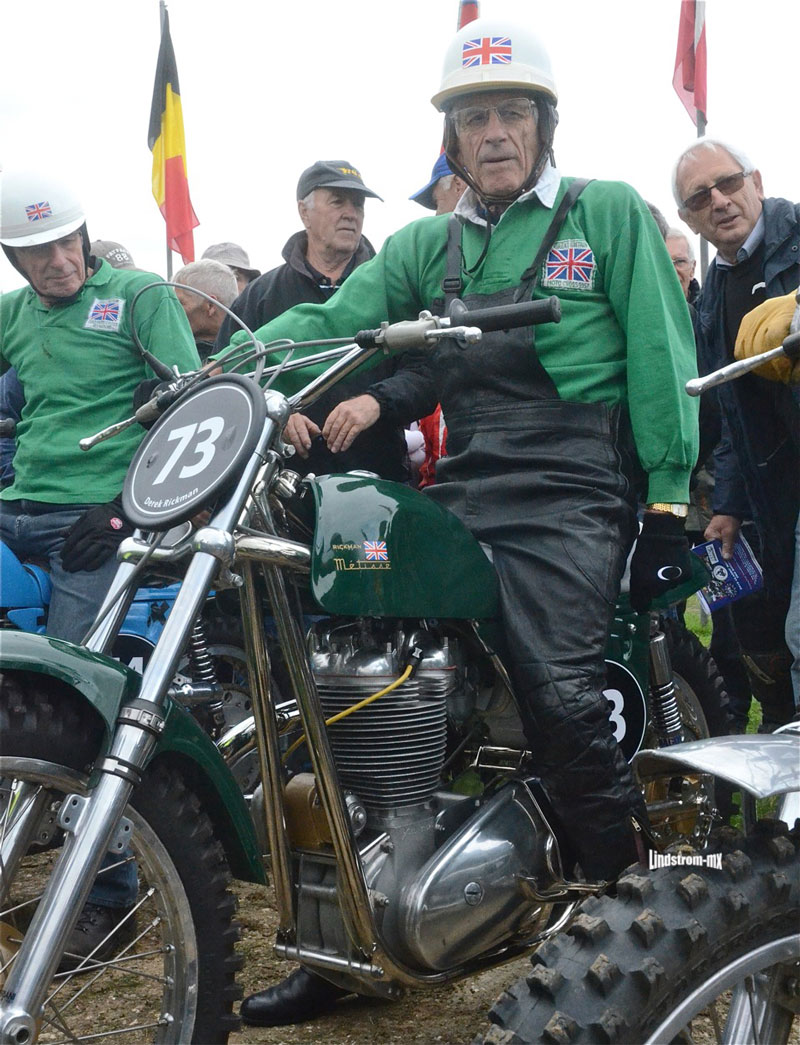 Younger brother Don Rickman in his 1963 MXDN team shirt [ - held that year in Sweden ]




A happy Derek Rickman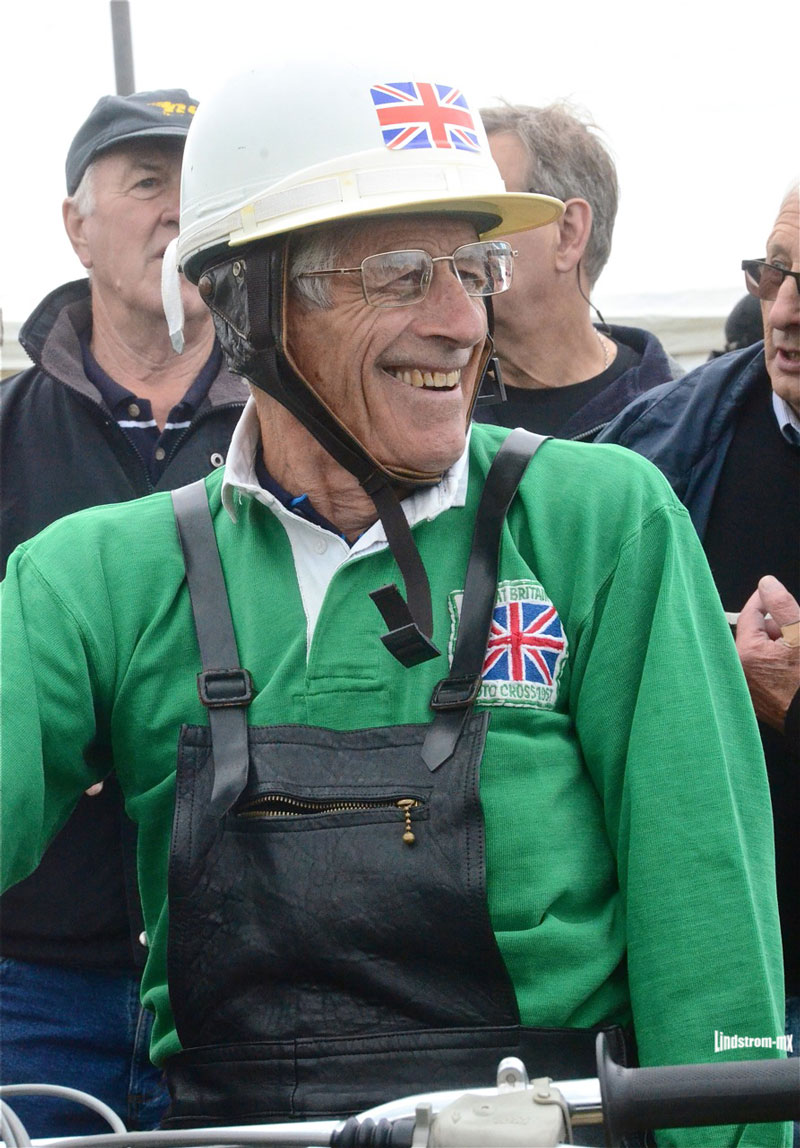 1960s Welsh Champion Bill Gwynne on the little DOT which terrified the big 4-strokes even before Greeves hit the scene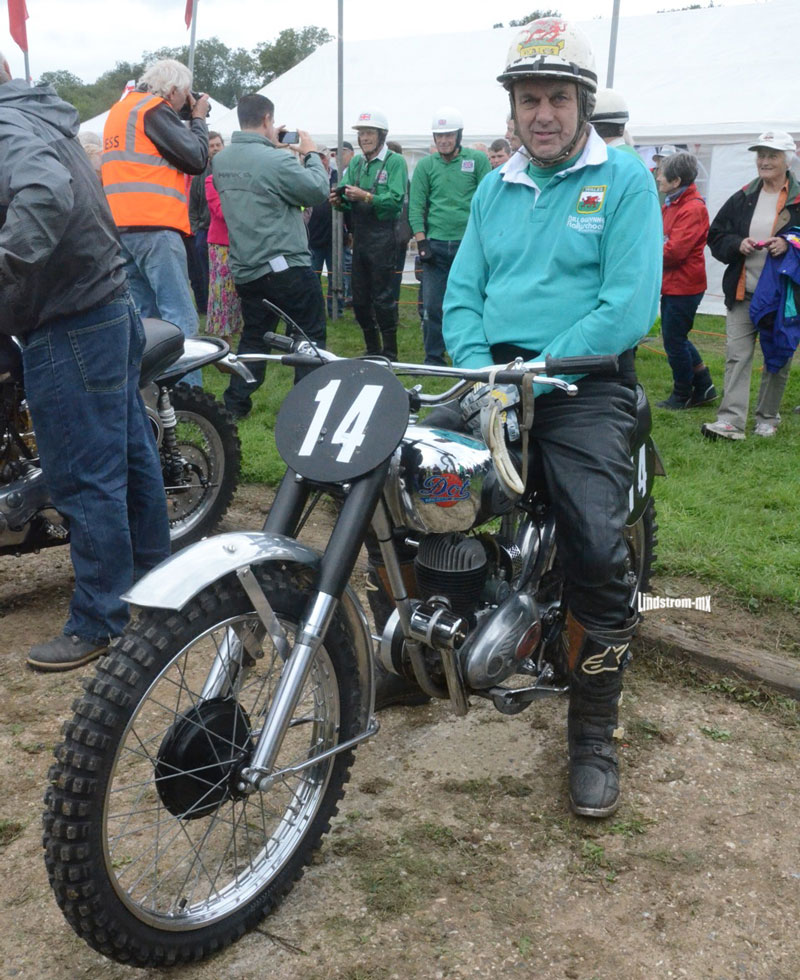 Jeff on the Gold Star [ - owned and prepared by Kevin Downer ]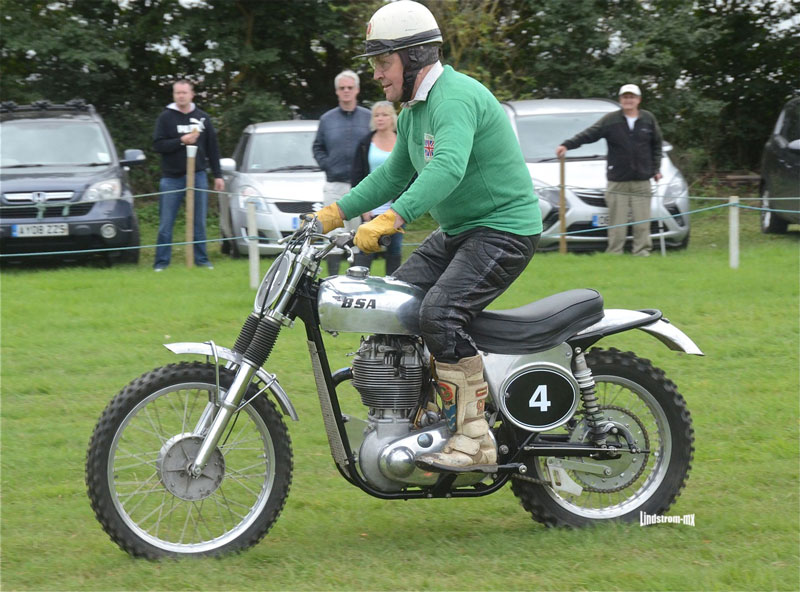 The Rickman Brothers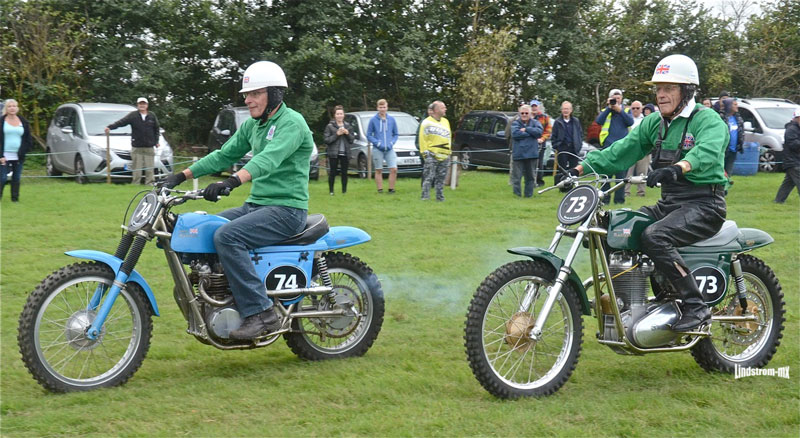 Dave Curtis re-united with the Matchless - Dave won the British 500 MXGP in 1961 at Hawkstone Park.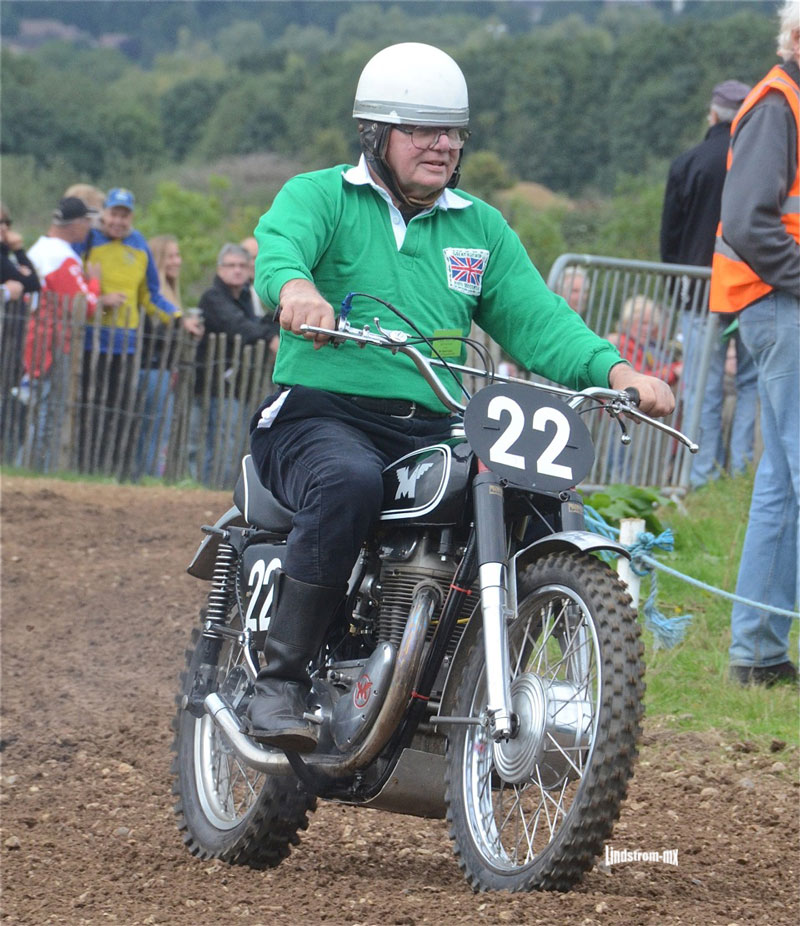 Dave Curtis enjoys his outing on the Matchless.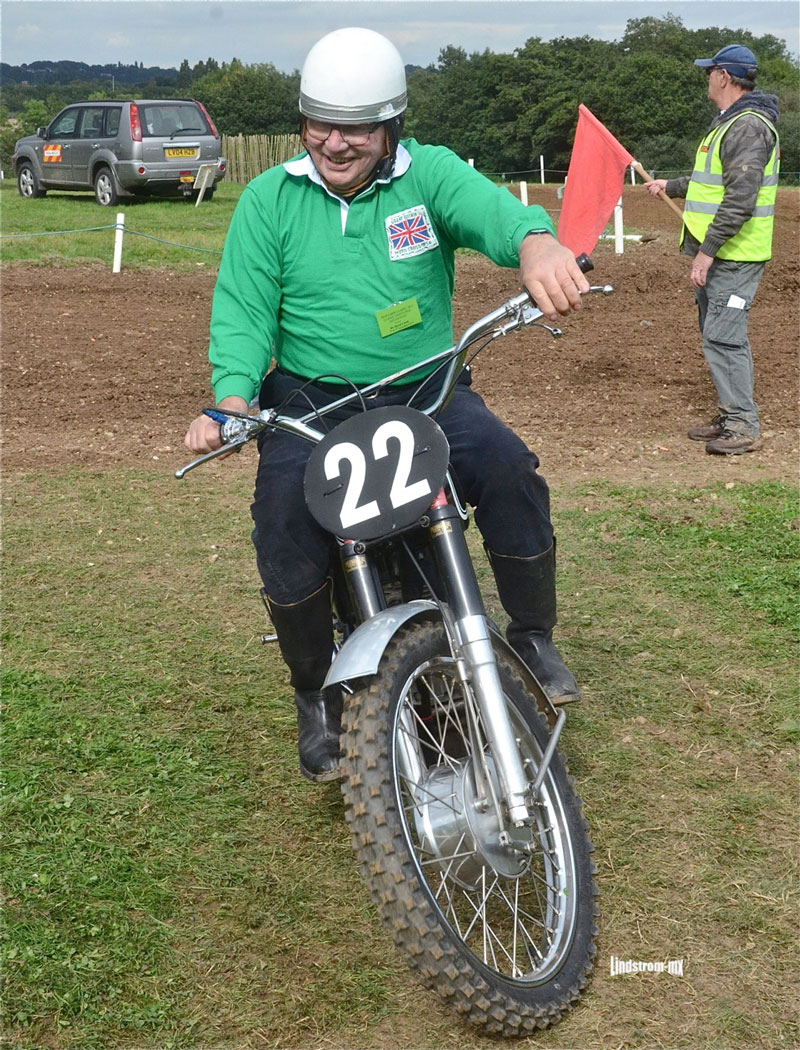 Updated 150529
attatcing some photos to show how the classic sport is running over here this year
Red Marley Hill Climb - fastest time of the day set by Tim Dallaway on a 600cc BSA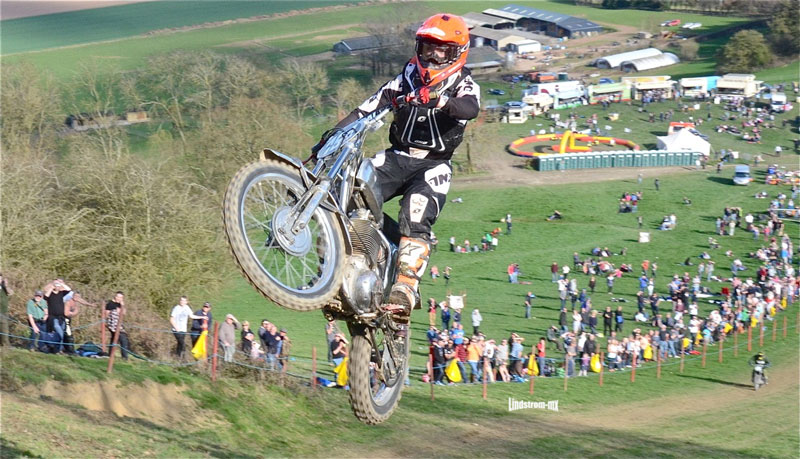 First round of our Classic Championship - surprise win by Kristian Marshall on a heavyweight JAWA beating the lighter CZs and BSAs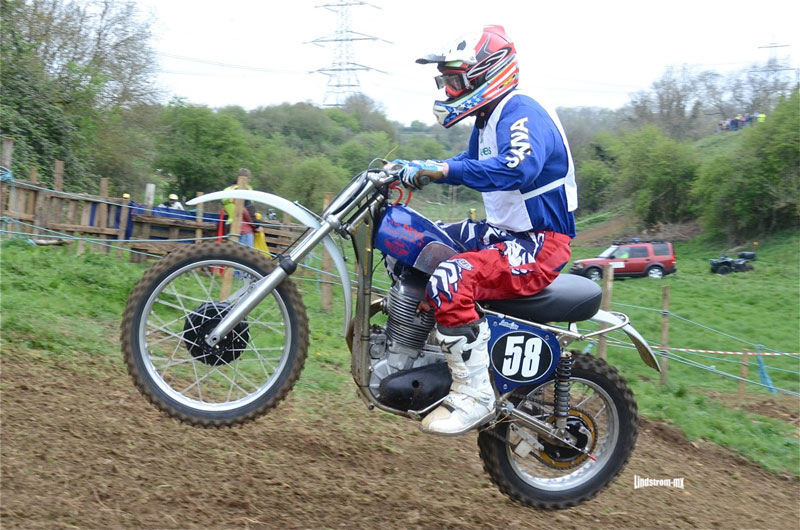 Three-Wheeler action in Wales - this driver - Eiria Rees - only has one arm [ - ! ] and all controls are on the throttle side. And he was close to the front when racing.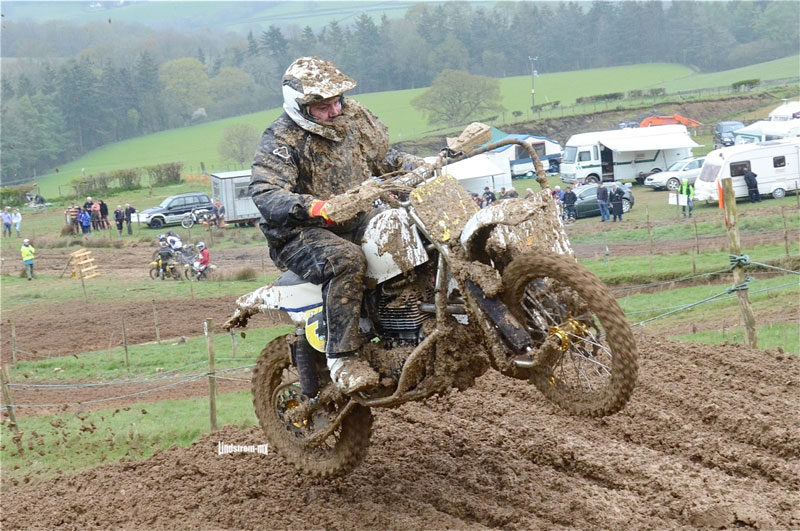 More three wheelers - we now have a National Sidecar Championship. First round winner Tim Breacher [50] has spent so much time racing in Europe he has the 'chair' on the 'wrong' side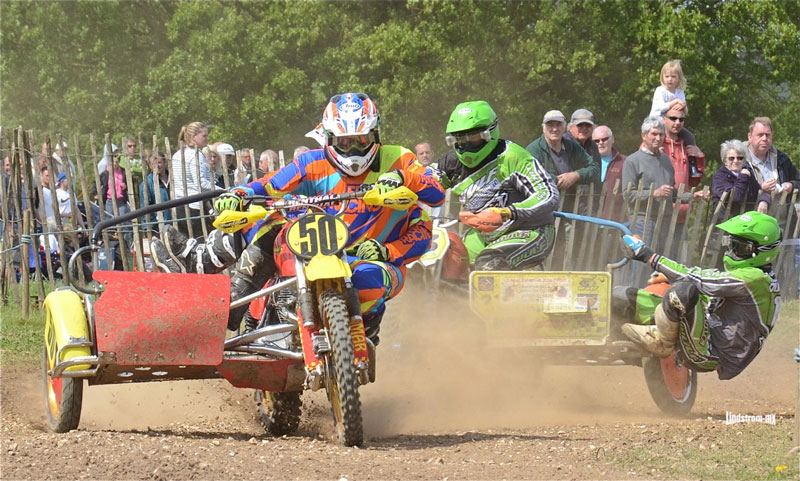 My local MX track near Stoke-on-Trent [ where the pottery comes from ] - Nick Payton on an early 70s Maico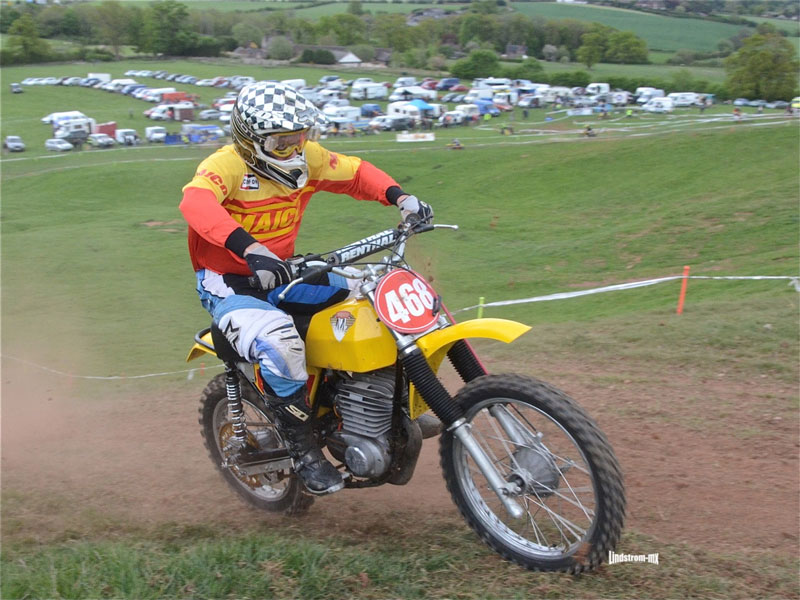 Last Sunday and last race of the day at Abbeycwmhir [ in Wales ] - our current Classic Champion Chris Chell [264] beats off the attack from two much more modern bikes to win. Go BSA! Go Cheers Eric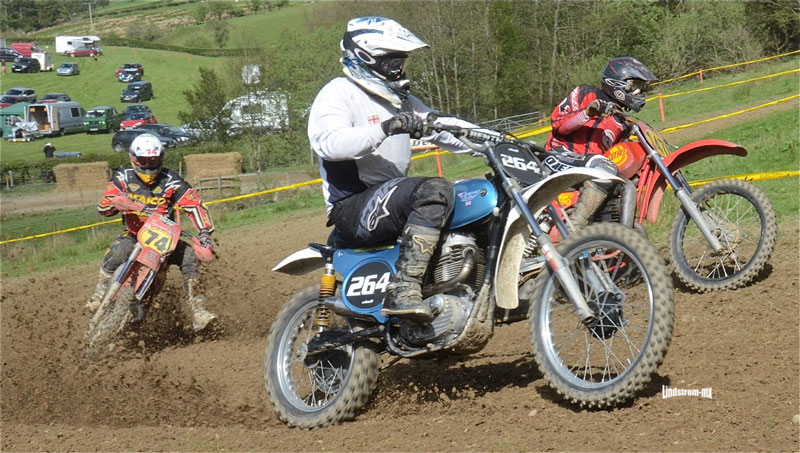 Updated 141223
Hi All - thought you might like to see some pictures covering the second half of our classic season, together with one very interesting photo sent to me from Australia - Season Greetings - Eric

B50 BSA as ridden by our current Classic Champion - 21 year old Chris Chell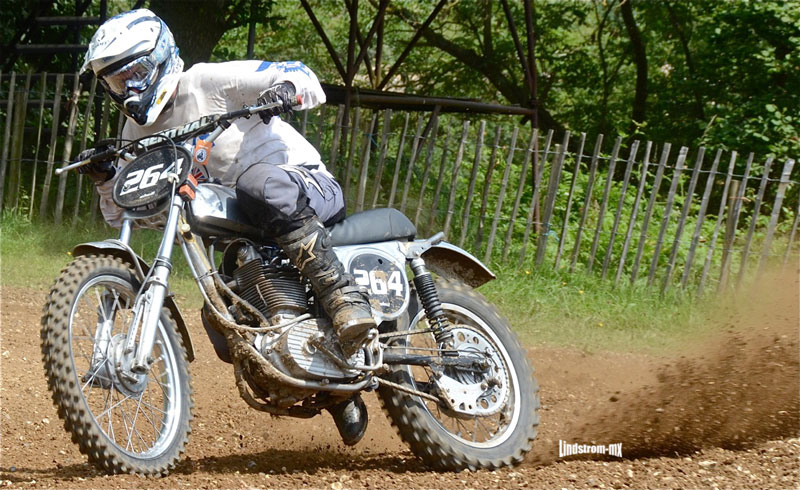 Unusual bike - Metisse chassis with a J.A.P. motor as ridden by Adrian Lappin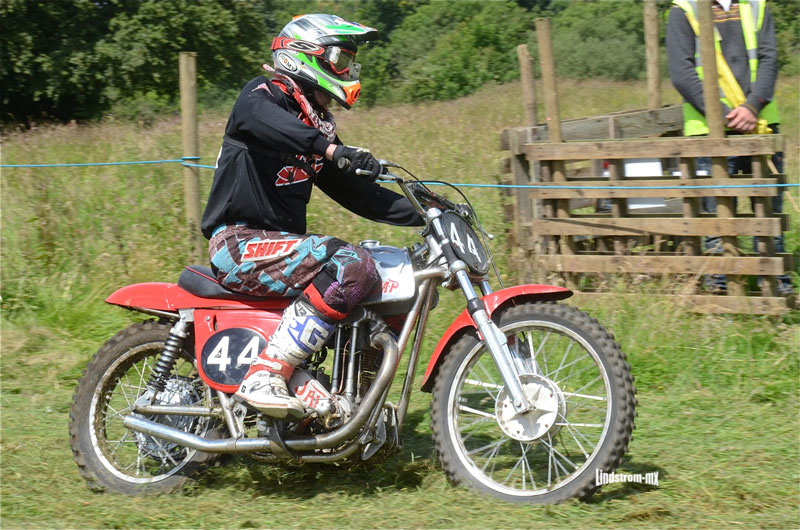 Leading bike is a Cheney Triumph, but number 3 as ridden by Andy Roberton is a Metisse with a Matchles G50 ohc motor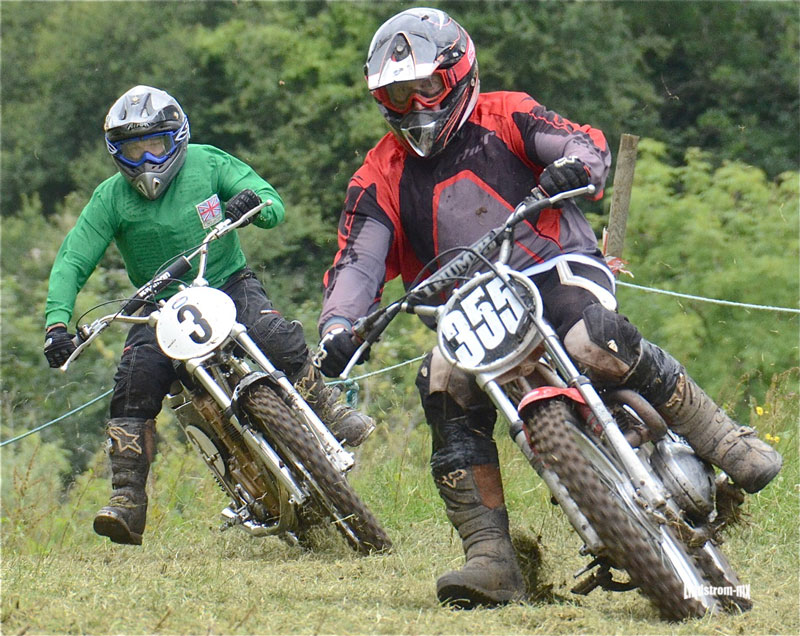 The 500cc BSA Gold Star is still ridden in this country, as by Andy Camm [ above ] - but Andy's dad Dave Camm is building a 600cc version for 2015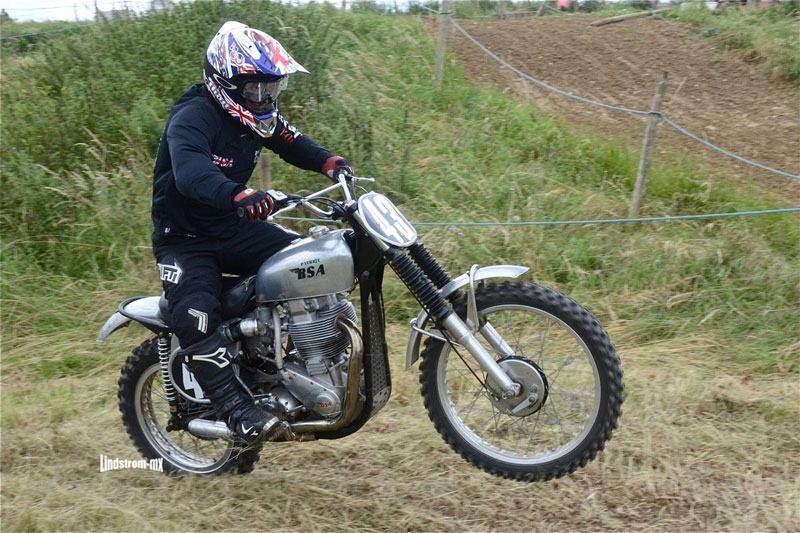 Kicking up a storm is 22 year-old Jordan Pope on a B44 BSA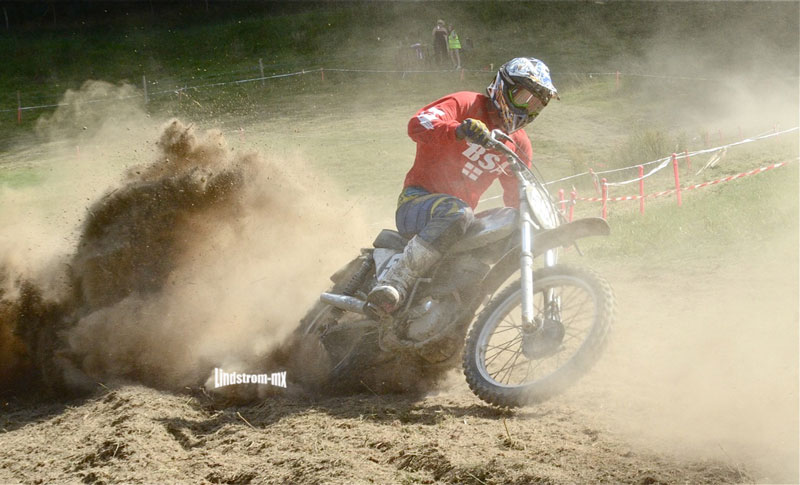 Beside the seaside - Andy White on a 250cc BSA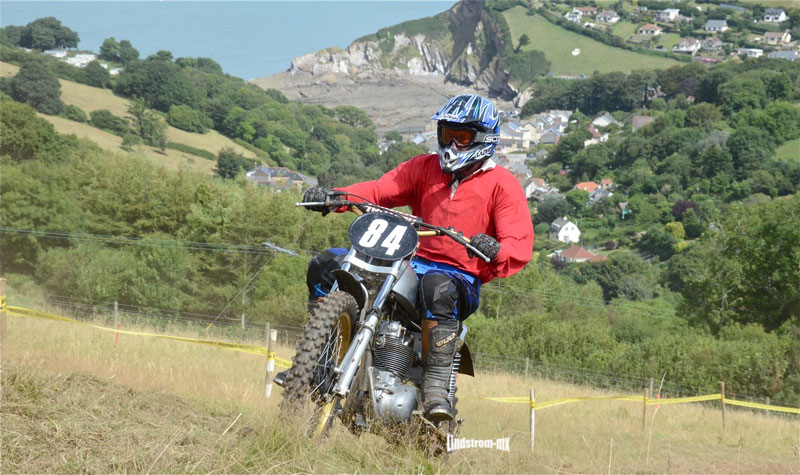 Rodeo style from Richard Warner [ mostly ] on his 380cc CZ near Reading. The 2015 Classic MXDN will be held on this course.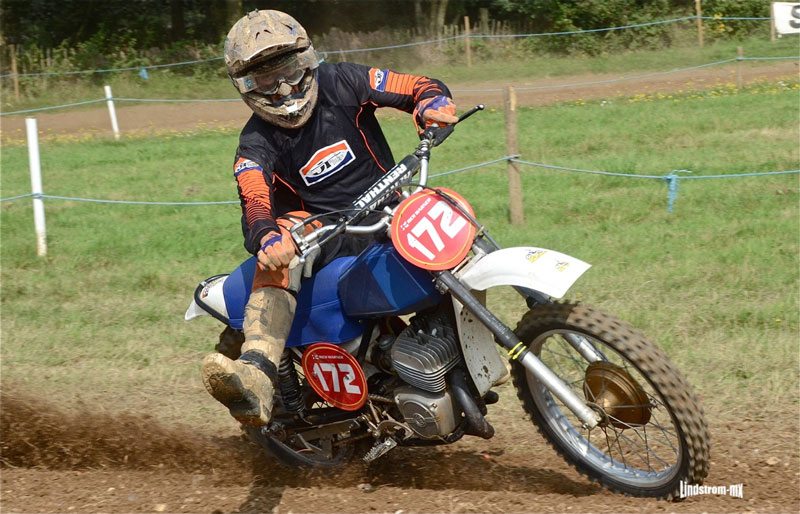 I'm following Justyn's style of getting in close with a w/a lens - John Payton on the JAWA-Metisse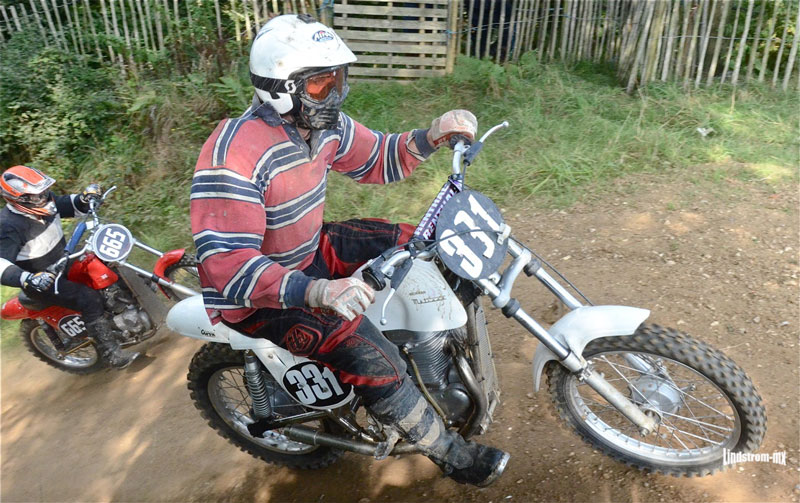 The TRIBSA is still raced over here - local farmer Bill Bourne at Hanbury on his 750cc version built by his dad Frank.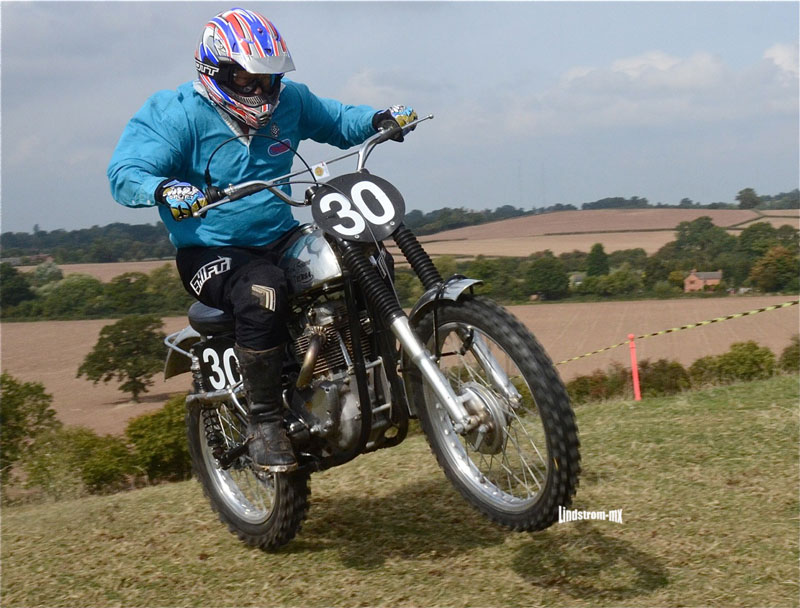 Another farmer - John Cash from Coventry in training on his Cheney BSA at the last Classic Championship round in Mid-Wales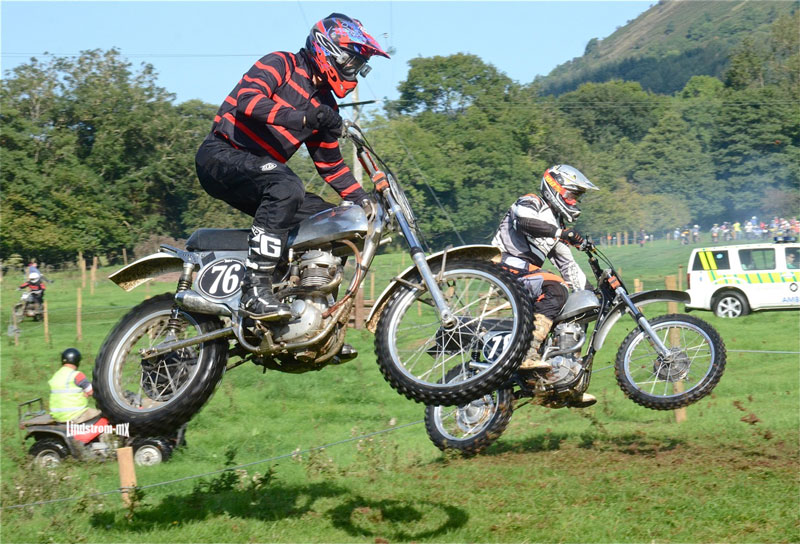 This photo was sent to me by Jim Van Sluys in Australia - the photographer is not known, but it shows Paul Freidrichs after his win at the 1967 British 500 GP at Farleigh Castle.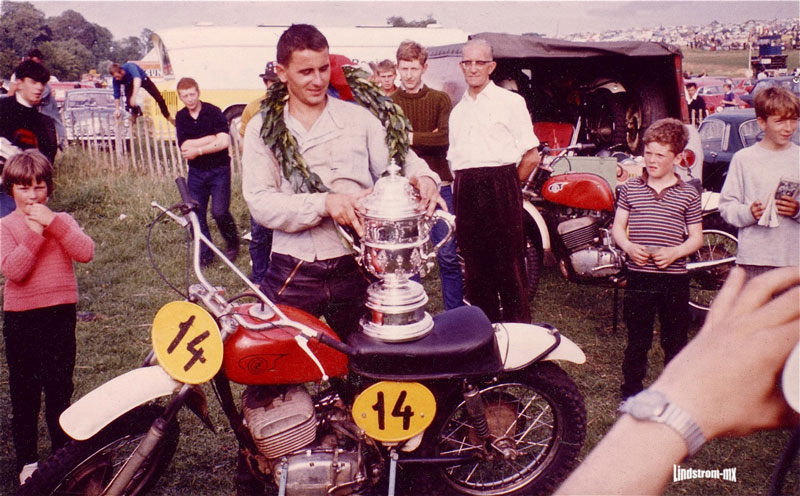 Updated 140714
Hi Mats - so sad that Dave has left us. He was much loved in this country as a great champion and a great character. Couple of photos attached to mark his passing. I have been given some other photos by Brendan Owen who lives in Wales and they may be of some interest to your international readership [ - Brendan is a Husqvarna enthusiast ! ] - and a couple of mine of more general interest - best wishes - Eric

Dave Bickers on the 360 Greeves - 1965 - photo EM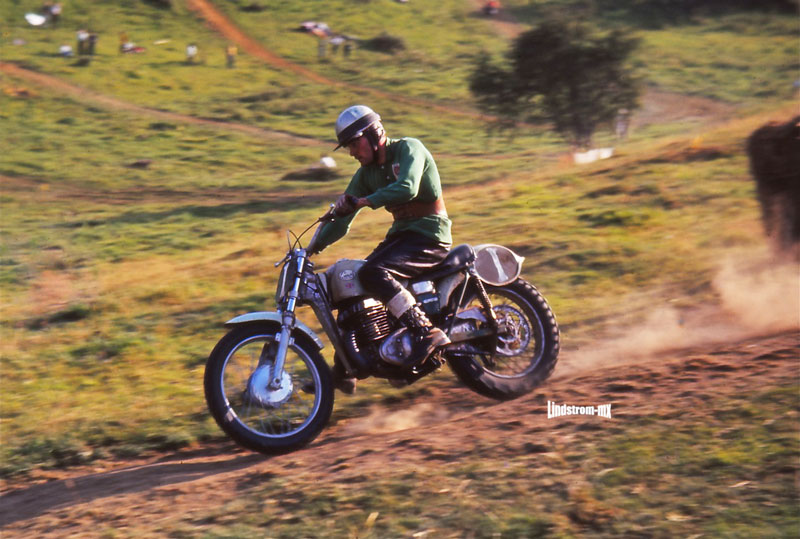 Dave Bickers on the CZ - Ken Hall Trophy Scramble 1971 - photo EM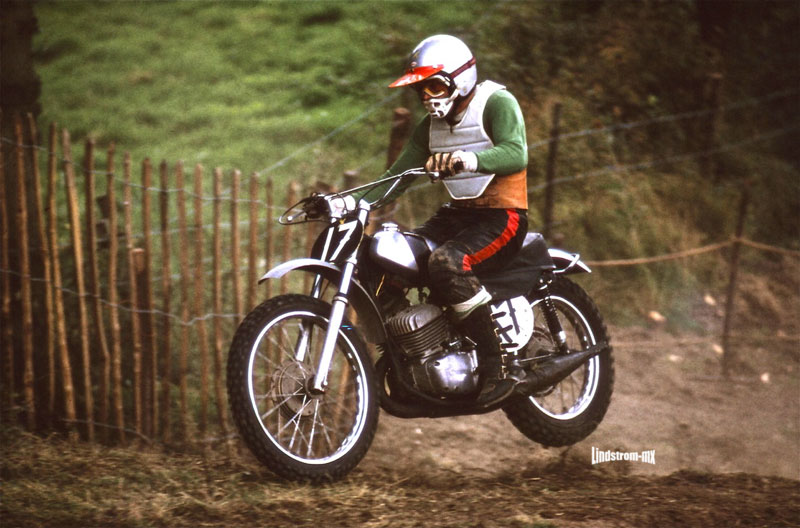 Nine photos by Brendan Owen - 1] Joel Robert 1968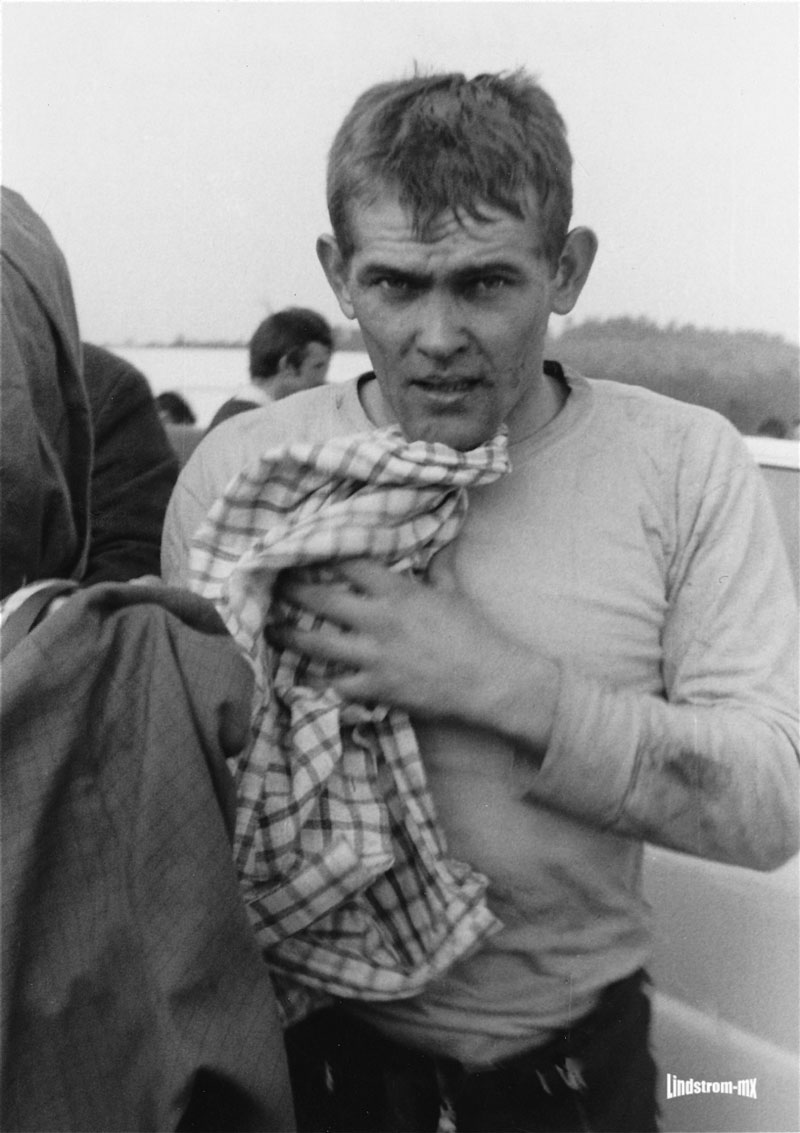 2] - Torleif Hansen, Roger De Coster and Torsten Hallman intrigued by a Yamaha MX Bike - Doddington Park 1968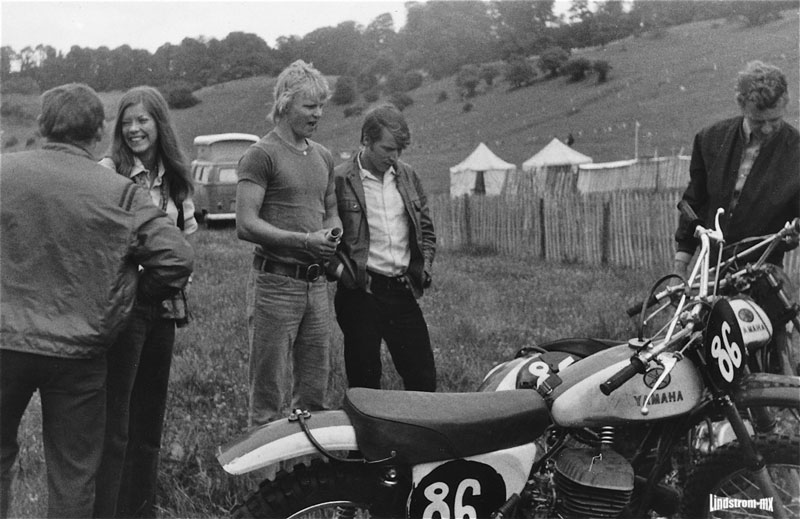 3] - Ake Jonsson - Ettlebuck 1971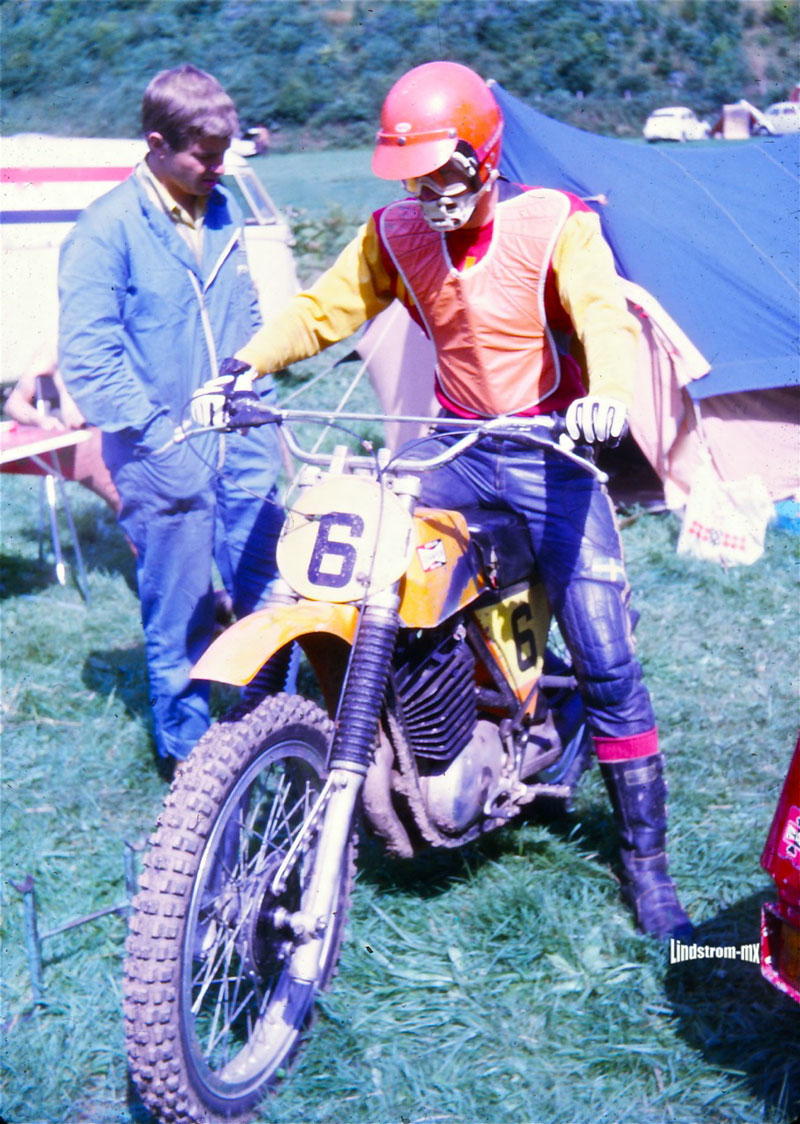 4] - Roger de Coster - after the Grand Prix,Namur 1971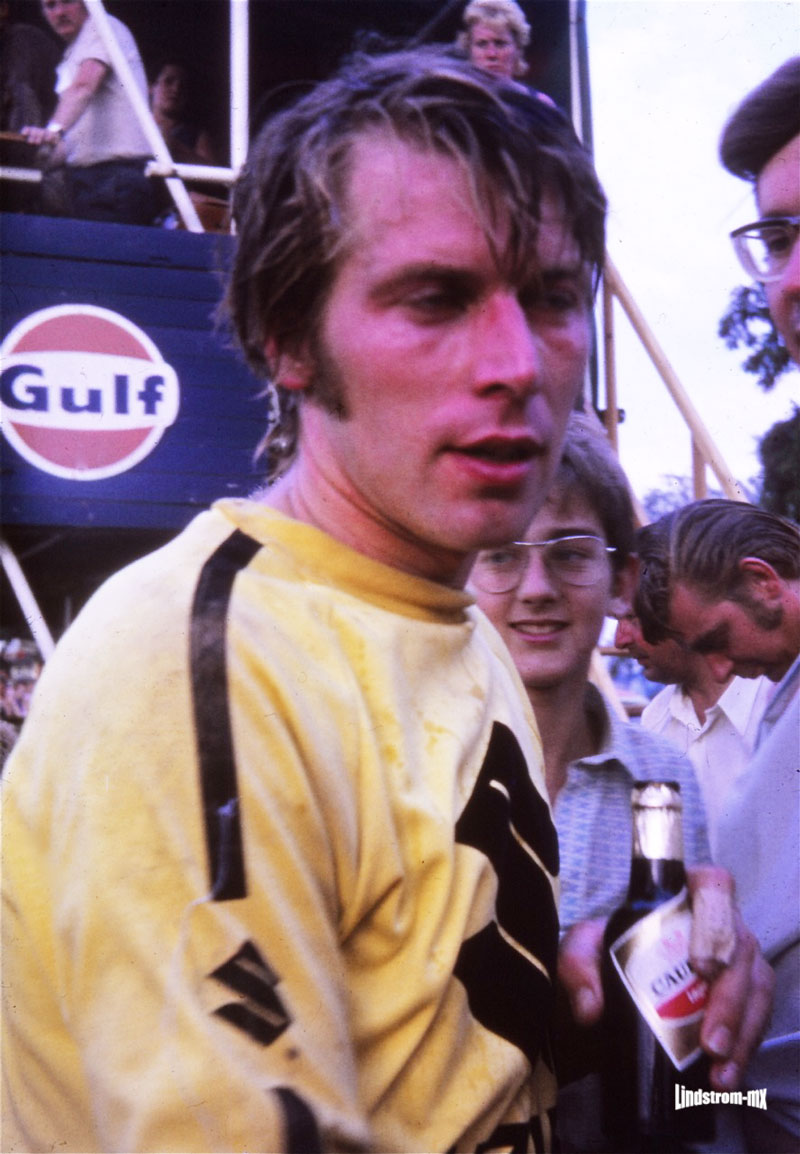 5] - Roger De Coster - Farleigh Castle 1972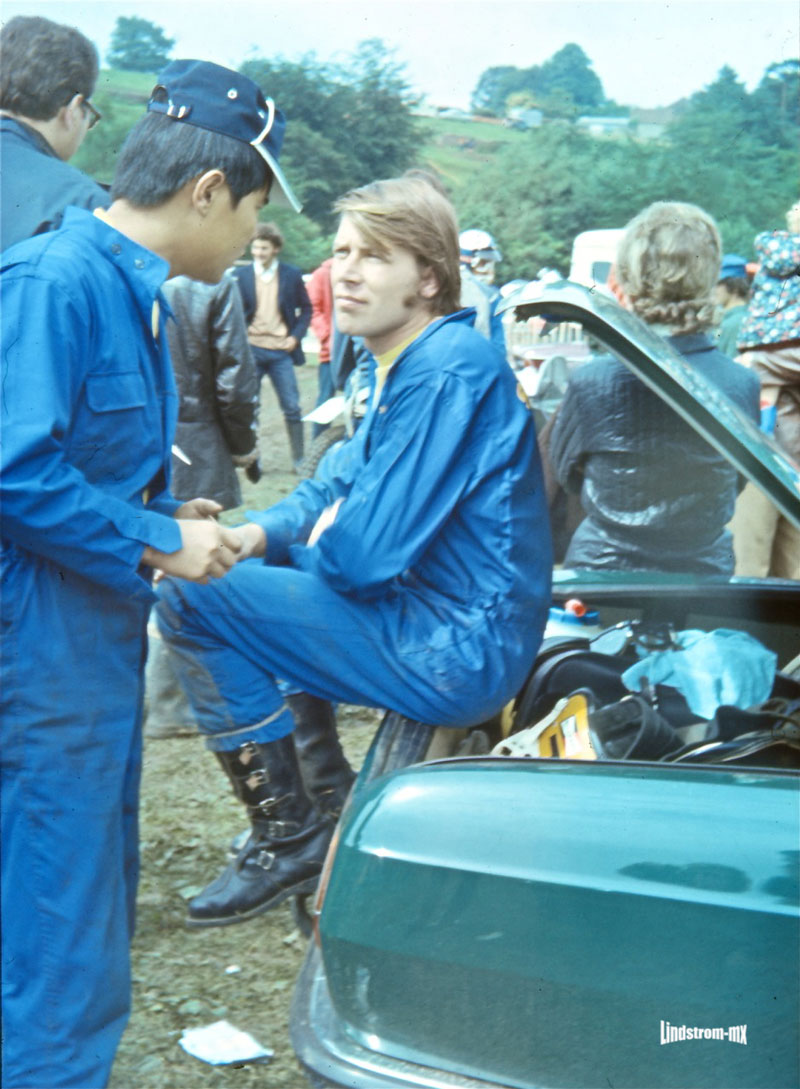 6] - Bengt Aberg - Farleigh Castle 1972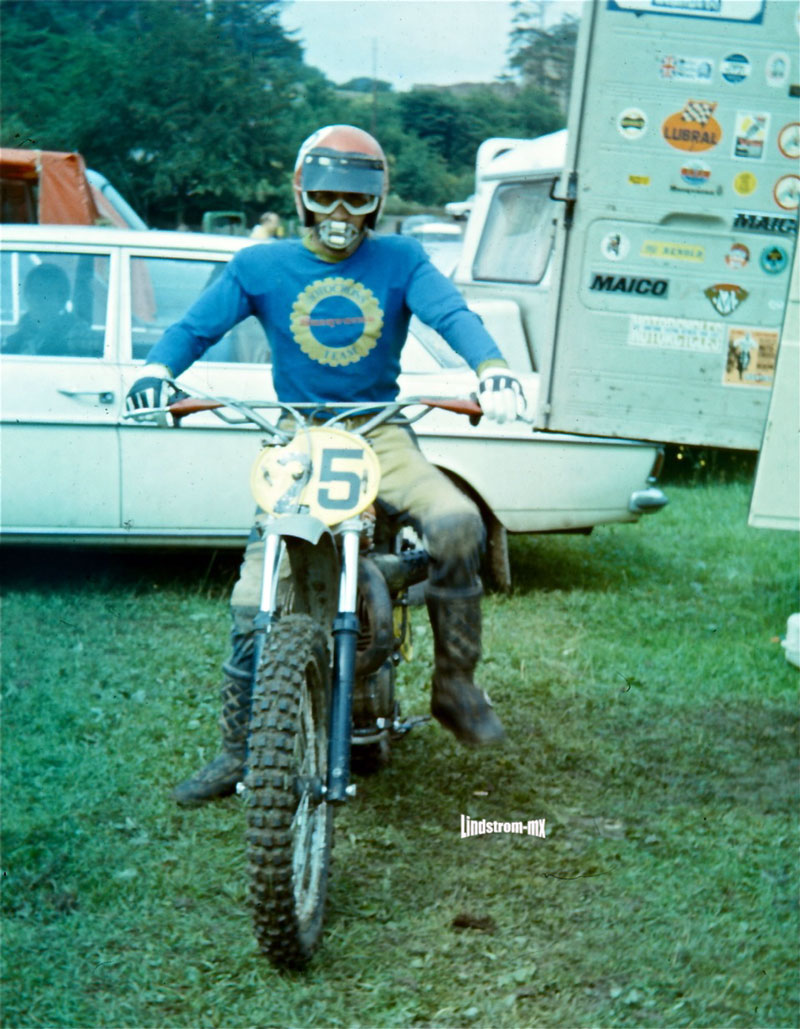 7] - Vic Eastwood [ left ] and Roger De Coster - Namur 1973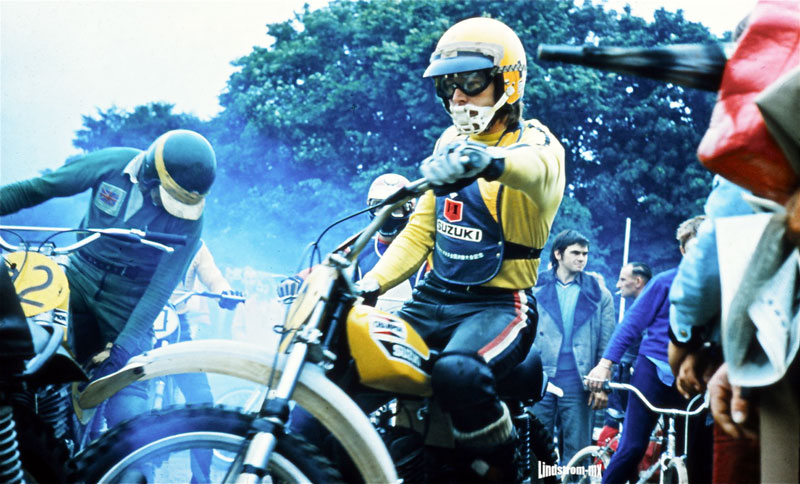 8] - Rider Parade - The Citadel, Namur 1973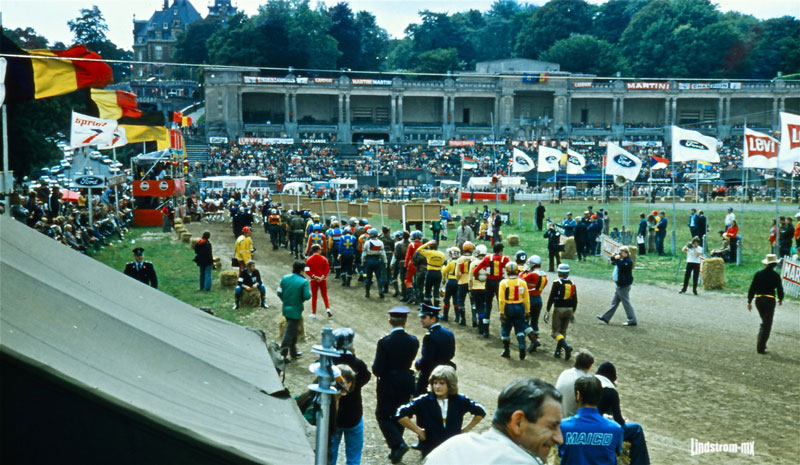 9] - Bike Problems? - Hakan Andersson - Doddington Park 1971
Present Day - Brendan Owen provides three Husqvarnas for current Welsh Classic Champion Dan Evans [ - centre, blue shirt ] - photo EM
Past Master - Don Rickman tells the audience at the Mortimer MCC about his recent trip to Italy - photo EM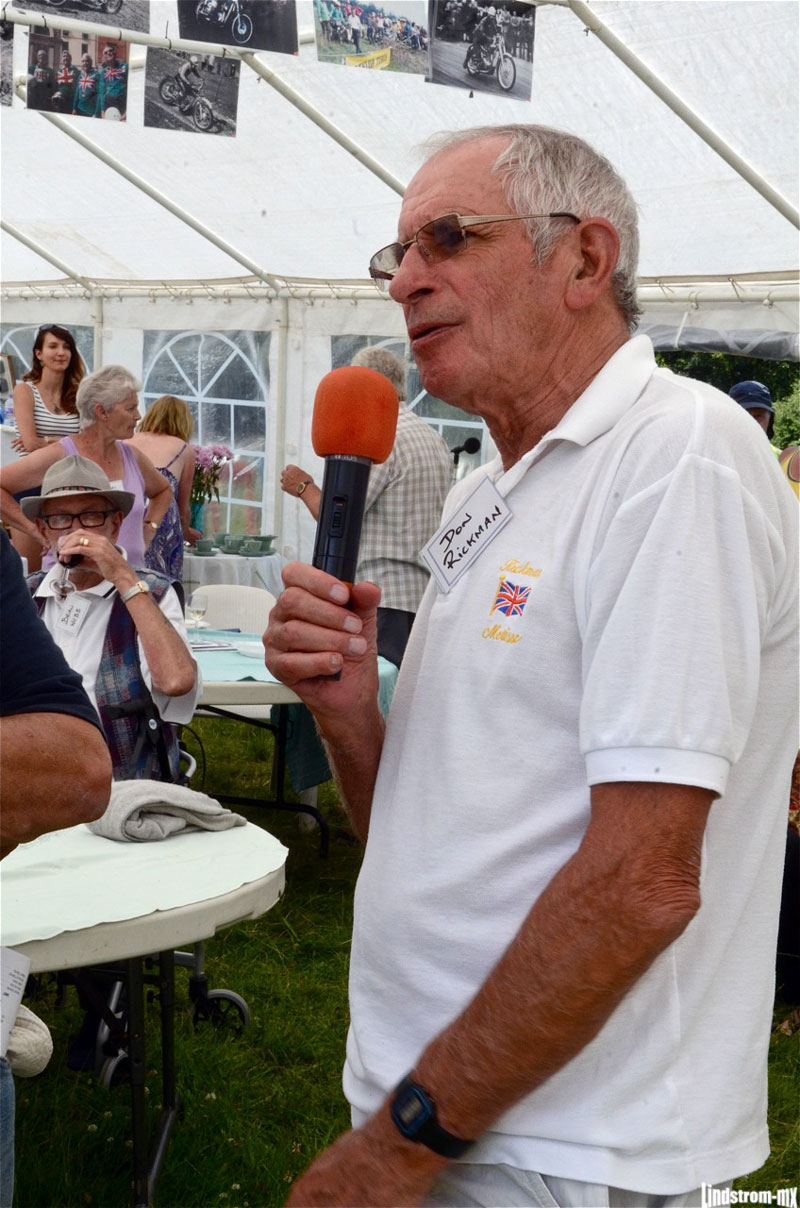 Past Master - 1961 British GP winner tells the same audience how hard it was to beat BOTH the Rickman Brothers - photo EM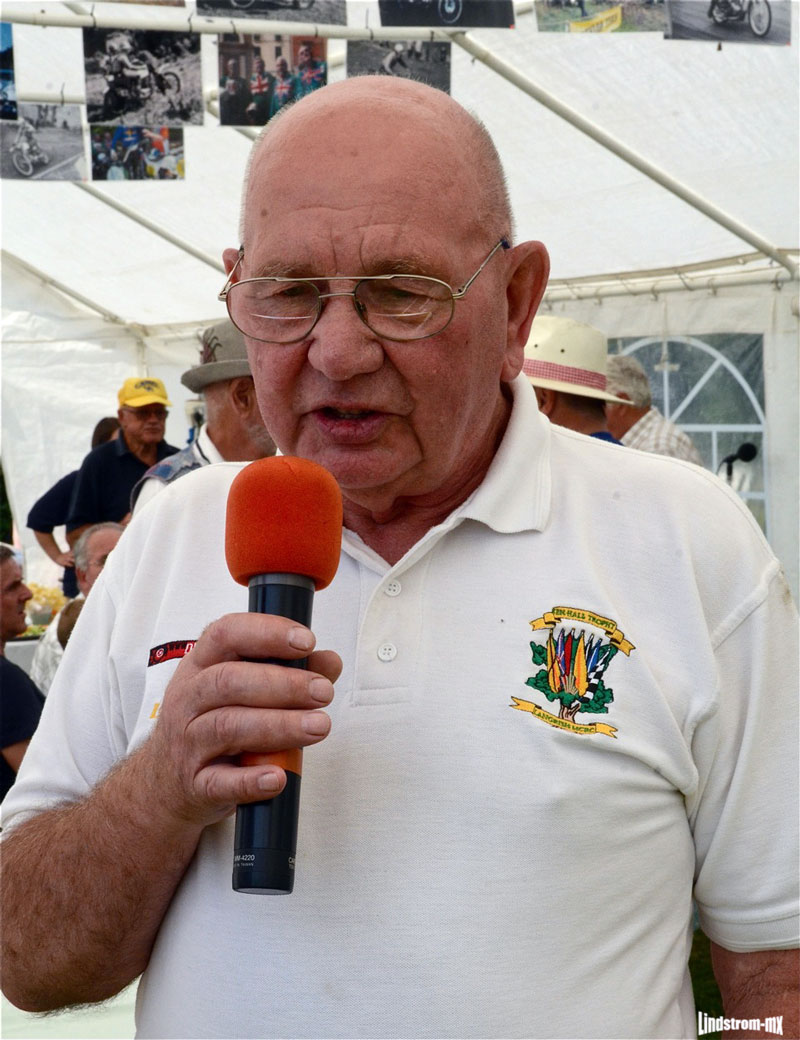 My Hero - Dave Curtis in semi-retirement [ - and still winning ! ] in 1964 on the big Matchless - photo EM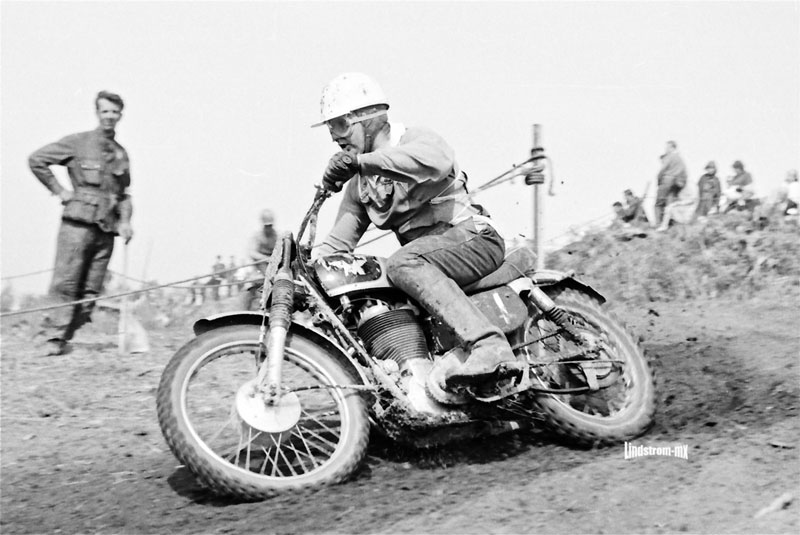 Updated 140126 2 photo's
Eric writes; The painting is taken from the cover of the 'Castrol Acheivements' booklet for 1960. The artist is Gordon Horner who specialised in motorsport and aviation painting. He worked for magazines such as 'The Motor Cycle' 'Autocar' and 'Flight Magazine' - the black and white is then from the inside pages of the booklet-praising the wonders of Castrol lubrication!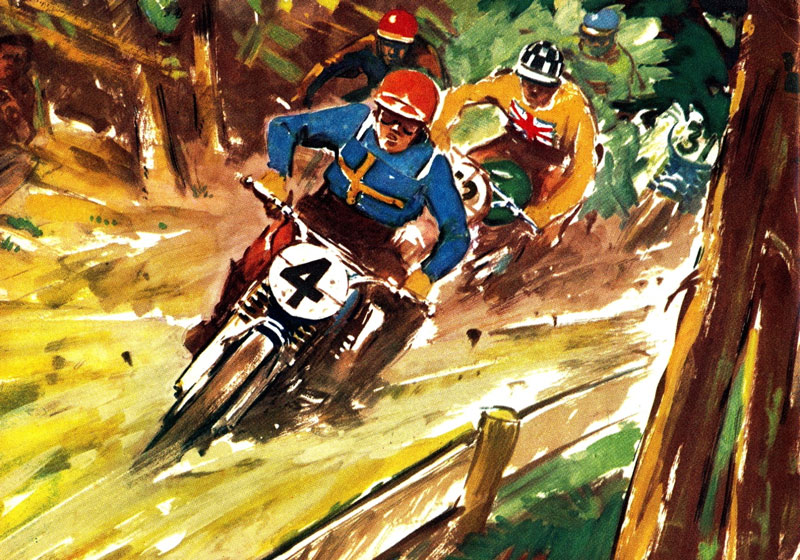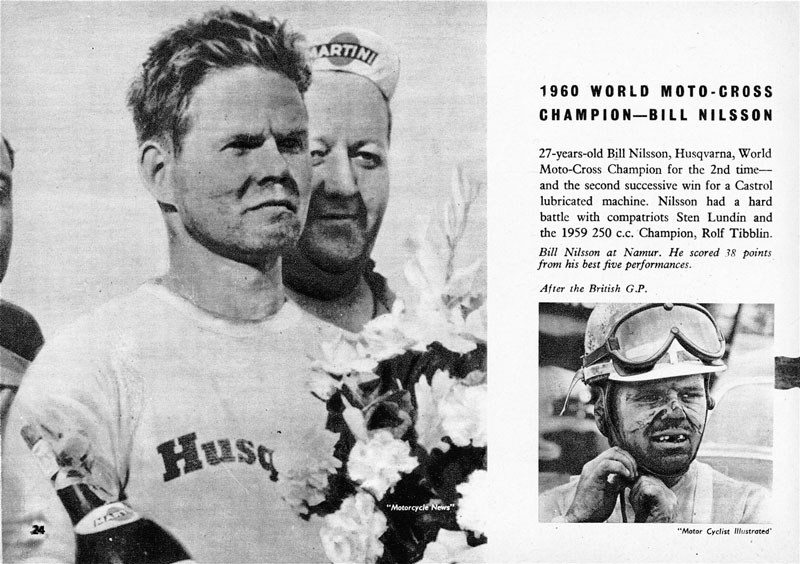 Updated 131201 with 3 lovely pic's from Farleigh Castle 1966
Bill Nilsson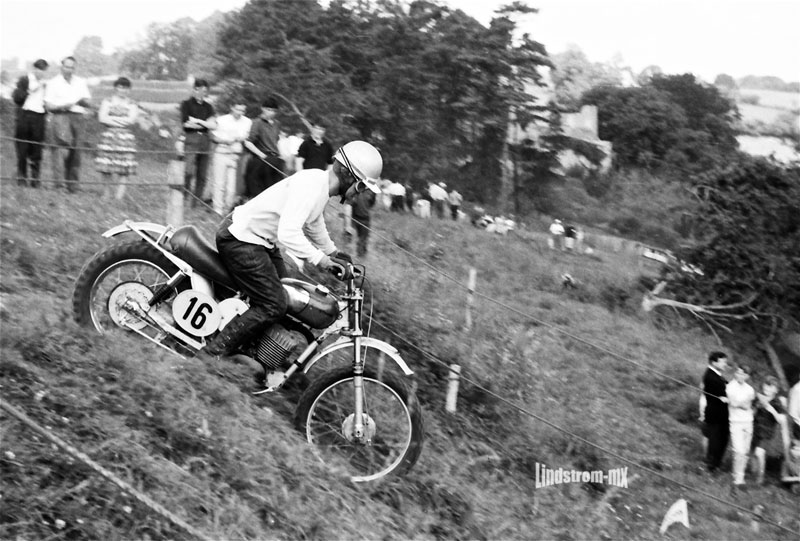 Emilio Osterero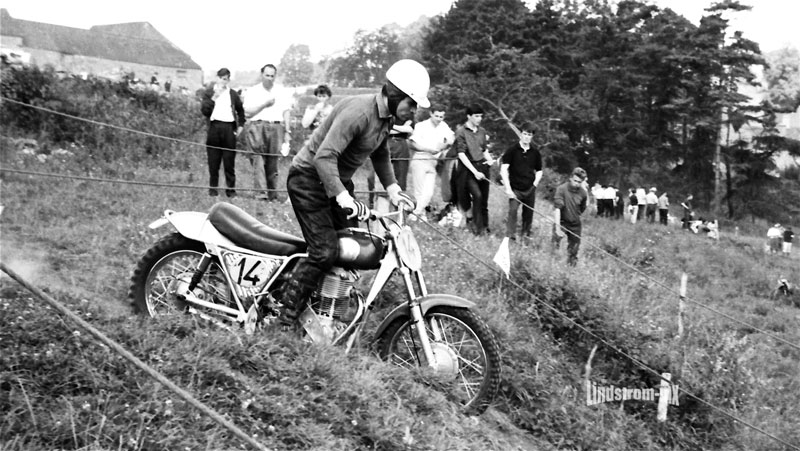 Sylvain Geboers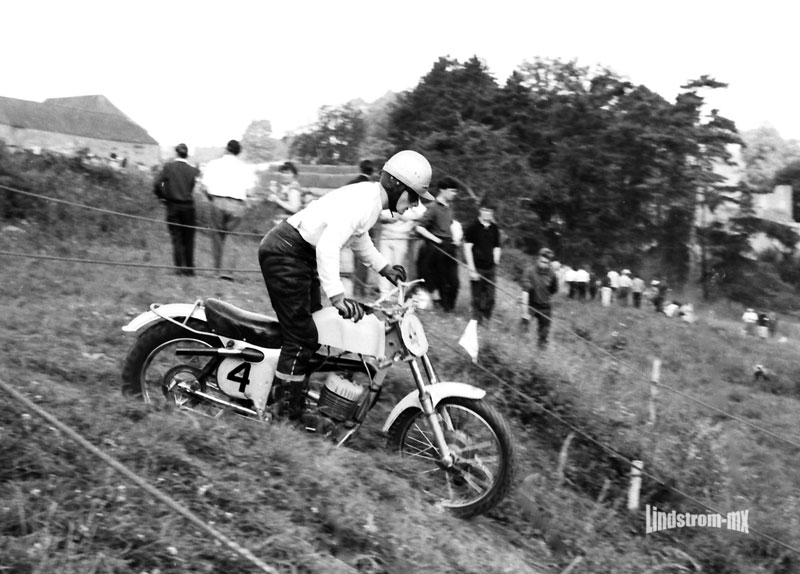 Updated 130818 with 6 fantastic pictures from Hawkstone paddock 1964 MXDN
Eric writes; Thought you might like these portraits taken at Hawkstone by a neighbour of mine Arthur Oakes. Arthur is happy for as many people as possible to see these pictures which he kept in an album for when he went authograph hunting.
Sten Lundin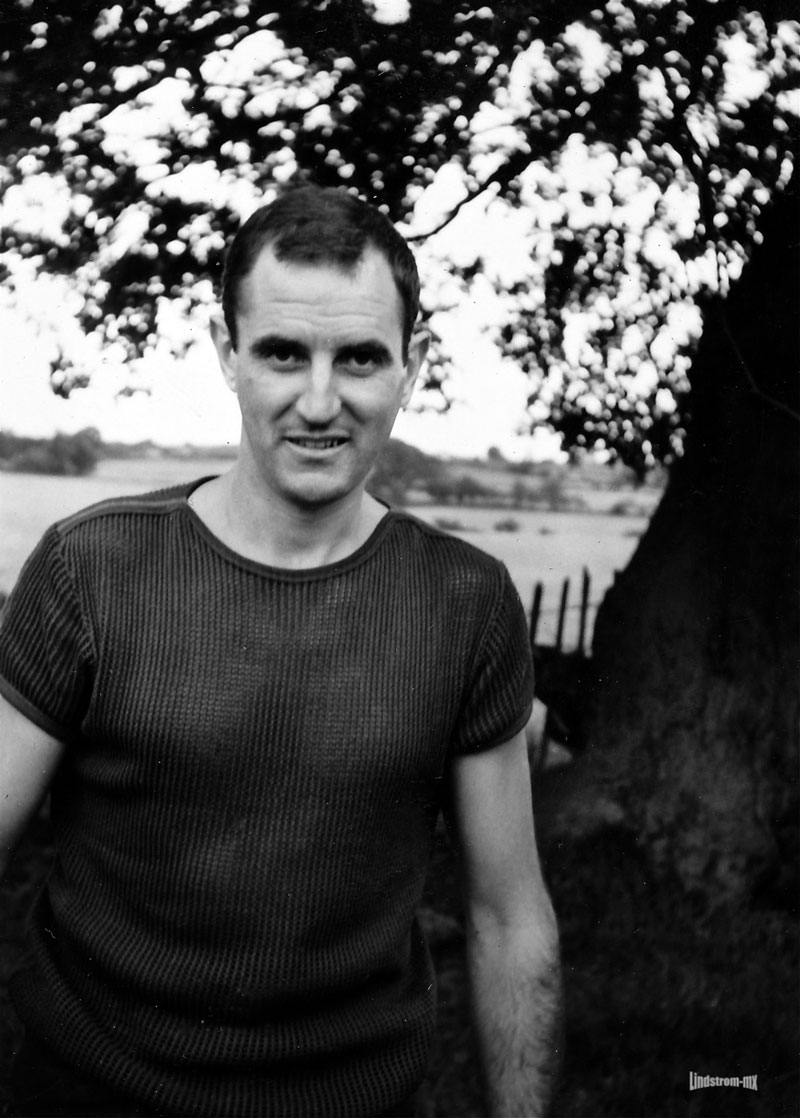 Bill Nilsson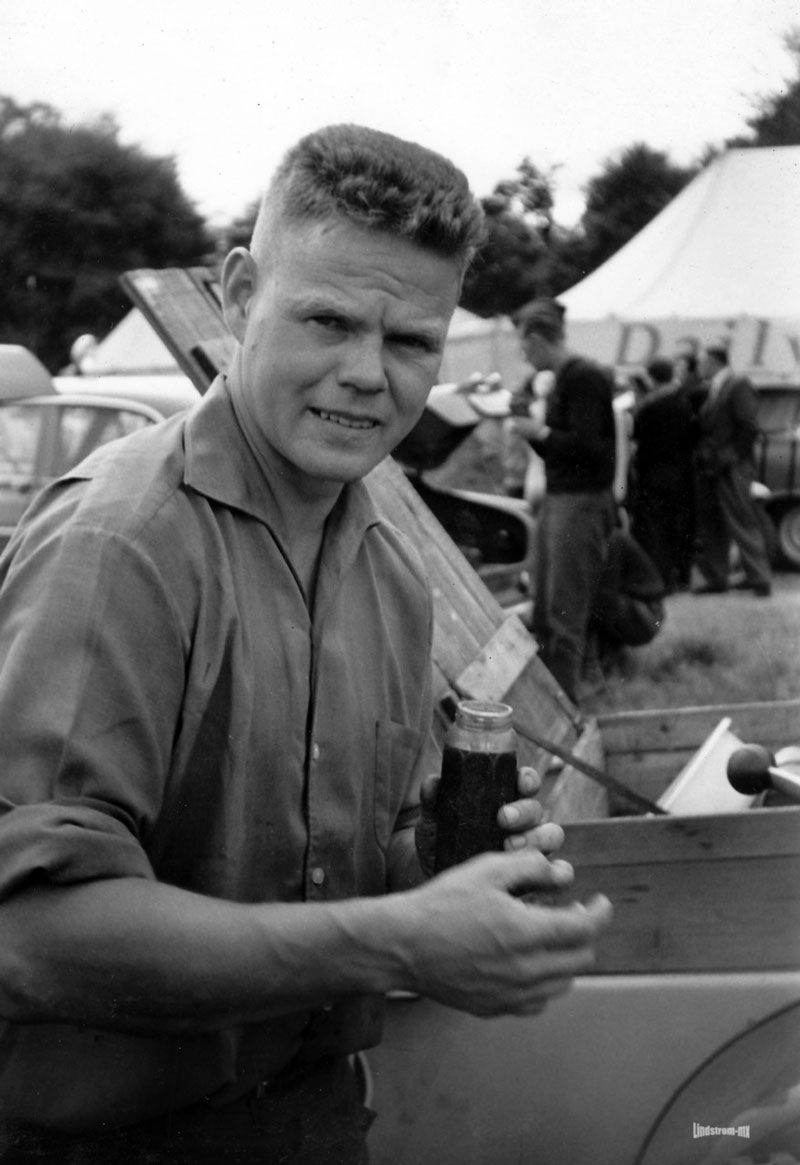 Per Olof "Pelle-Mas" Persson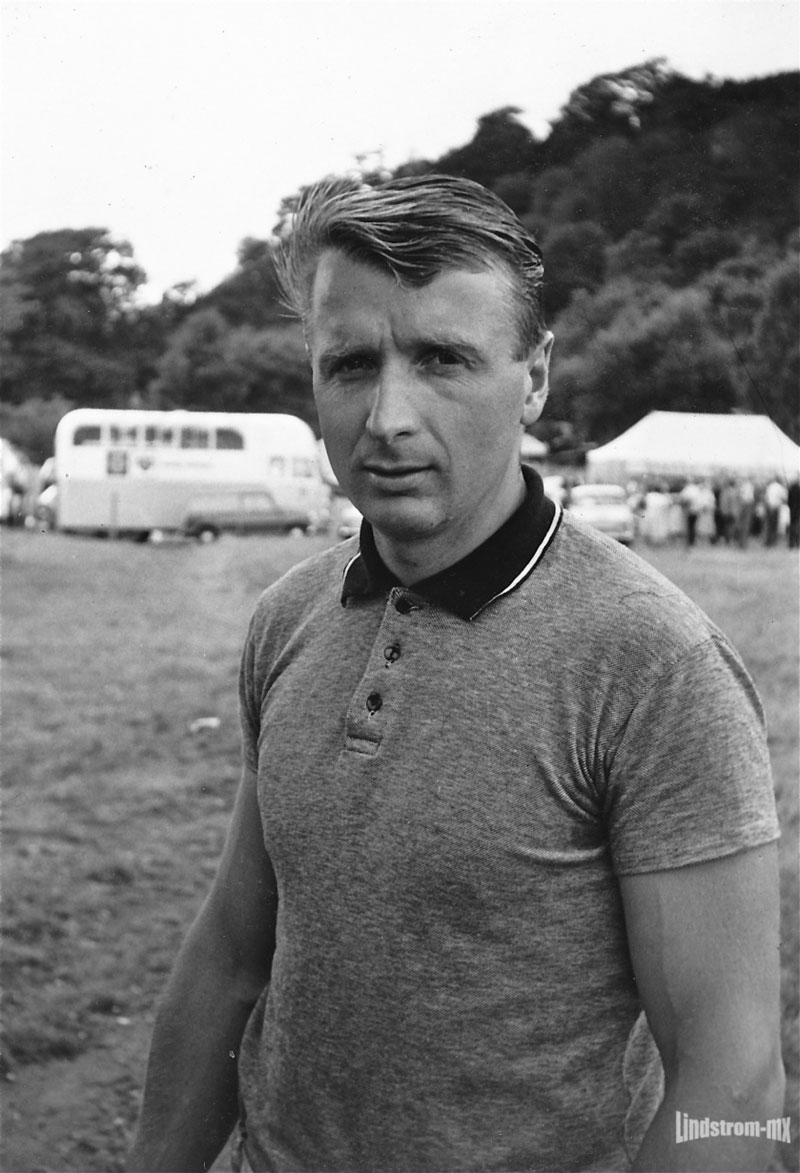 Ove Lundell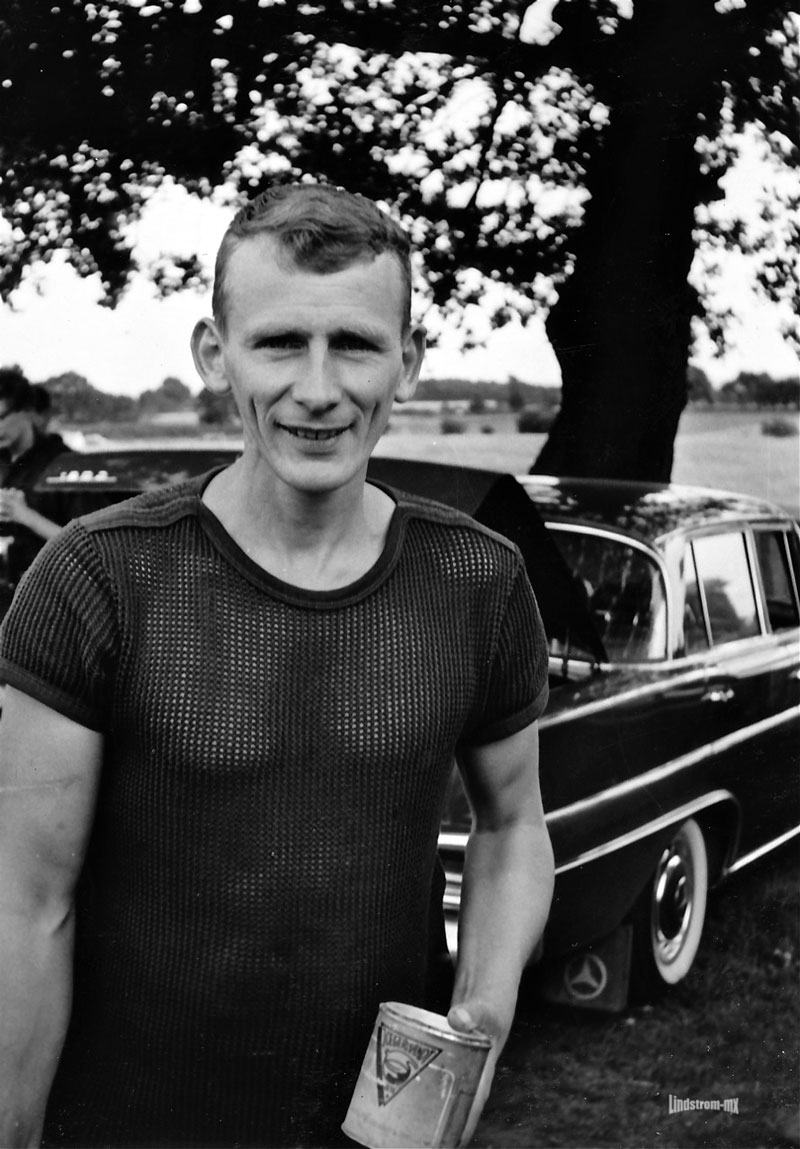 Rolf Tibblin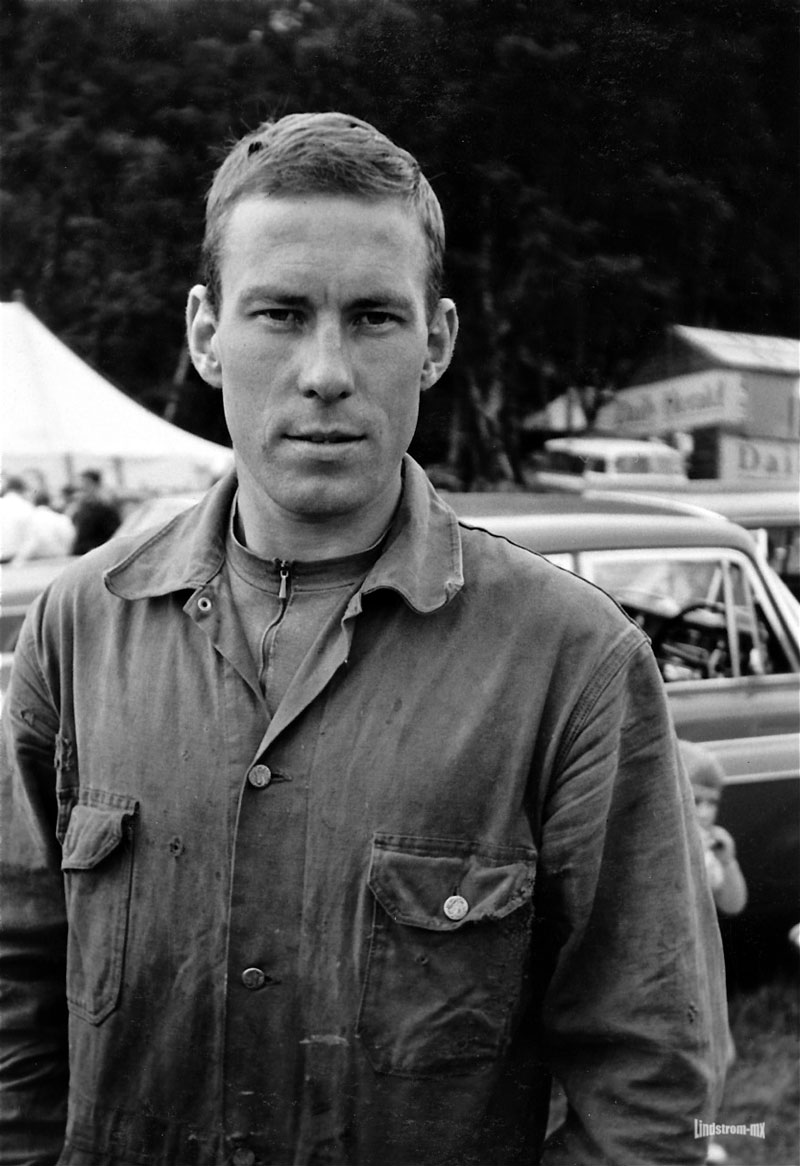 Tibblins Hedlund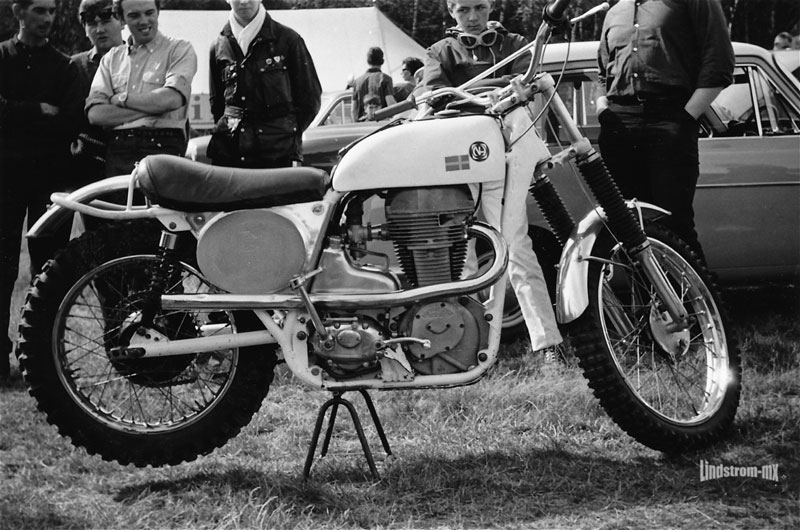 Updated 130526 with 10 very interesting photo's taken by Bert Greeves
Eric writes; Hi Mats - have been given permission by the Greeves Riders Association to put some photos taken by Bert Greeves [ of Greeves Motorcycles fame ] on my Flickr stream.
I thought you might like to see the ones with a Swedish connection. If you put them on Lindstrom.mx please credit them to GRA And not to me. I think they're really interesting - cheers - Eric
Many thanks to GRA from Lindstrom-MX for allowing me to publish theese very interesting photo's!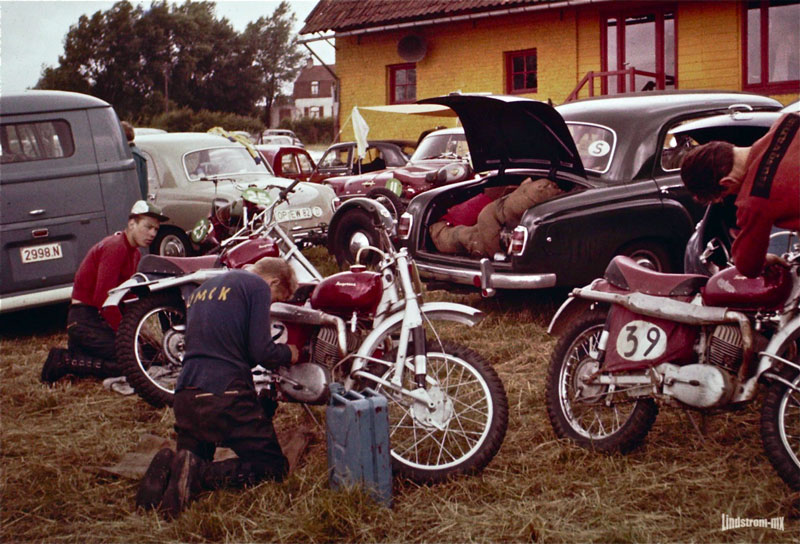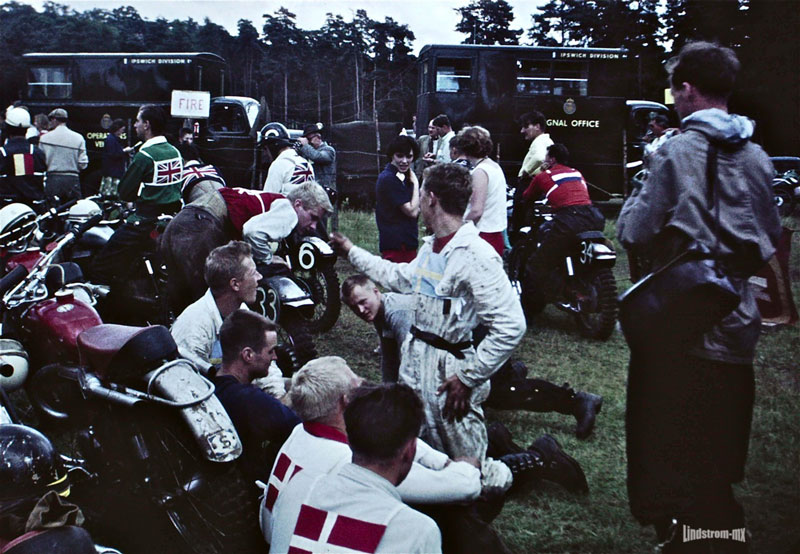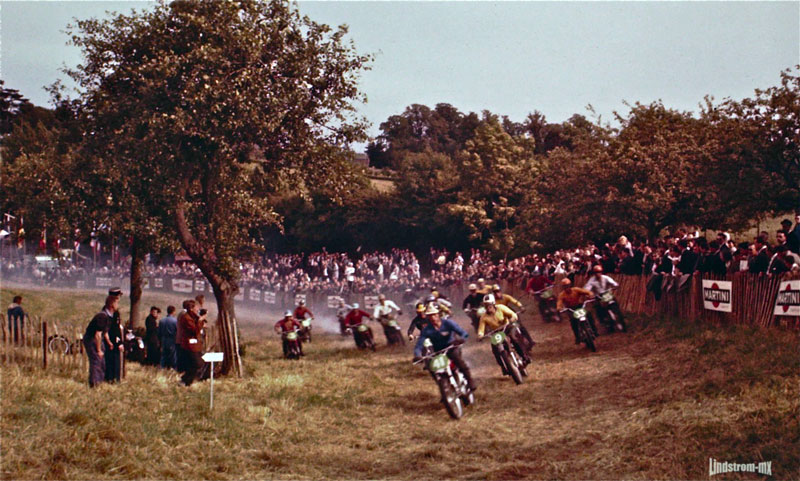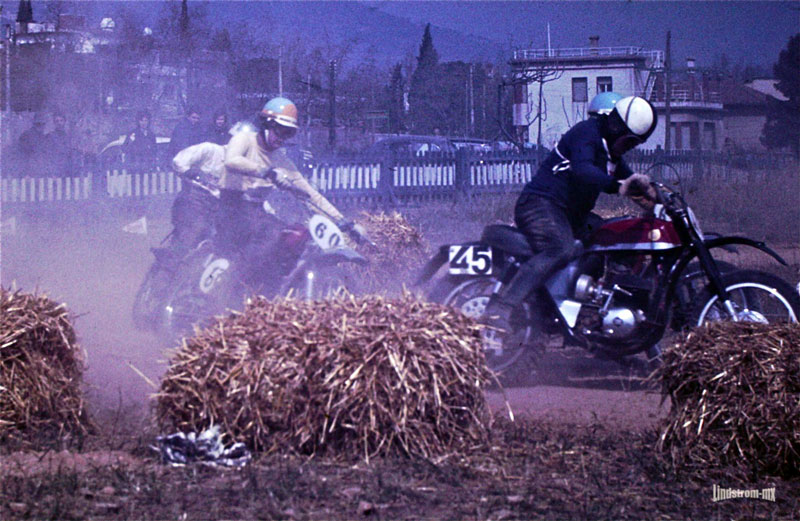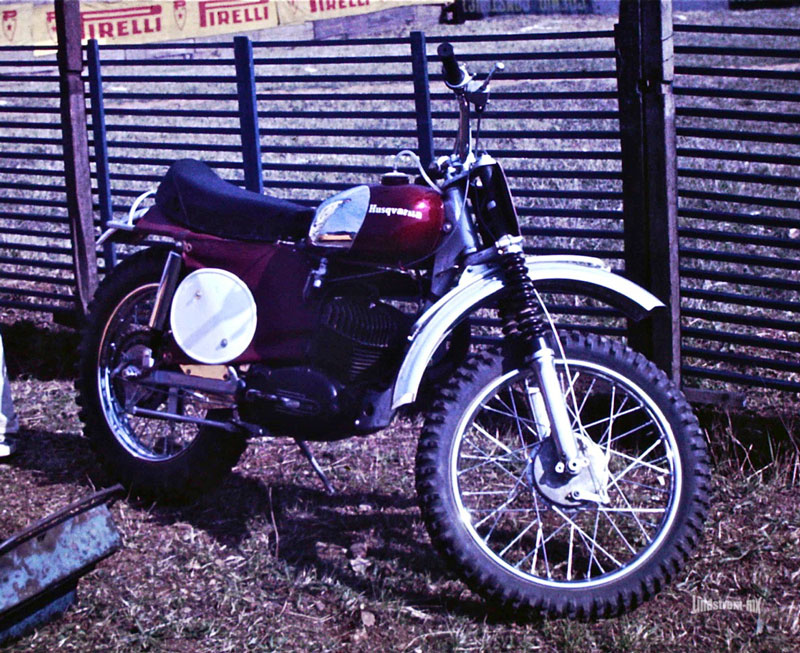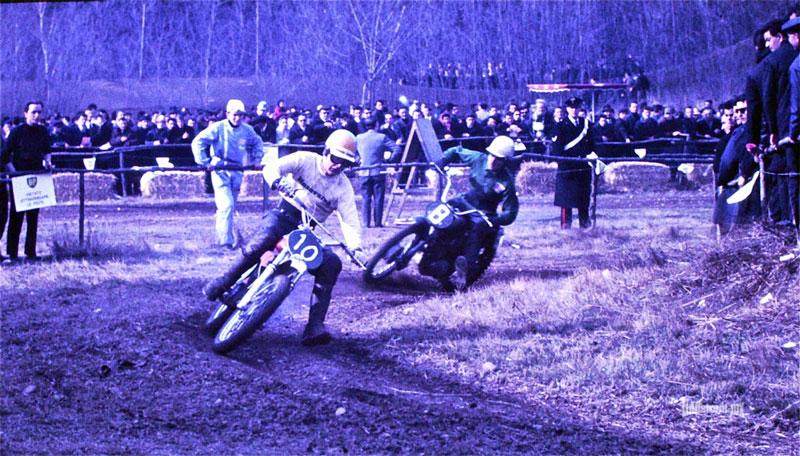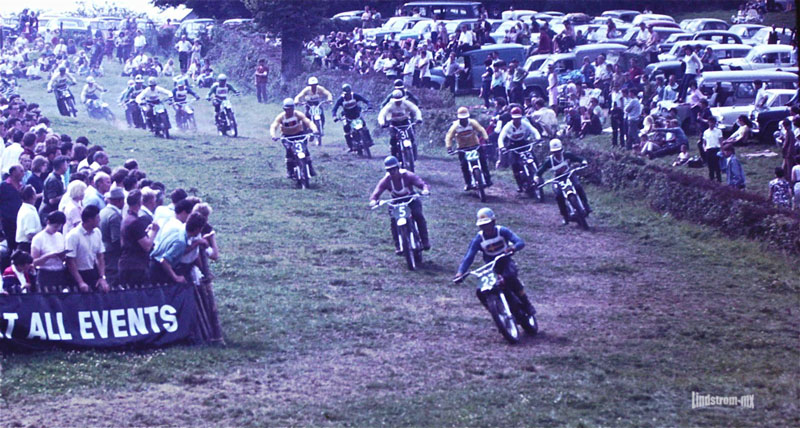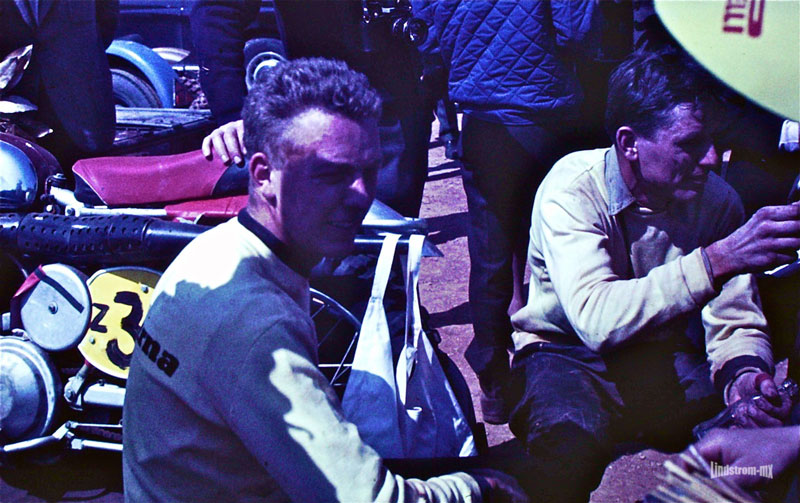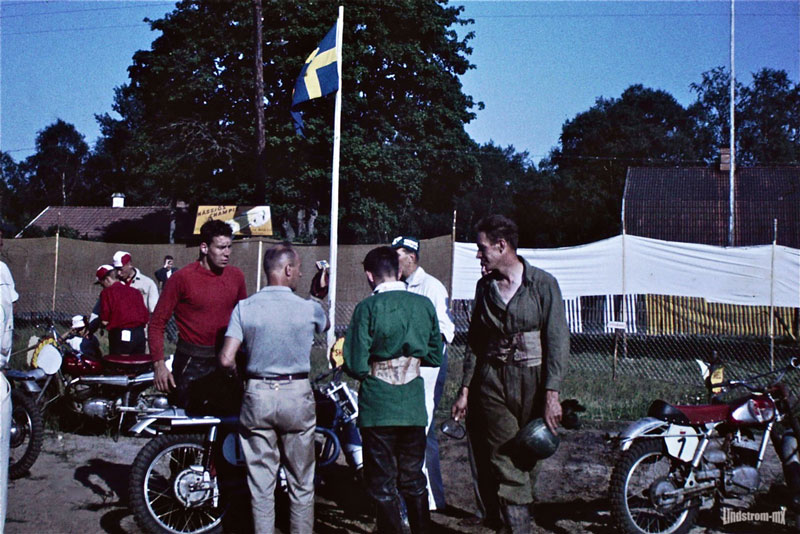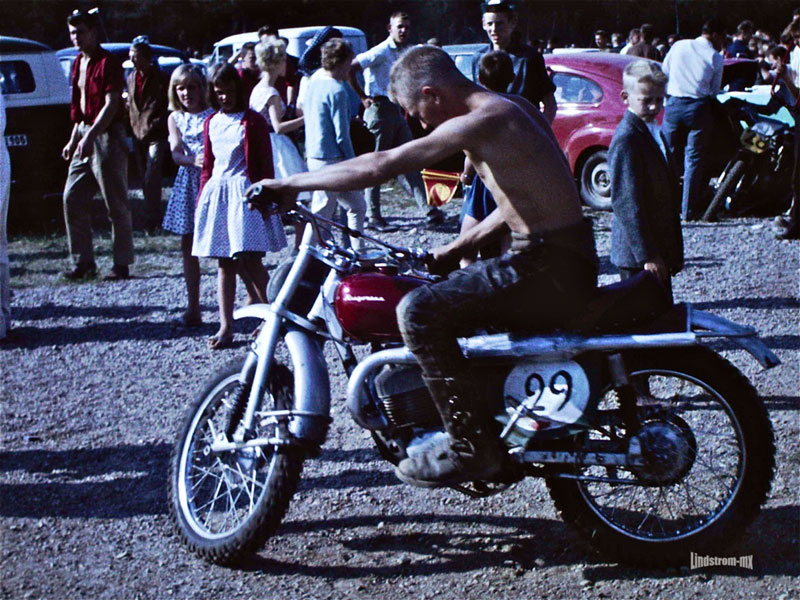 updated with 6 lovely pic's from the European Classic MX Championship May 2013
at the Mortimer Classics Bennets Hill trac near Reading
The Swede's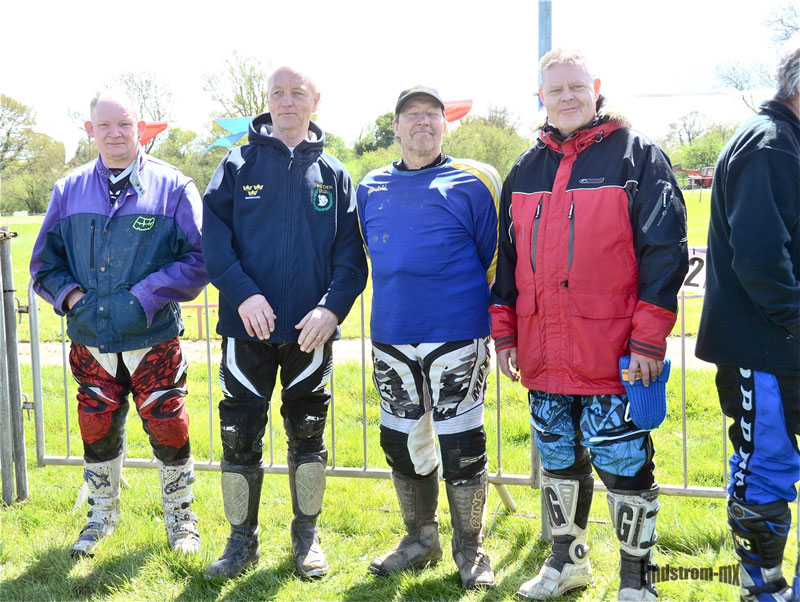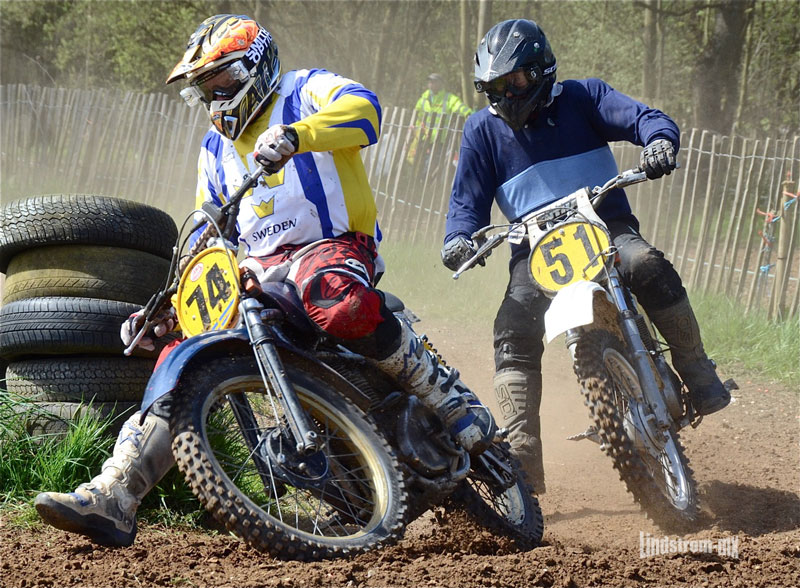 Lindström - Peter Willems Still going strong 4 pic's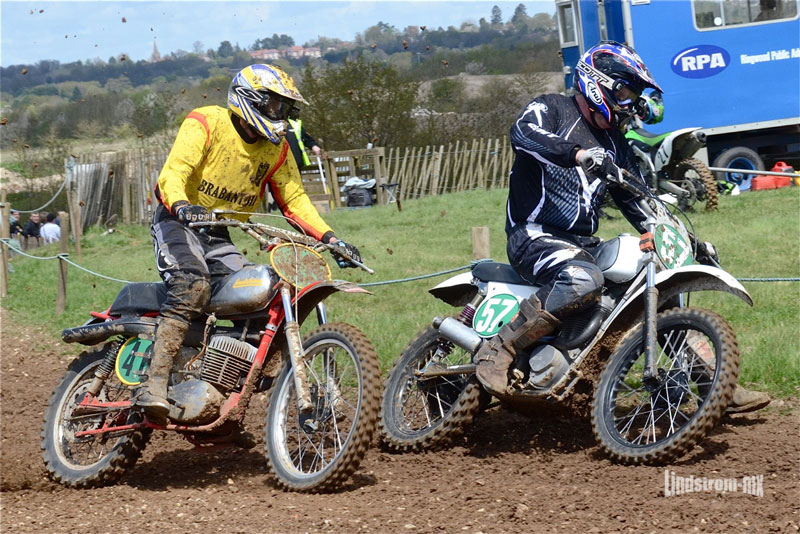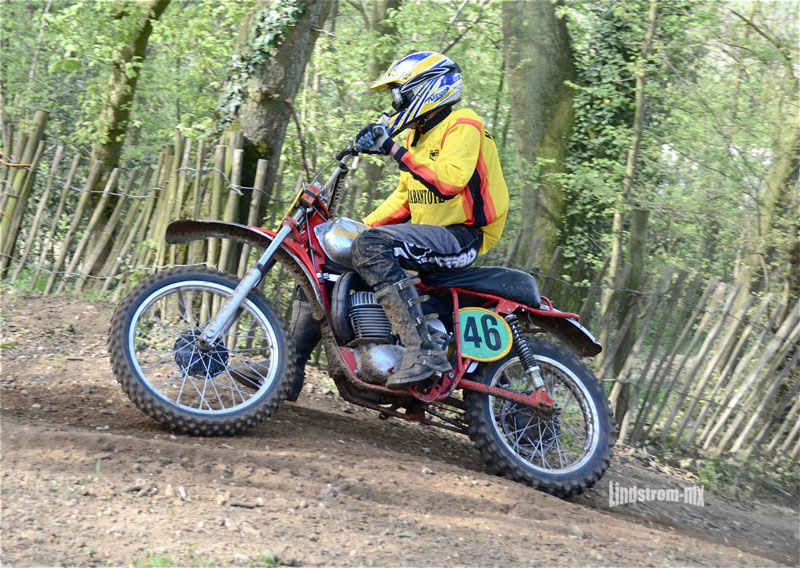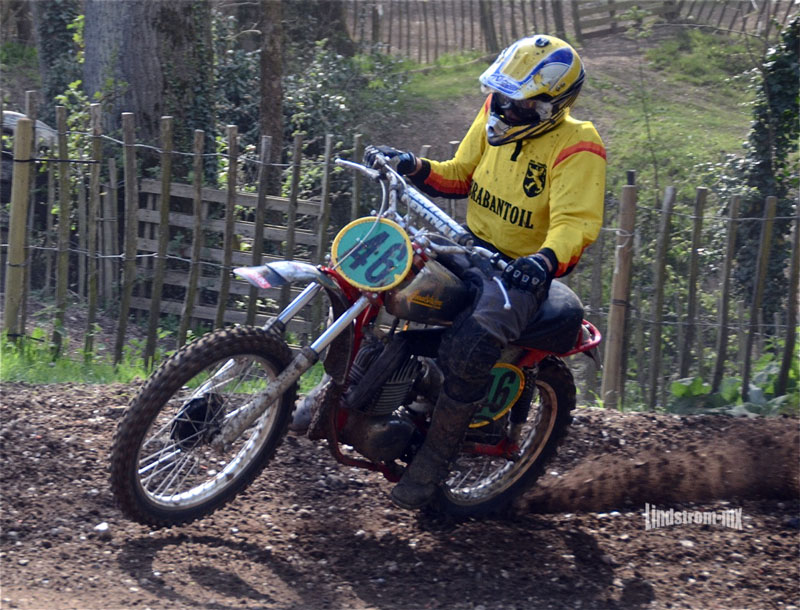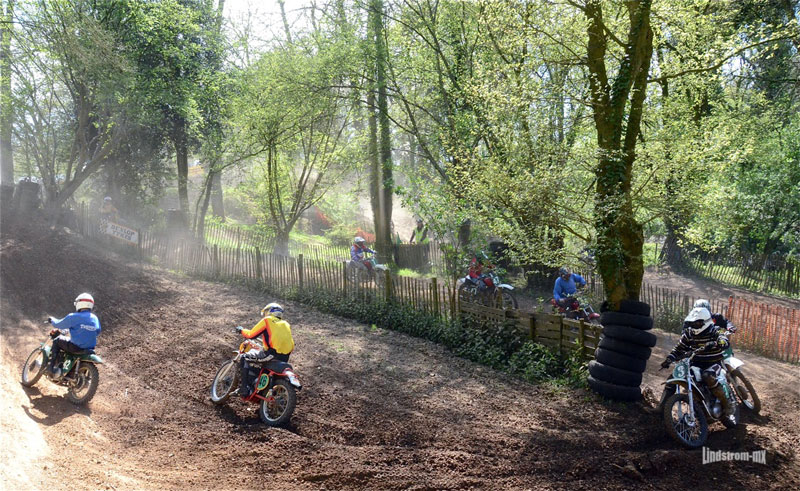 updated 12-11-11, 5 photos
1 photo of Bengt Åberg at Farleigh Castle 1970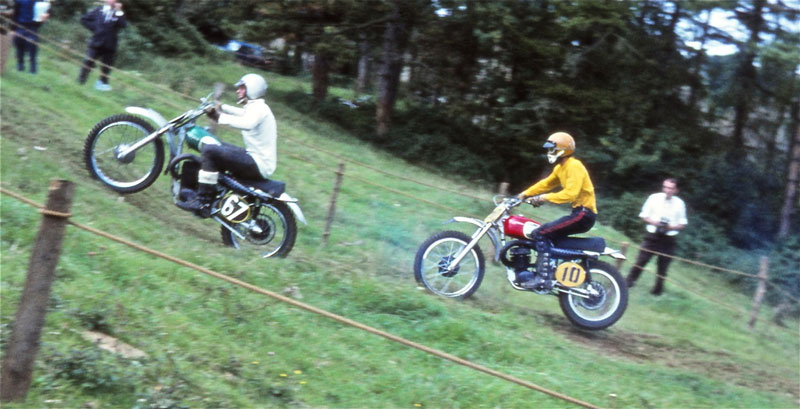 2 photos of Arne Kring at Farleigh Castle 1970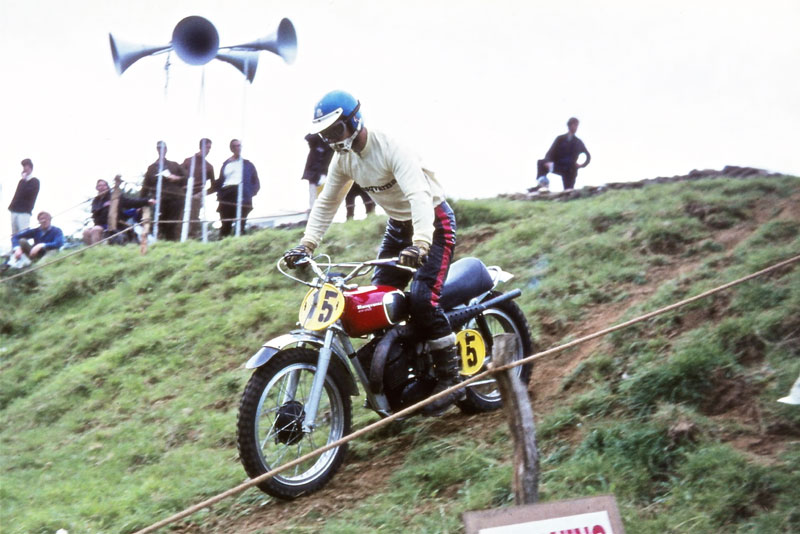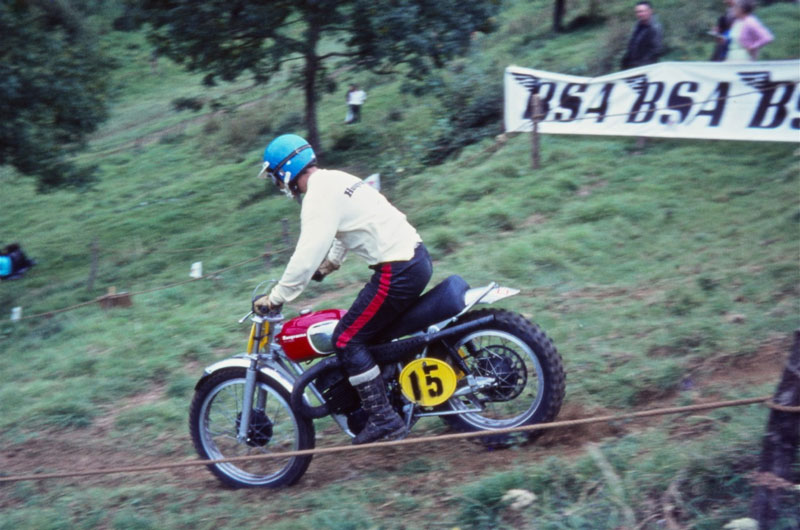 2 photos of Rolf Tibblin at Farleigh Castle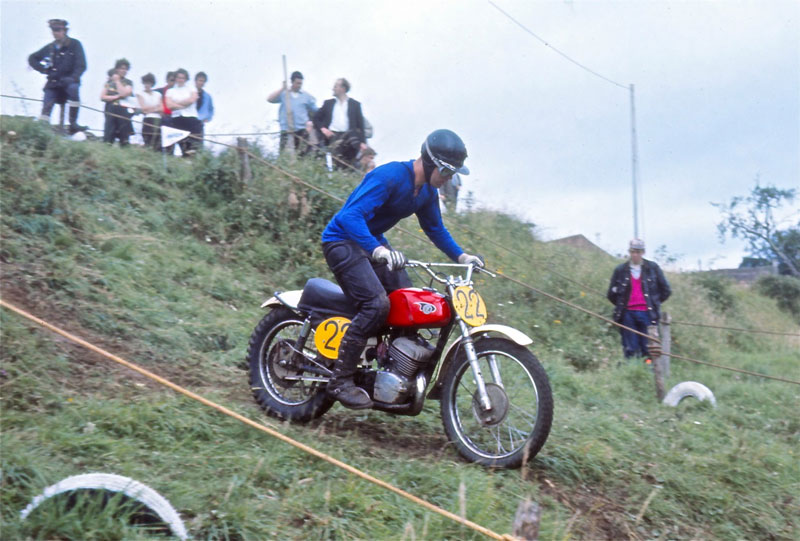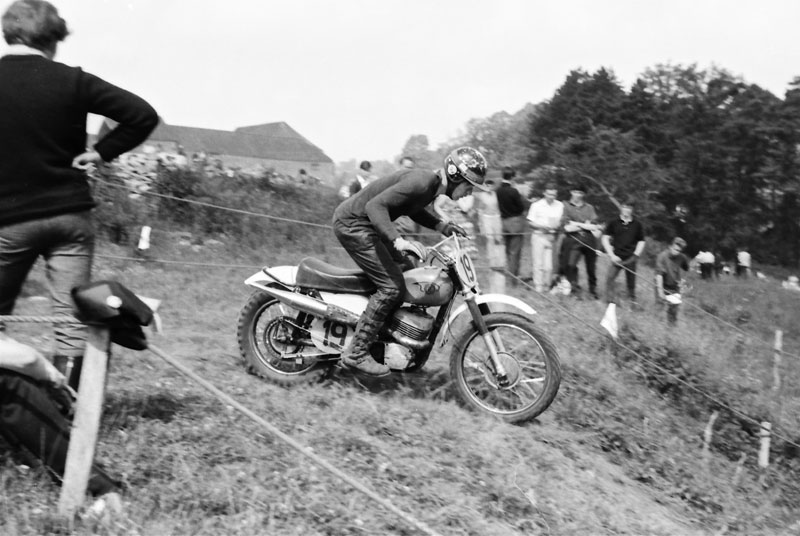 7 photo's of Sten Lundin 2 from the 60's and 5 from 2008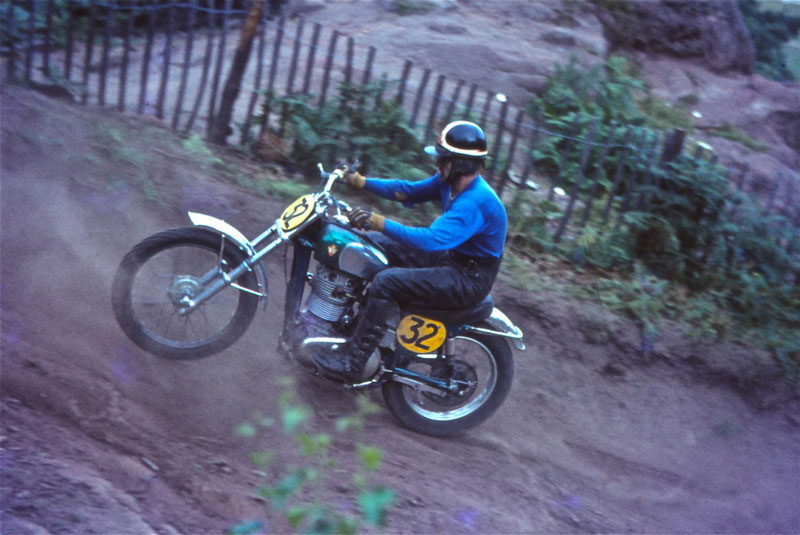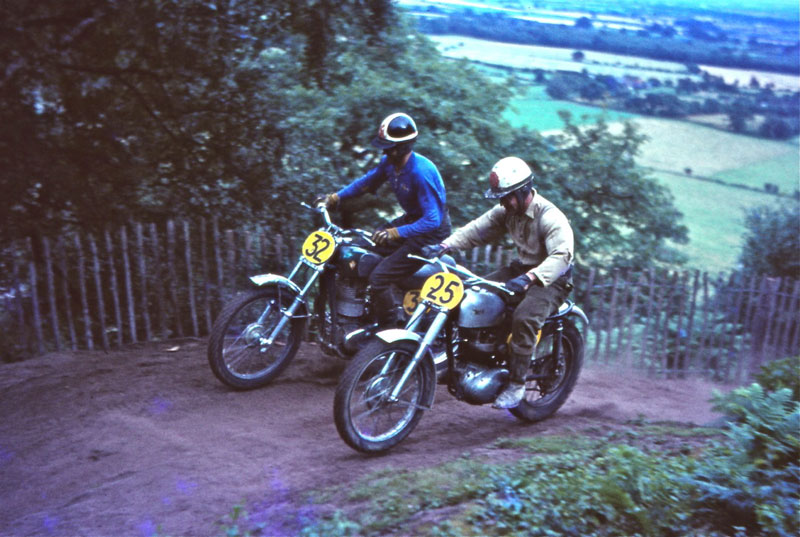 Sten och Jeff Smith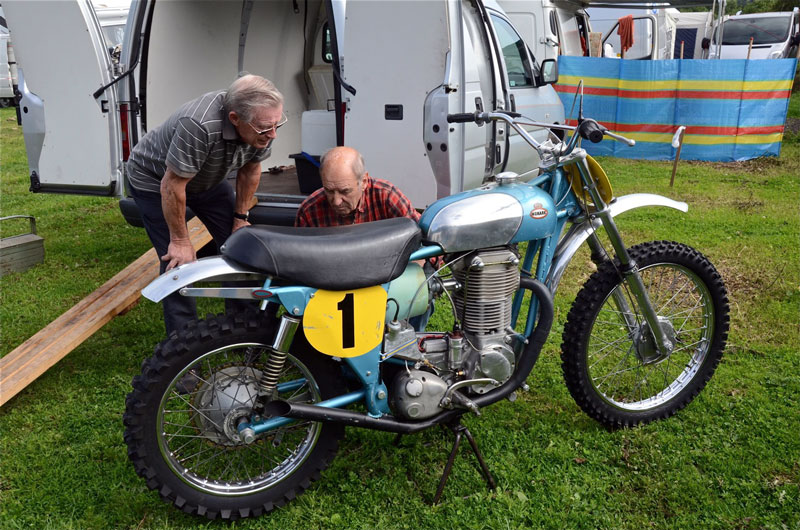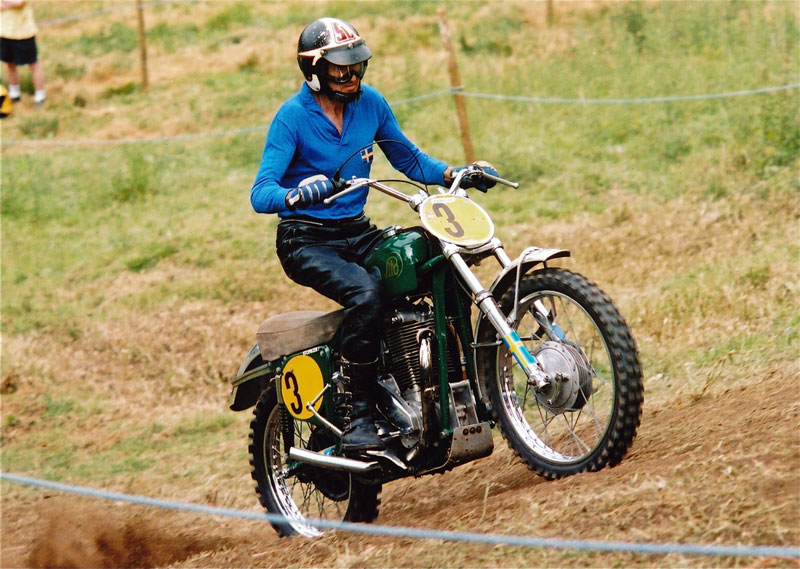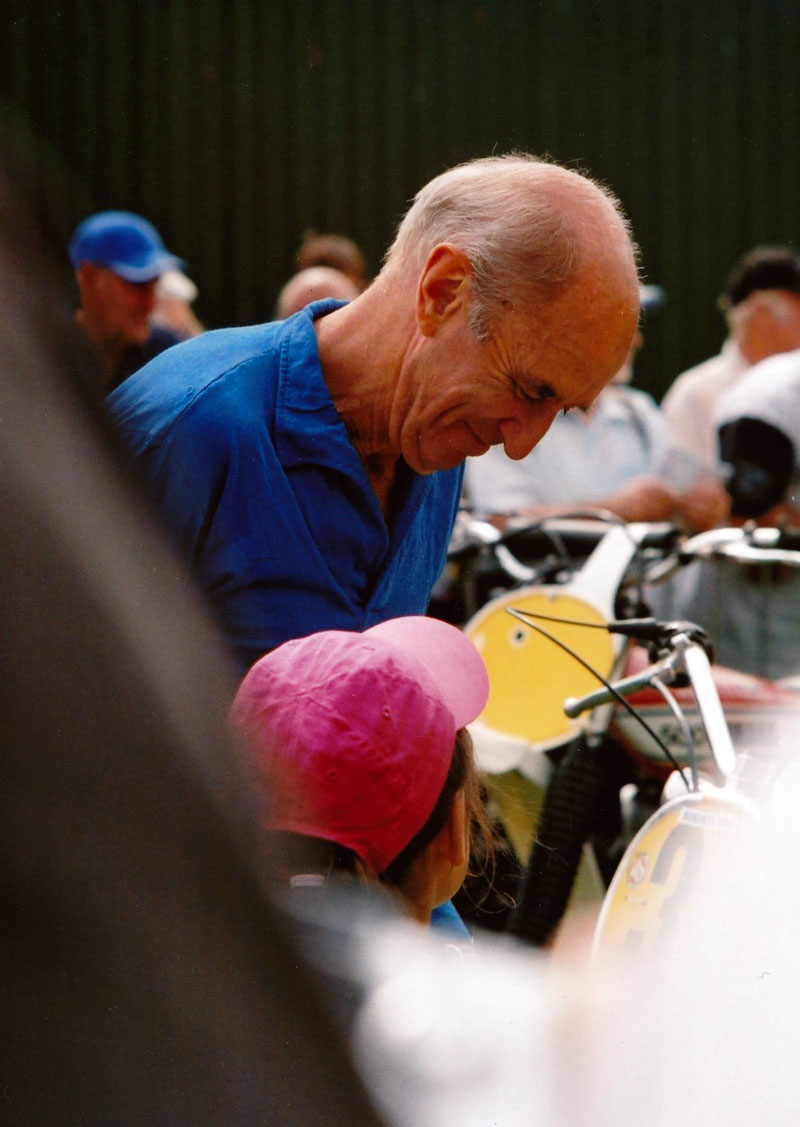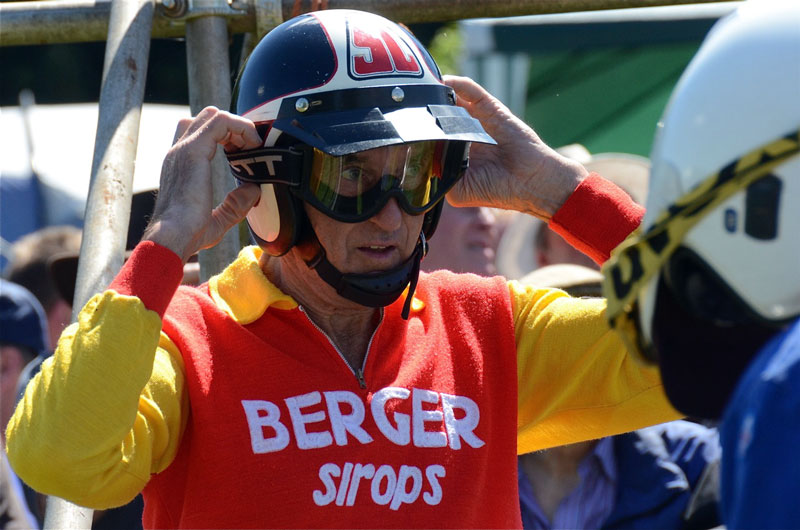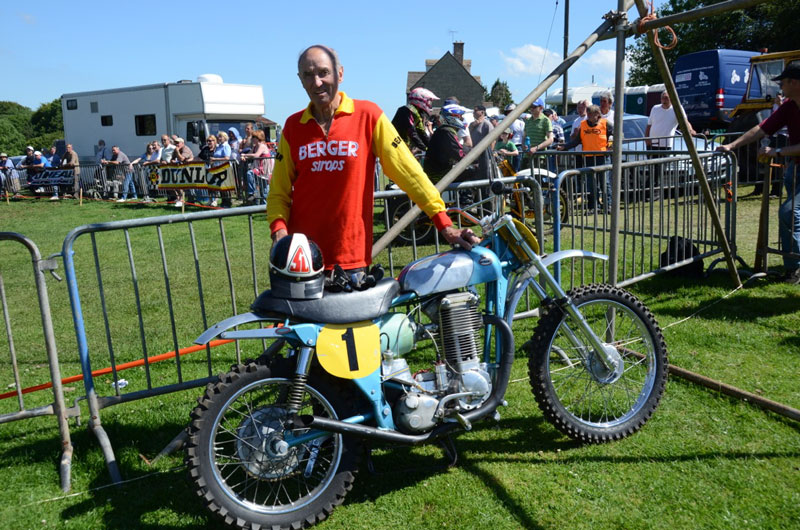 sometimes it's a small world !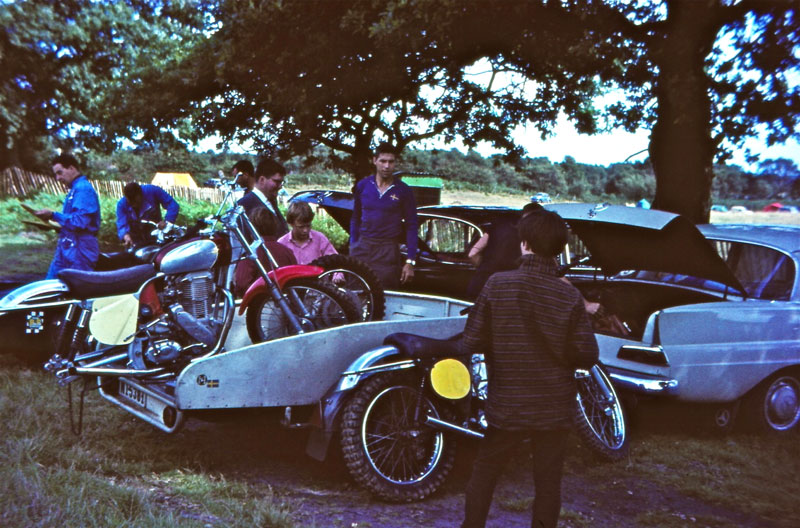 Hawkstone MXDN 1964 "Camp Sweden", Gunnar Johansson in the middle
Nisse Wedin recognized the bike on the trailer, it's Ove Lundells "Monark"
Ove who this year was contracted by Husqvarna, had it repainted it in Husqvarna colours.
Nisse later owned the bike, again painted as a Monark, but sold it on to England
Eric Miles took this photo of it again some 45 years later!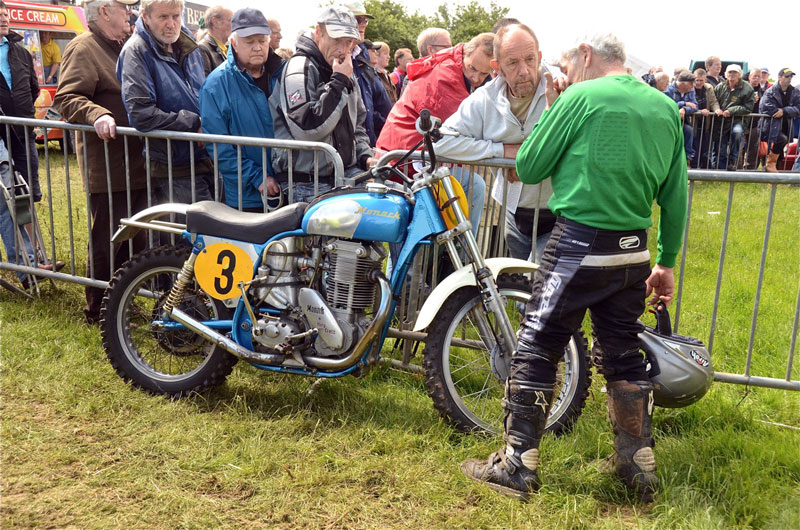 Nisse had this photo from the same occasion. Driver Andy Roberton.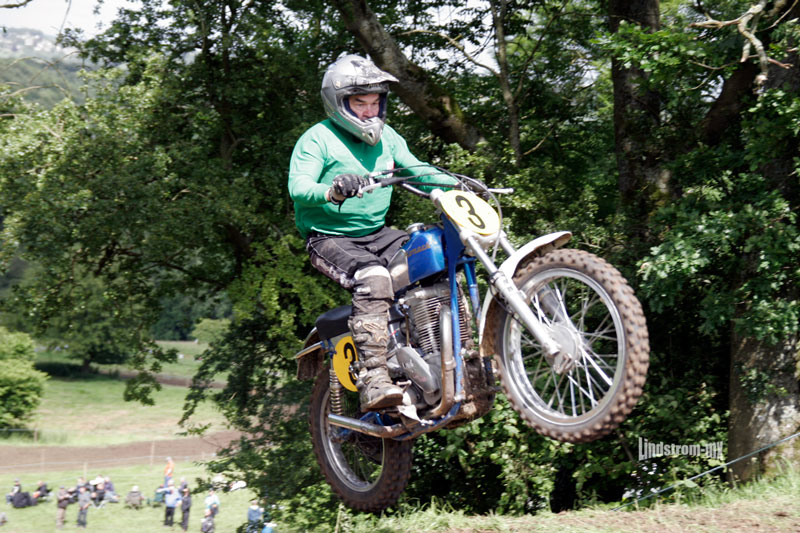 updated 121013 4 pic's ECMO 2011
Swedish Team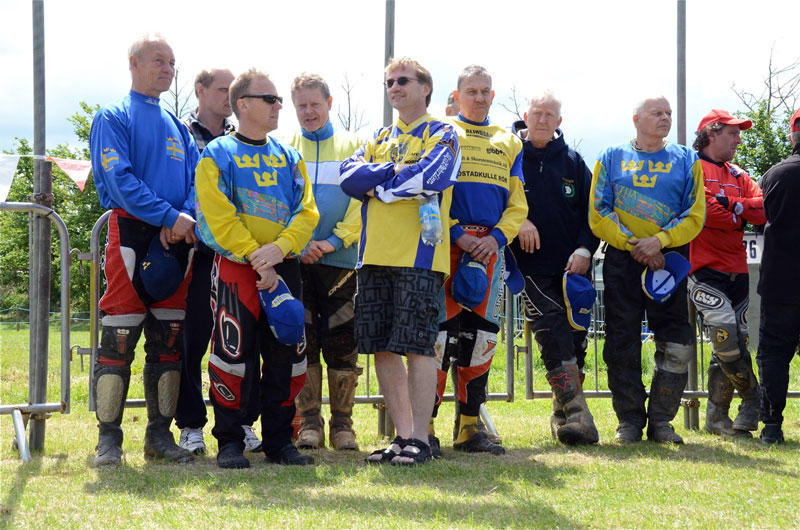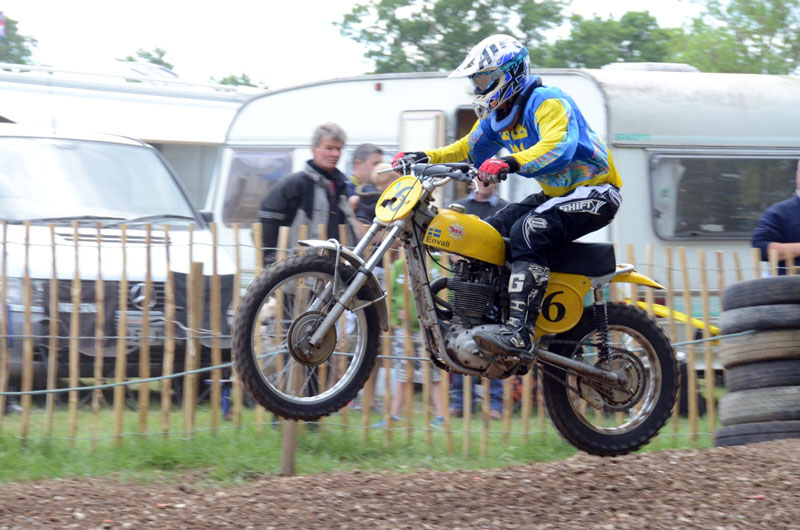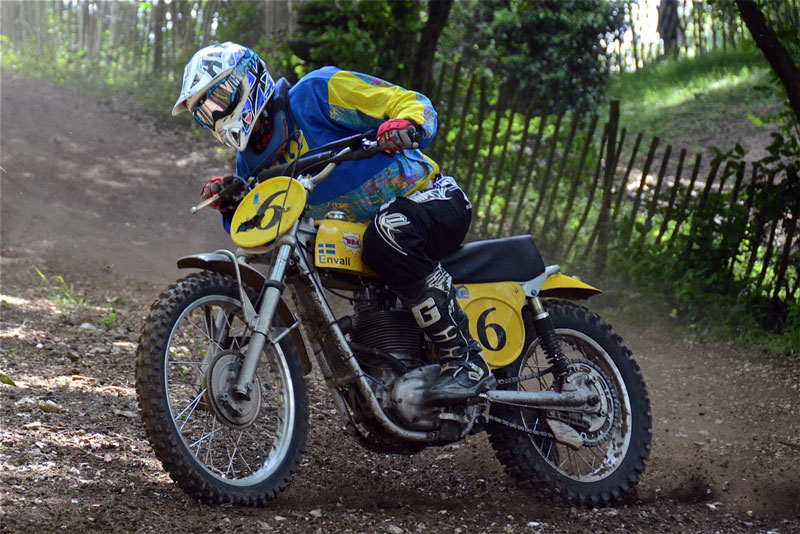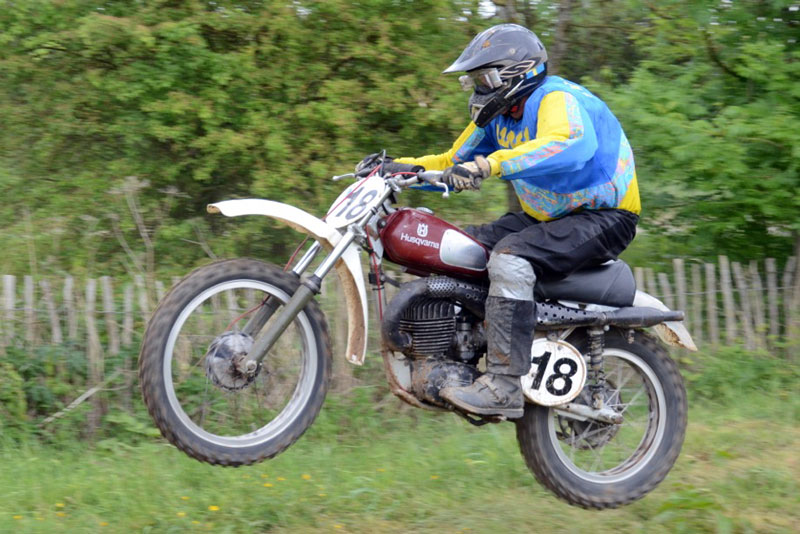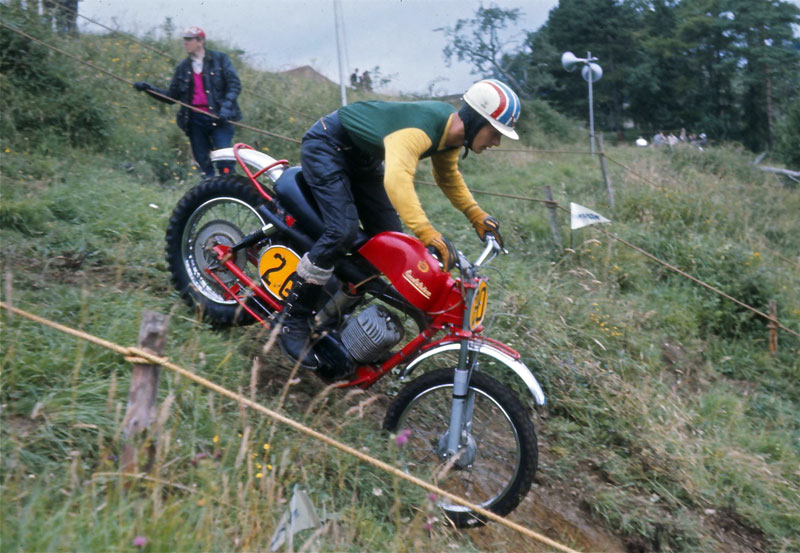 Janne Johansson - Lindstrom at Farleigh Castle 1967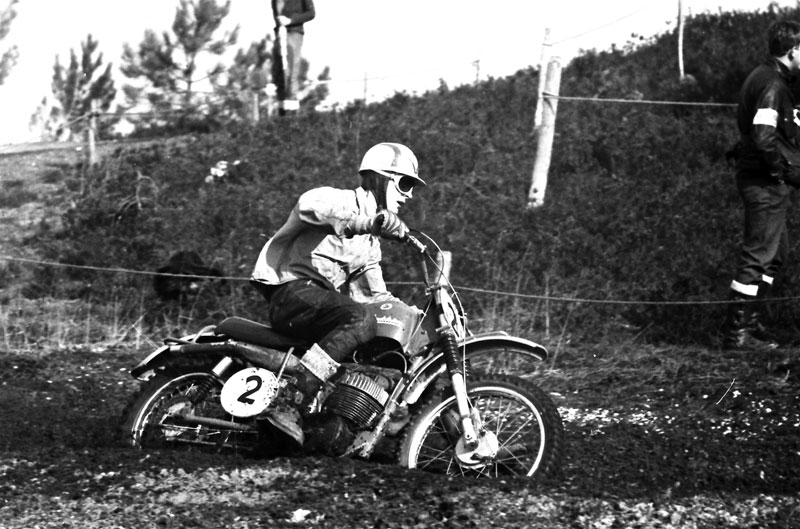 Janne Johansson - Lindstrom at Matchams Park 1967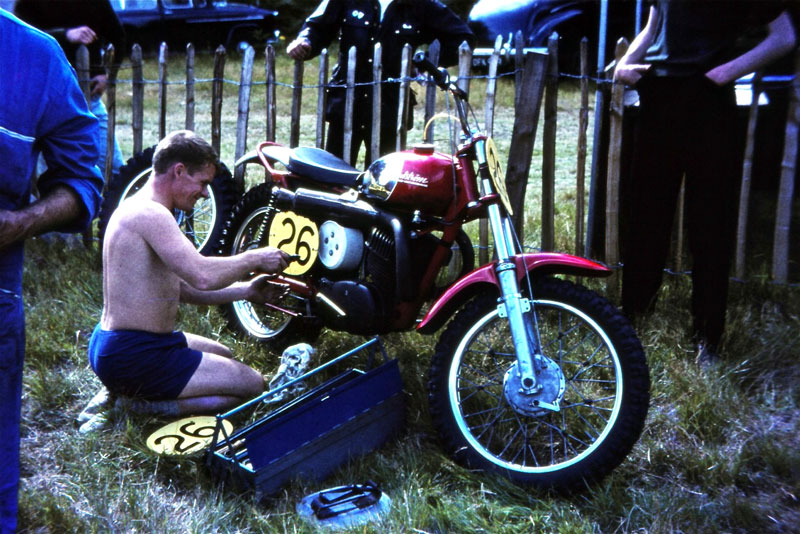 Hawkstone paddock - MXDN 1964 Rudi Boom working on his Lindstrom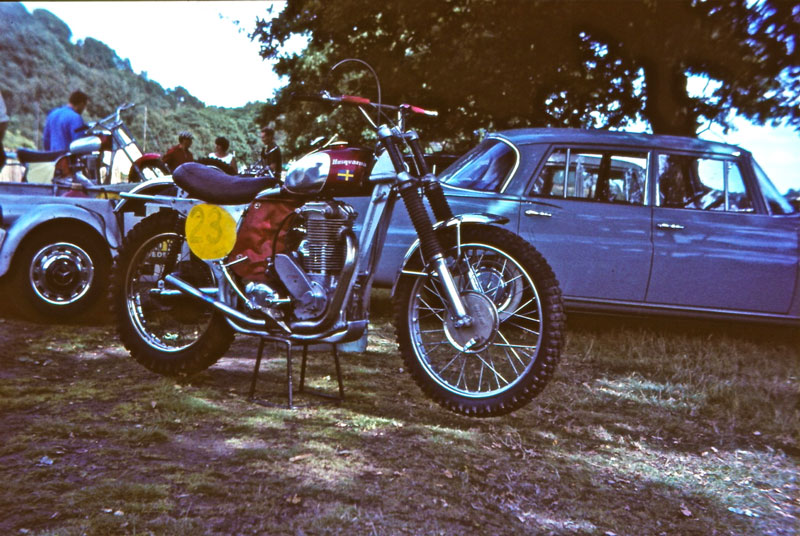 Hawkstone paddock - MXDN 1964 Per Olov Persson's bike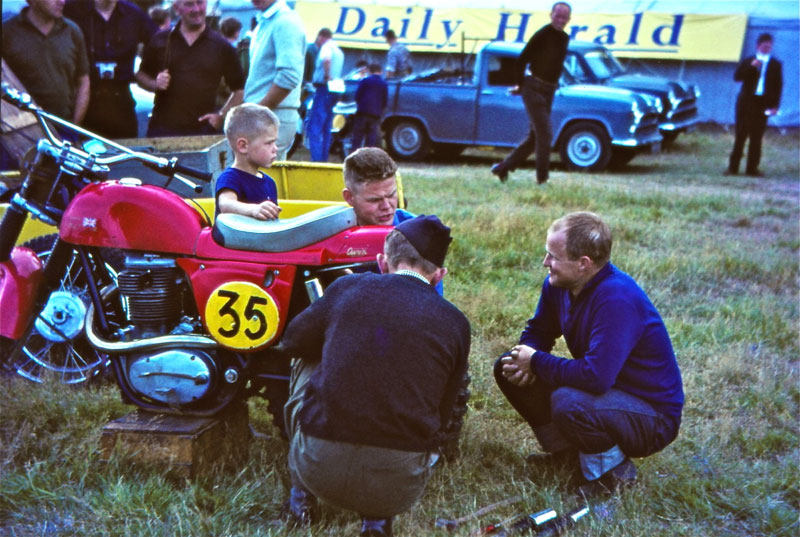 Bill Nilsson MXDN - Hawkstone 1964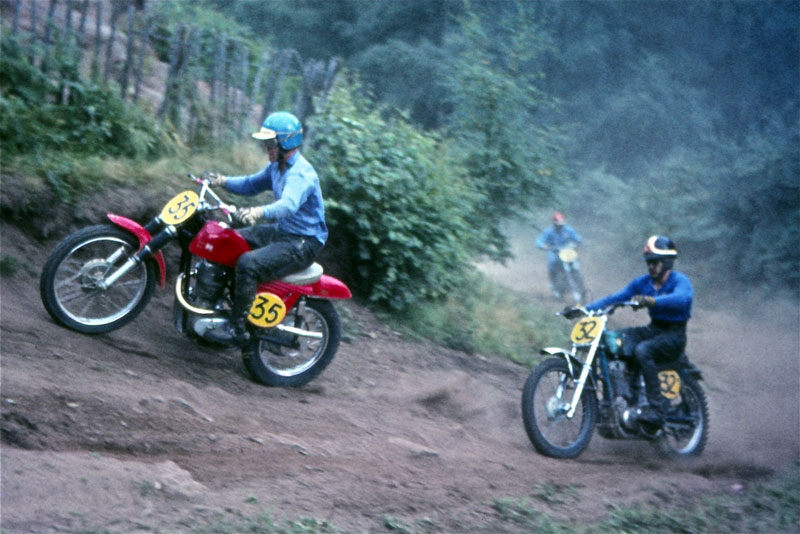 Bill Nilsson - Sten Lundin MXDN - Hawkstone 1964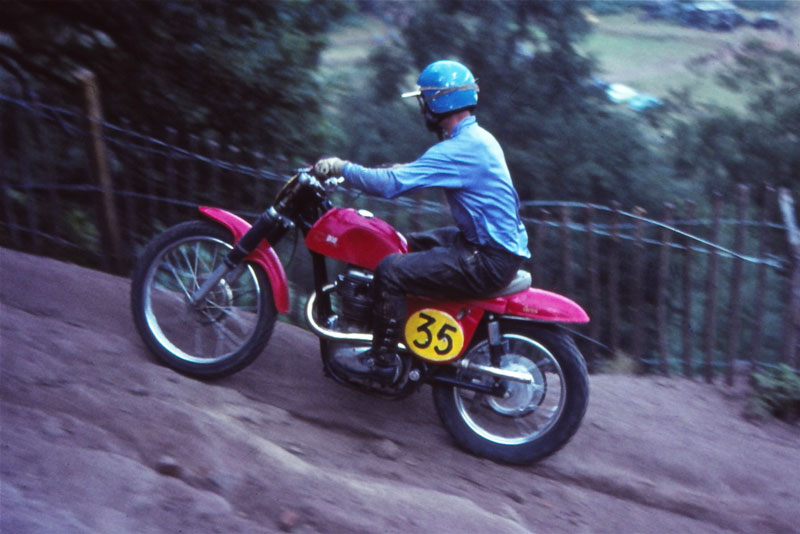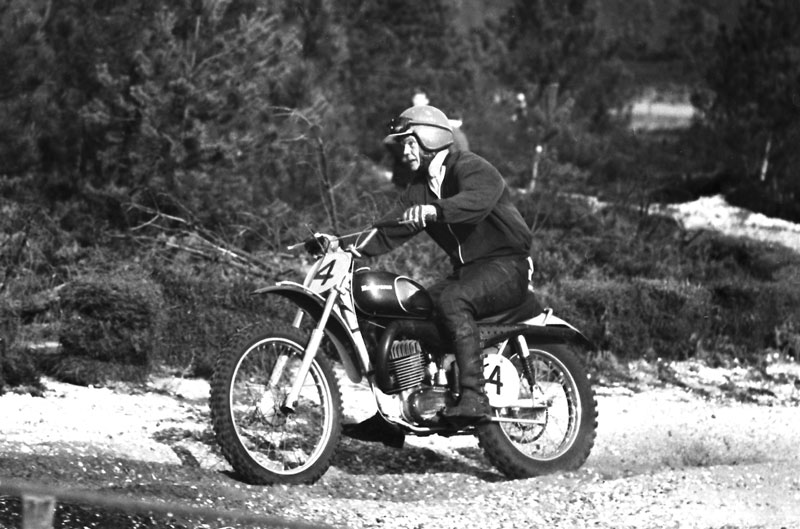 Bill Nilsson Matchams Park 1967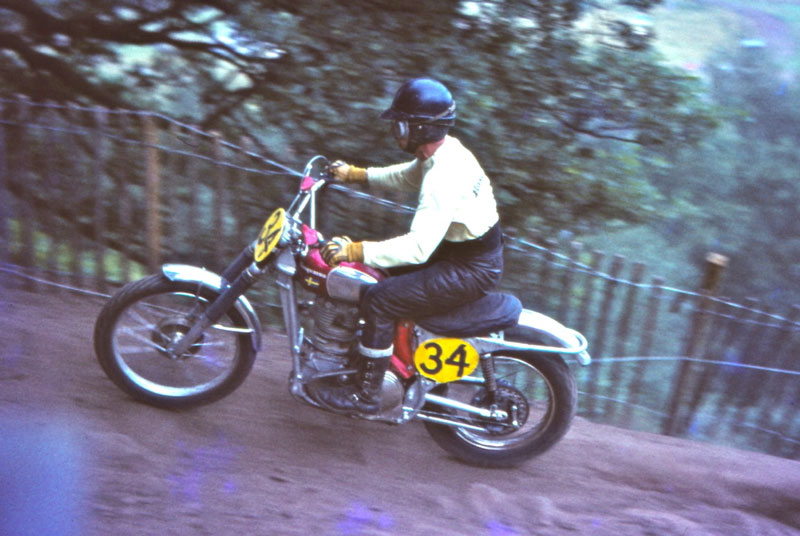 Per Olov Persson MXDN 1964
Lindstrom-mx editors note
Per Olov was always a very reliable top 10 rider with a total 4th place in the WC 1963.
He was later hired as mechanic for Heikki Mikkola when he won his WC titles for Husqvarna in 1974 and 76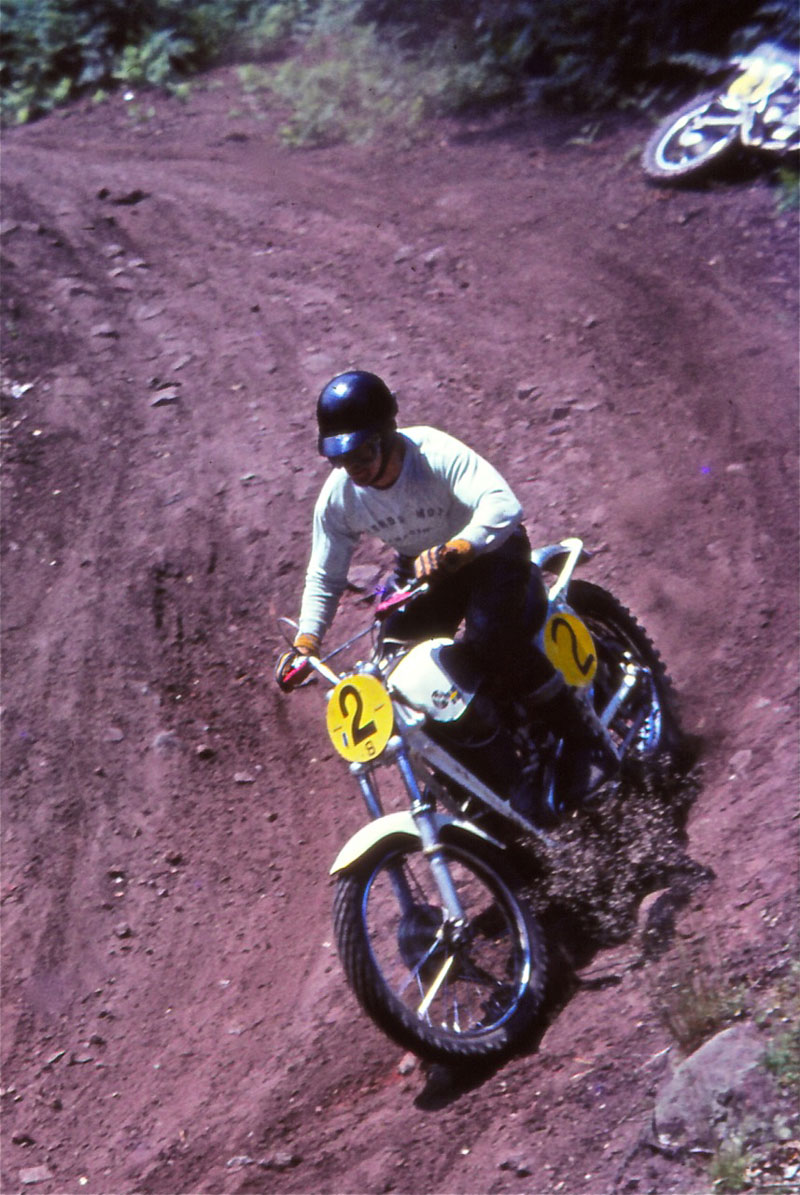 Per Olov Persson Hawkstone 1965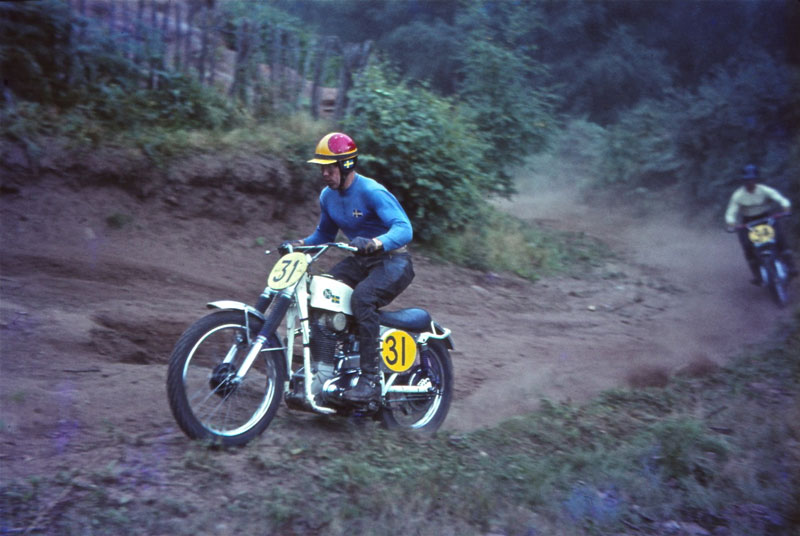 Rolf Tibblin MXDN 1964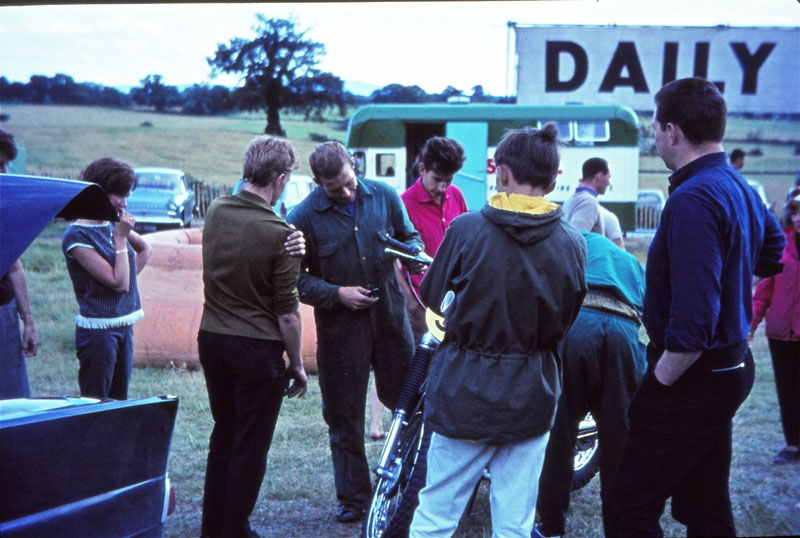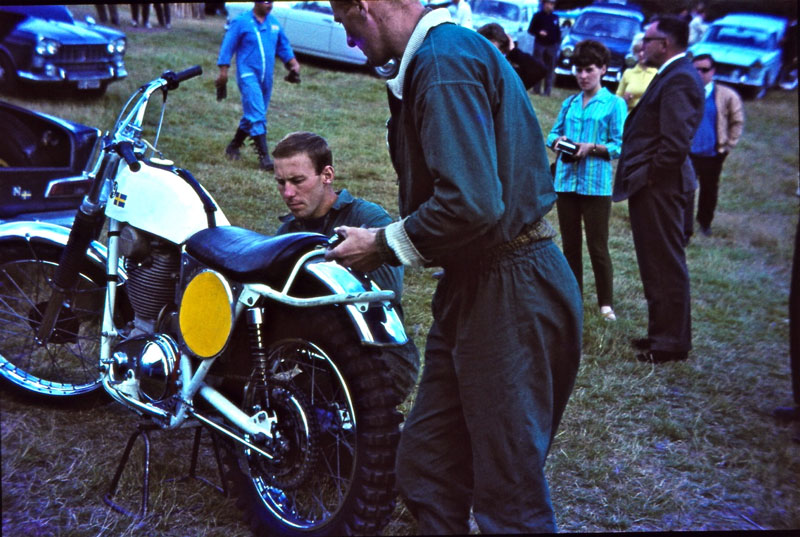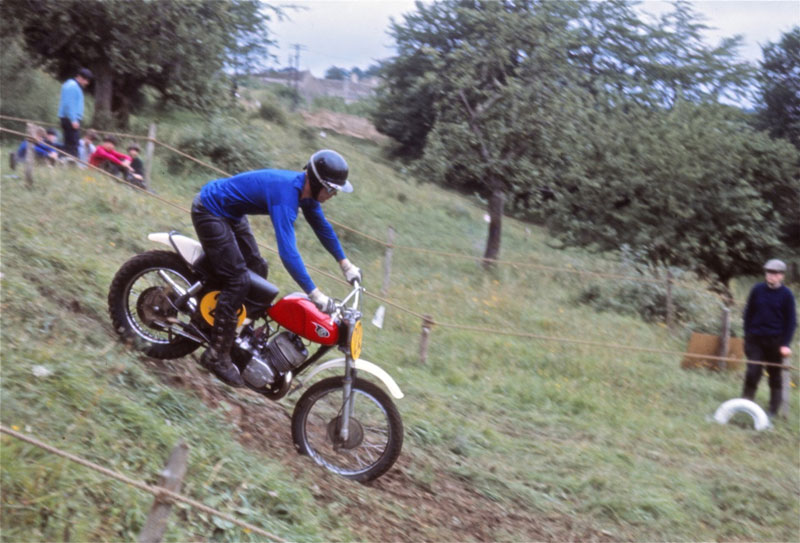 Rolf Tibblin CZ Farleigh Castle 1967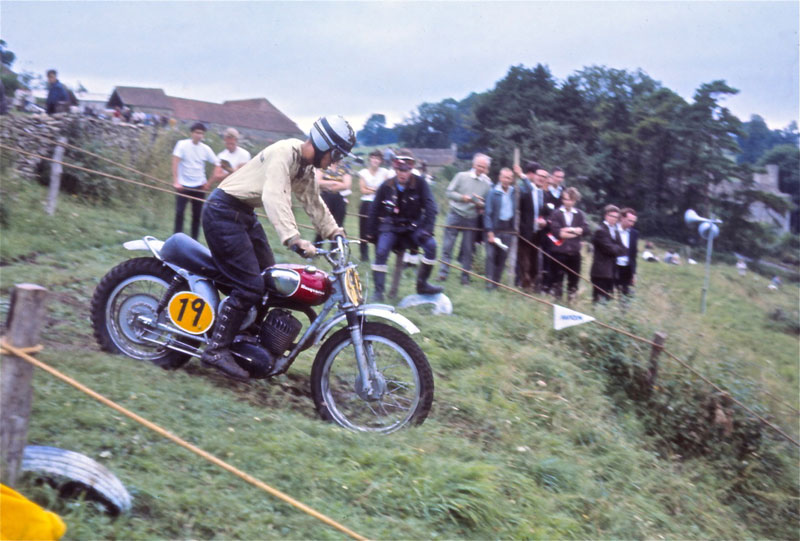 Christer Hammargren Farleigh Castle 1967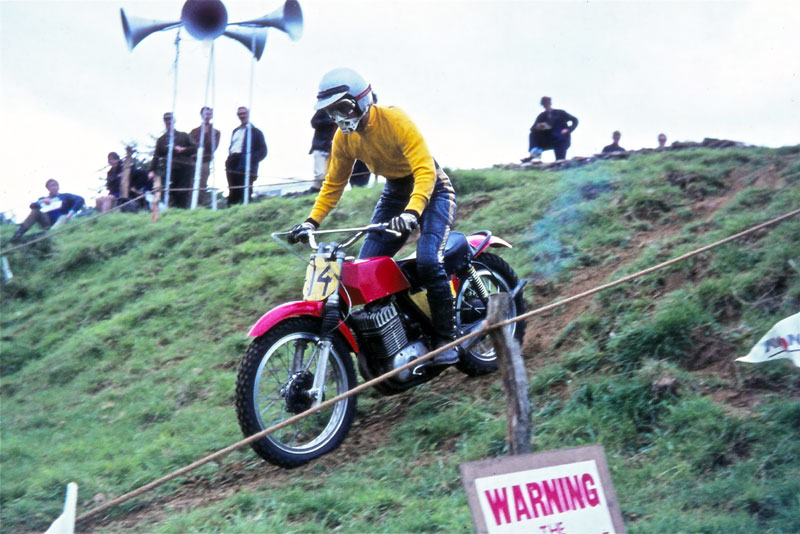 Åke Jonsson Maico Farleigh Castle 1969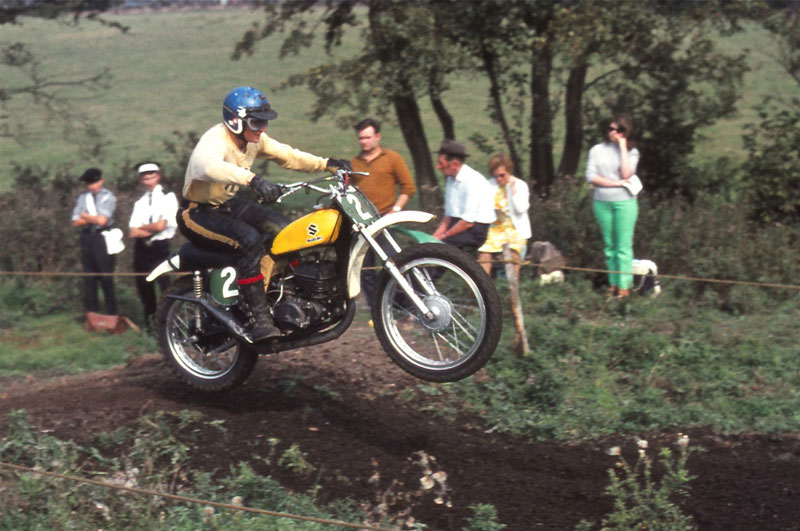 Olle Pettersson Suzuki Halstead 1970
Olle was employed by Suzuki in 1968 to develop their MX bikes.
Lindstrom-mx editors note
Olle should have lot's of credit for Suzuki's 1st, 2nd and 5th place in 1970 WC
Read all about it here http://www.saksi.se/vmx/suzukiolle.html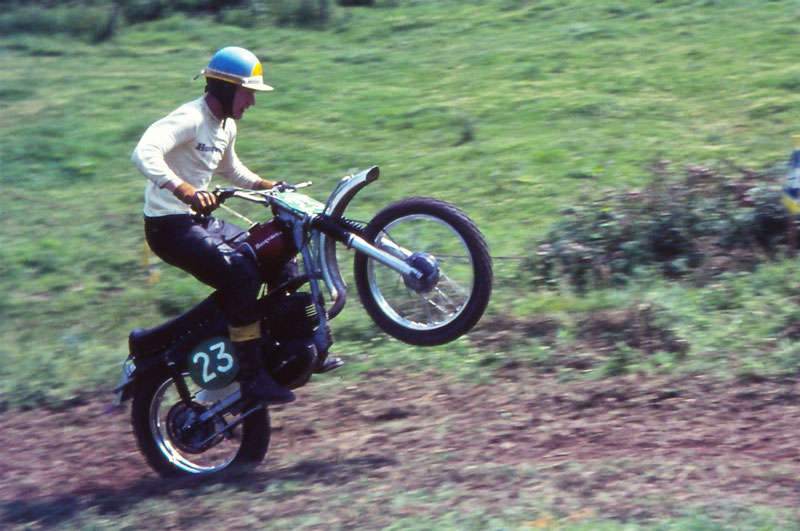 Torsten Hallman Glastonbury 1965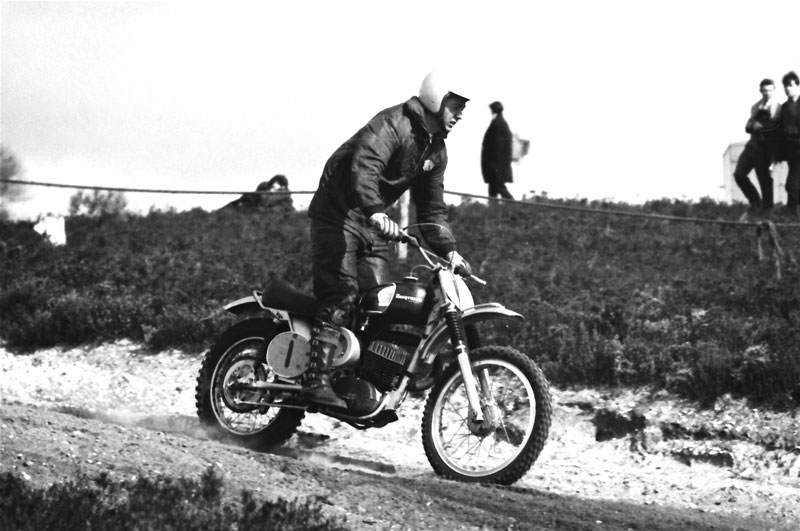 Torsten Hallman Hants Grand International 1967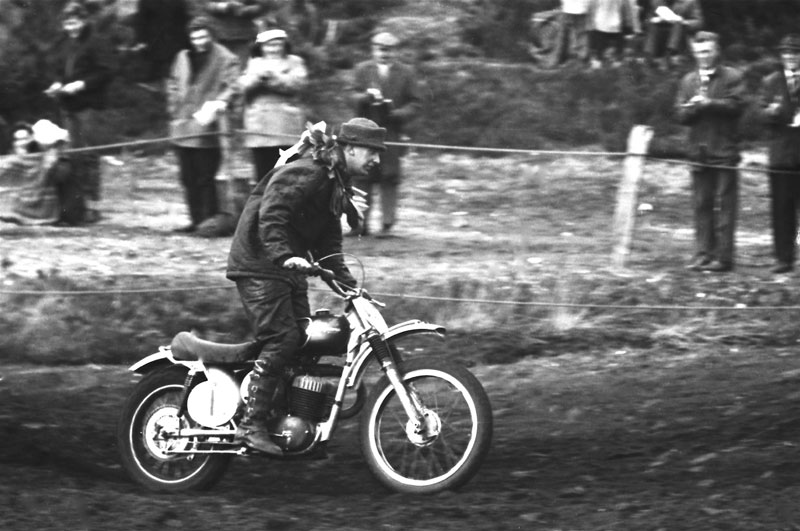 Torsten Hallman Winner Matchams Park 1967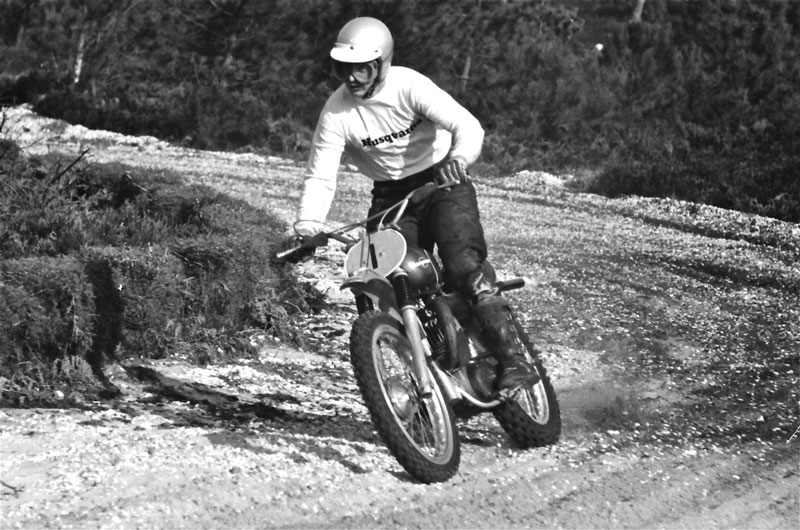 Torsten Hallman Winner Matchams Park 1967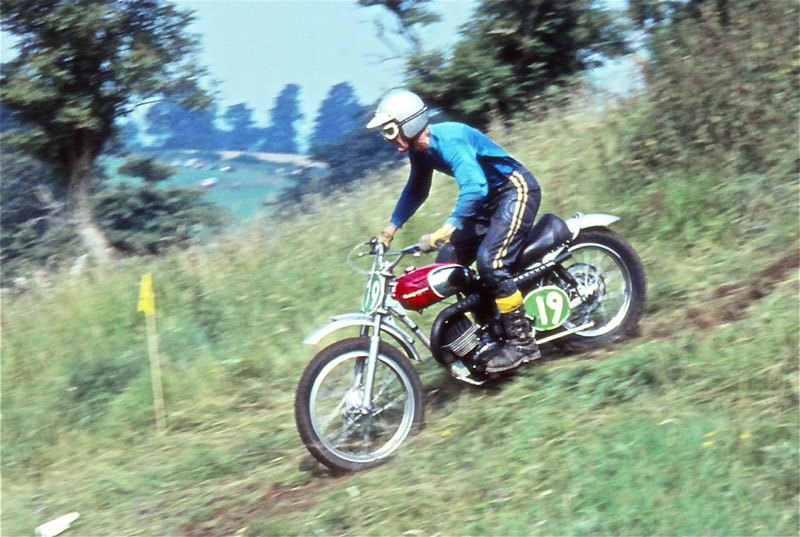 If you want to see more of Erics over 2000 fantastic photos